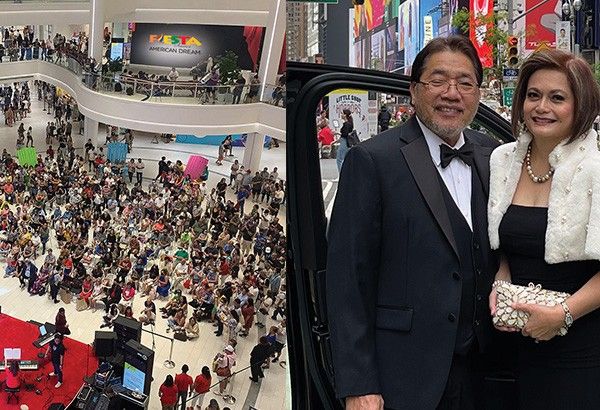 MANILA, Philippines — "Fiesta in America," the biggest indoor trade and culture exposition in the United States' East Coast, is set to take place in Court A of American Dream, in East Rutherford, New Jersey, on August 19.
Now on its 26th year, the event is expected to attract over 10,000 Filipino-Americans and, with American Dream being the second largest mall in the US, an additional 50,000 mall visitors.
"If you're thinking of capitalizing on the growing Philippine market and the strong household income of Filipinos in the United States, this is the event to go to," declared Fernando Mendez, founder and Chief Executive Officer of Fiesta in America.
The indoor festival, which is popularly known as Philippine Fiesta, was founded in 1996 by Mendez himself, along with his now late wife Mila. It turned out to be so successful that it was staged annually from then. The event has also since been supported by hundreds of brands from the Philippines, the U.S., and other countries eager to tap into the lucrative Filipino-American market in the New York-New Jersey area. It brings together big-name brands in the U.S. and the Philippines, along with local small businesses, all under one roof. The event has grown so much through the years that it has become one of the most effective platforms to promote micro, small, and medium enterprises (MSMEs) as well as Philippine tourism. Over the years, it has evolved into a melting pot for Filipino and multicultural engagement.
Rightly so, because, as Mendez put it, "Our mission has always been to connect Filipino entrepreneurs with mainstream business and Fil-Am consumers through a festival that highlights immigrant-centered services, Filipino products, heritage, and talent."
He added: "Stewarding Fiesta in America is my little way of promoting our culture, our products, and the beauty of our land as Fil-Ams' beacon of pride."
About a week before the trade expo, specifically on August 13, Mendez and his partner, Laura Garcia, are organizing the People's Ball Gala at the Marriott Newark International Airport in New Jersey. More than 400 influential leaders, movers and shakers in the Fil-Am community in the U.S. East Coast are expected to attend the gala.
There will be concerts by Philippine artists and young talents from the New York metro area, but these comprise only half of what Fiesta in America is all about.
The consumer expo segment commands equal attention, Mendez asserted. "Nostalgic immigrants and non-Filipinos intrigued by what the Philippines can offer pack the Trade Pavilion to load up on products not available in U.S. stores. Many are on the lookout for hot spots in less-touristy Philippine towns and provinces. Motivated by the dollar's strength, they look out for real estate to invest in or for retirement, as well as medical, dental and eye-care services whose rates are a fraction of comparable US healthcare services. Beyond the product showcase, attendees avail themselves of free health screenings and free workshops on various subjects from small business to start-ups to healthy food preparation. They dine on Philippine regional specialties in the food court, and enjoy artistic as well as fun activities for all age groups throughout the venue."
For his civic engagement, Mendez received the 2016 Phoenix Award from the JCI Philippine-New York (Jaycees) in recognition of Exemplary Community Leadership. He has also been profiled several times in the Fil-Am Who's Who. In 2021, he received the 5th Dr. Jose Rizal Circle of Excellence Awards for his ability to get people to work together through the annual Fiesta in America. He was also "knighted" in 2022, with the Order of the Knights of Rizal, Long Island Chapter (KORLI).
A Fine Arts, major in Advertising, graduate from the University of Santo Tomas, Mendez won a number of in-and-out-of-campus art competitions that served as his passport to key positions in Manila's advertising industry. For one, he became the youngest art director at Philippine Advertising Counselor (PAC), a leading ad agency in the Philippines, after which he moved to the U.S. He established himself as an award-winning graphic artist in Billings, Montana, prior to moving to the most densely populated state, New Jersey. His portfolio includes the rare distinction of having won a competition to design the logo of Billings and a four-year stint as art director in an advertising agency.
"Fiesta in America" organizers are inviting sponsors, exhibitors, and advertisers to participate in the 2023 Fiesta in America and the People's Ball Gala. For more information, email [email protected] or visit www.fiestainamerica.com.
RELATED: International Harry Potter Day: Harry Potter Studio UK virtual tour
*****
Credit belongs to : www.philstar.com