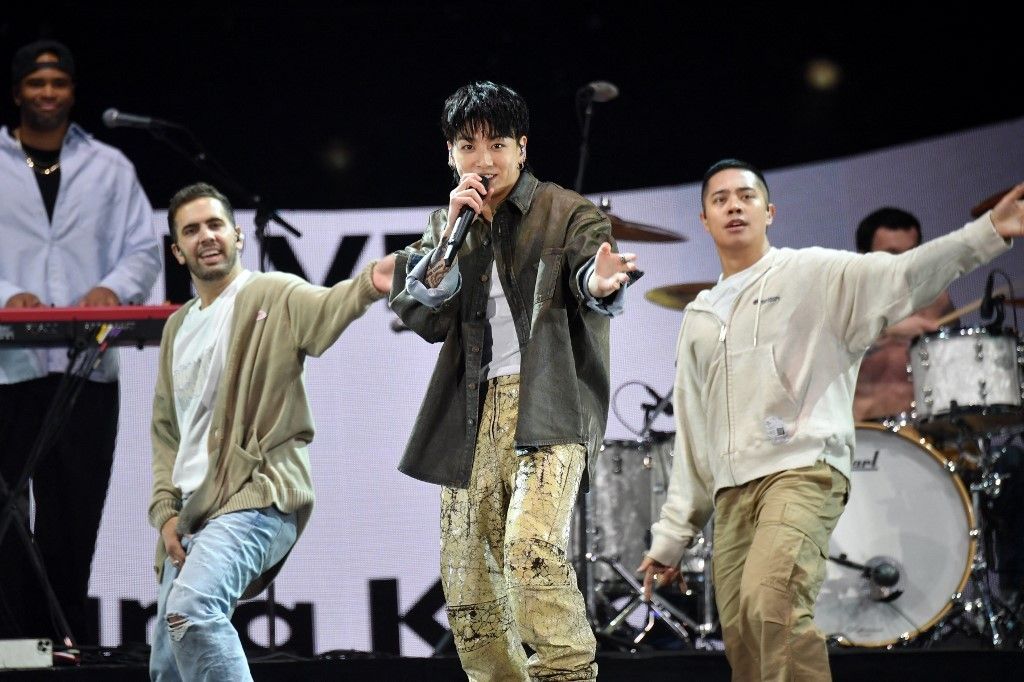 MANILA, Philippines — BTS member Jungkook has finally released his debut solo album "Golden," accompanied by the music video (MV) of its third single, "Standing Next to You."
The MV of the disco-funk track shows Jungkook chasing and impressing a mysterious woman through his dance moves. Joining him in choreography by Keone Madrid are the likes of Ian Eastwood and Filipino-American choreographer Brian Puspos.
Puspos previously performed with Jungkook for the performance video of the latter's hit track "Seven," the lead single of "Golden."
In 2016, three years after BTS' debut, Jungkook and his colleague Jimin made a cover of Puspos' choreography for "Own It" by Drake.
Jungkook admitted his admiration for Puspos in a behind-the-scenes video, saying the choreographer was his favorite dancer as a trainee, "It feels very strange. When I saw him I was like, 'Ah! Brian Puspos is here!' I liked him so much when I was younger. It's so cool."
Puspos, who rose to fame with "America's Best Dance Crew" Season 2 runners-up SoReal Cru, was flattered by Jungkook's comments and praised him even more following the official release of "Standing Next to You."
The choreographer shared his own behind-the-scenes photos from the music video shoot on his Instagram account, praising Jungkook, his best friend Eastwood and Madrid.
"Jungkook what can I say brother? But congrats and thanks for continuing to have me on this ride. See ya soon! Let's go ARMY, this is for you!" Puspos wrote in the post's caption.
Puspos even put on his Instagram stories himself watching the music video, admitting he had seen it multiple times and claimed it was the best music video ever.
"Pay attention to Jungkook, obviously but, he's really going in," Puspos said from behind the camera.
"Seven" recently became the fastest song to reach a billion streams on Spotify, beating the 112-day record by Miley Cyrus' "Flowers" by four days.
Other tracks included in "Golden" are "3D," featuring Jack Harlow, "Closer to You," featuring Major Lazer, "Yes or No," "Please Don't Change," featuring DJ Snake, "Hate You," "Somebody," "Too Sad to Dance" and "Shot Glass of Tears." — Video from
RELATED: Jungkook's 'Seven' now fastest song to reach billion Spotify streams
*****
Credit belongs to : www.philstar.com