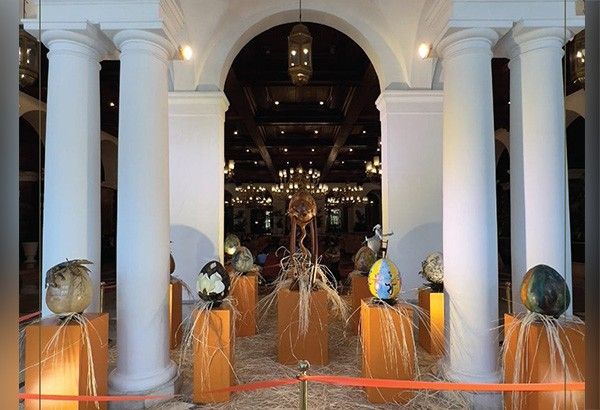 MANILA, Philippines — Displayed as a focal point of the Grand Lobby of The Manila Hotel, "Hatch: The 5th Edition" is a one-of-a-kind showcase of artfully crafted Easter eggs, as interpreted by the different artists participating in the exhibit.
Standing to benefit from this delightful display of the novel collaboration of Filipino artists are hotel guests and exhibit-goers.
With the aim to promote the local art scene and highlight the creative genius of local artists, the exhibit features 18 uniquely customized acrylic eggs showcasing a myriad of creative styles reflective of the distinct personalities of 20 Filipino contemporary artists who come from different disciplines and backgrounds. Each Easter egg, therefore, has a different story to tell.
Participating artists are Addie Cukingnan, Agi Pagkatipunan, Al Peres, Aner Sebastian, Carlito Ortega, Carlo Magno, Cindel Tiausas, Carlos Cee Cadid, Demet dela Cruz, Migi Sebastian, Egai Fernandez , Emmanuel Nim, Jinggoy Salcedo, Margie Organo, Maria Magdamit, Migs Villanueva, MOnnar Baldemore, Reen Barrera, Remy Boquiren and Roger "Rishab" Tibon.
The "Hatch" series began in 2020, winning the gold award in the 55th Anvil Awards. The exhibit moved from city to city, where people enjoyed an exceptional showcase of Filipino artistry.
"Hatch: The 5th Edition" is on display at the Grand Lobby of The Manila Hotel until April 23, 2023.
RELATED: Lenten options, Easter treats, TikTok food trends to try
*****
Credit belongs to : www.philstar.com