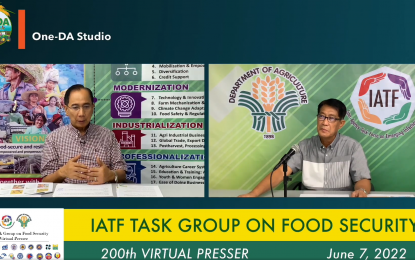 MANILA– A united action among stakeholders in the country is needed for agricultural stability in the coming months, under the incoming administration of President-elect Ferdinand "Bongbong" Marcos Jr., an official of the Department of Agriculture (DA) said Tuesday.
In a virtual presser, Assistant Secretary Noel Reyes said the global food crisis demands Filipinos to take part in holistic action to secure food sufficiency, urging the public to disregard politics.
"Let us be one, in ensuring all Filipinos will have access to safe, affordable, and nutritious food at all times, walang kulay, walang partido, lahat tayo Pilipino (no [political] colors, no parties, we are all Filipinos)," Reyes said.
Agriculture Secretary William Dar also urged the farmers, as well as the public, to take advantage of modern technologies to increase food production.
"Let's start preparing and acting, start planting, start raising… let's see to it that we use the best of technologies, modern technologies, and innovation in all that we do today… We have to survive, and to survive, lahat po ng Pilipino, magbanat-buto (all Filipinos must work)," he said.
Besides "unity," Dar insisted a "proper budgetary support" should be prioritized to ease the effects of global inflation, considering restraints of exporting countries on several food supplies and production inputs.
He said the strategic move of Bangladesh, which led them to a hundred percent food sufficiency, without pressure to depend on global market trade.
"Just to compare the budget we have today and their budget, it is three times than we have, so we have PHP85.5 (billion), they are more than PHP200 billion, so that's how important it is to have a proper budgetary support in the agriculture," he said.
Balanced fertilization strategy
For fertilizers, the DA ensured they are closely working with other countries to secure supplies from China, Russia, Canada, Malaysia, Indonesia, and Iran, among others.
"We are accelerating this discussion so that the government-to-government procurement will be the way forward on this," Dar added.
However, he noted that it is significant to utilize a "balanced fertilization strategy" or the use of organic fertilizers and biostimulants.
Dar said the use of Urea nano fertilizer or the small particles, which is significantly lower compared to a 50-kilogram bag of the usual Urea fertilizer.
"You use only 3 bottles, per bottle is PHP1,250 to PHP1,350, so if (you) use three bottles of that, you reduce 50 percent of the cost," he said, pertaining to almost 600-ml bottle size each.
Despite emerging concerns about the effects of the coronavirus disease (Covid-19) pandemic, the Ukraine-Russia war, global crude price hikes, the African Swine Fever (ASF), and other limitations, the DA said it is already prepared to turn over its transition reports to the incoming administration.
This includes their 10-year strategic National Agriculture and Fisheries Modernization and Industrialization Plan, with a proposed PHP250-billion budget annually. (PNA)
*****
Credit belongs to : www.pna.gov.ph