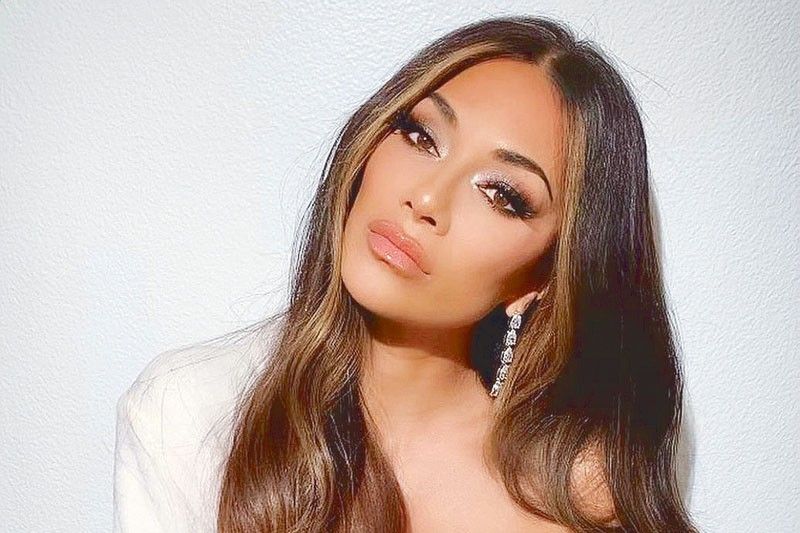 It may sound like a cliché but it's true.
"To do a Tagalog song has always been a dream for me," said Nicole Scherzinger, the former Filipino Pussycat Dolls member, in a recent virtual interview.
The song is Ogie Alcasid's Pangako which is among the selections in Kaibigan: A Troy Laureta OPM Collective Vol. 1 released in November last year. Produced by Laureta, a Fil-Am musical director based in the US, and ABS-CBN Music International, the album features a merry mix of international artists who give OPM a refreshingly new touch, including South Korea's Ailee (for Kahit Isang Saglit), YouTube Star Matt Boyd (Bakit Pa Ba), Cheesa (The Voice Season 2 quarter finalist, Bakit Pa), Pia Toscano (American Idol Season 10 finalist, Kailangan Kita), Shelea (Patuloy ang Pangarap) and Jake Zyrus (Usahay; Laureta has served as musical director in Jake's concerts), plus Regine Velasquez on Hanggang sa Dulo ng Walang Hanggan.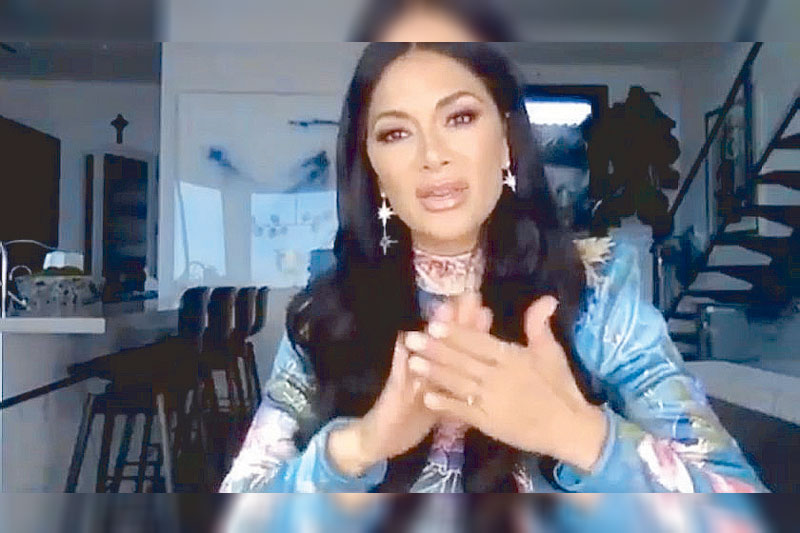 Nicole during the recent virtual interview with the Philippine media
"I am honored that Troy chose that song for me," added Nicole. "Troy nailed it. I think many people know me from Pussycat Dolls but they don't know that in my heart of hearts I love singing ballads. It's in our hearts, right? Pangako is a classic song, it's an iconic song, it has a lot of heart and passion in it. I wanted to give it justice. I'm not saying that I am the best singer but I always give heart and soul into every song that I sing. I am grateful to be a part of the album."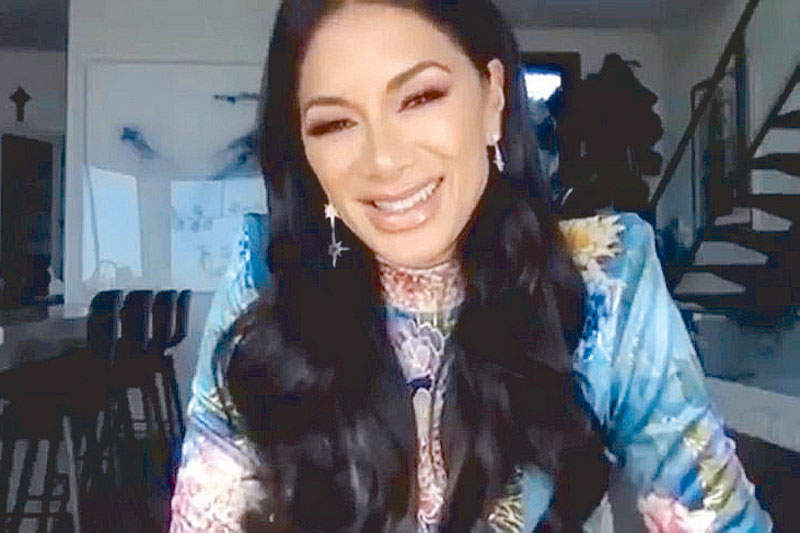 It's the Filipino in her. Here's an excerpt from the two interviews Funfare had done with her (2006 and 2009):
Nicole Elikolani Prescovia Scherzinger, who used the stage name Nicole Kea when she joined an open audition for Pussycat Dolls, was born on July 29, 1978, in Honolulu, Hawaii, to a Filipino musician father from Batanes (surnamed Valiente) and a Hawaiian-Russian mother who was a lead hula dancer. Fondly called Cola by her chums, she grew up in Louisville, Kentucky, where her family relocated when she was seven years old.
In that virtual mediacon, Laureta related that Pangako is one of his favorite OPM songs.
"When I was listening to that song by the legendary songwriter Ogie Alcasid and his wife Regine Velasquez, I told my sister, 'You know, this song is perfect for Nicole. She has the heart and the spirit and, most important, she has the voice for it. Pangako is so emotional and it needs someone who can emote it and give it not just the notes but the emotional part of it. Nicole can give it a Whitney Houston kind of treatment. I wanted Nicole to give the song that I Will Always Love You moment, that Don't Cry For Me Argentina moment."
Laureta got it…and more!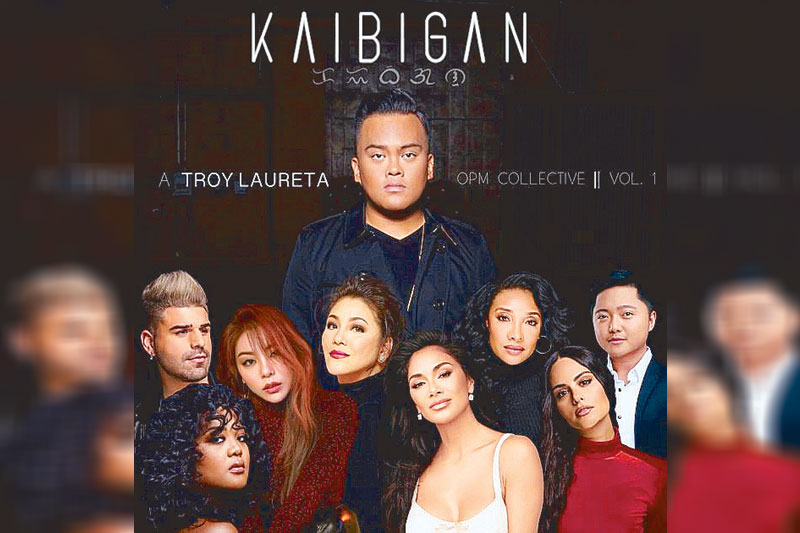 Kaibigan producer Troy Laureta (at the back) with the featured artists (from left) Matt Boyd, Cheesa, Ailee, Regine Velasquez, Nicole Scherzinger, Shelea, Pia Toscano and Jake Zyrus
"When I was arranging the song and choosing the singer for it, my way of directing and producing is always to pay respect to the composer and keep the integrity of the song whether I'm doing it in the studio or in a concert. I wanted to keep the essence of the original but take it to 2020 or 2021"
Then he gushed about Nicole.
"She can do anything. I was able to work with Nicole in some shows. We did Broadway stuff and a lot of Whitney Houston, so I was able to study her style even more so. For Pangako, I wanted her to bring her full potential to it …her being a biritera…the high note, the whisper, the emotional stuff."
Although she admitted she didn't speak Tagalog, Nicole said that she understood the song's sentiment just by listening to it.
"Troy told me about the lyrics and I just love it, especially the line that says 'Promise I won't leave you' (…pangako di kita iiwan…). Music is a universal language. Whether you speak Tagalog or not, when you hear the song it moves you. Music is what connects all of us. Ultimately, we are one and the same. I'm glad that the album will find a platform for that."
Easy does it, according to Nicole.
"Obviously, when you want to do something to the best of your ability and do it justice, it can be heard because you want to make it sound like your second skin. I know that it (her Filipino-ness) is in my blood. My family speaks Hawaiian as well. I grew up learning Spanish and I think that kind of helped me a lot."
Nicole recalled that when Laureta called her about the song, she said yes right away.
"He was playing weird spa music and I didn't know if the world was aligning or if he was getting a foot rub. I was taking a trip to a nature store and I remember him leaving on my phone an hour-long message. When we talked, I told him, 'Let's do it! It's an honor for me to be part of it!' I was gang-ho. It was my first time to sing in Tagalog and I was sure that my family would be proud of it."
Following protocols (it was the pandemic, you know), Nicole soon found herself in Laureta's studio at home.
"I came out of the bathroom, got into bed and started singing. That was magic!" she laughed.
"We were just kind of chilling," said Laureta.
Asked in an interview with Funfare several weeks ago what criteria he followed in choosing the artists for the album, Laureta said, "All the artists were those that I've either toured or worked with in the studio and they are all friends of mine. I really wanted to make a point to choose artists that were personal to me whether in my business life or personal life. People who understand me not just as a musician but as a person. Every artist on the album has impacted my life in some way."
And how did he expect non-Tagalog listeners to understand the songs so that they could appreciate them?
"I think the beauty of OPM is that songs speak for themselves. I grew up listening to OPM. I always believed that no matter in what language, a great song will always be impactful to its listeners. That's how I always felt about OPM. We have the songs, the singers and a culture that is filled with so much passion and depth. I use Kaibigan as a catalyst to let a broader audience hear what I already know is legendary and that is Filipino music."
Laureta is grateful to Ogie and Regine for being supportive.
"They were such an inspiration. They are super cool!"
Ogie and Regine are all praises for Laureta and Nicole's work, describing it as "so surreal."
Admitting that she's a fan of Regine, Nicole said, "When I listen to her and that voice, I'm like, 'So what else is there for me to do?' I have so much love and respect for her."
(E-mail reactions at rickylophilstar@gmail.com. For more updates, photos and videos, visit www.philstar.com/funfare or follow me on Instagram @therealrickylo.)
*****
Credit belongs to : www.philstar.com