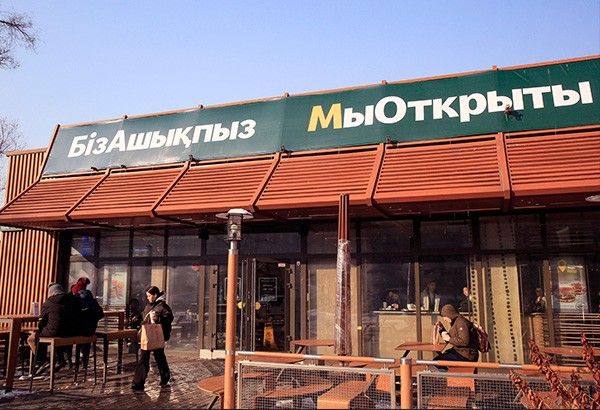 ASTANA, Kazakhstan — Several restaurants that used to work under the McDonald's brand in Kazakhstan reopened on Wednesday without the chain's logo, weeks after the fast food giant exited the country over supply problems.
Food Solutions KZ, the company that used to operate the local McDonald's franchise, said three restaurants were resuming operations in the capital Astana and information about their new name and menu would come soon.
The McDonald's logo no longer appeared on the reopened restaurants, with only a yellow capital M in the words "My Otkryty ("We Are Open").
The names of items on the menu have also been slightly altered.
On Monday, some of the former McDonald's restaurants also reopened in Almaty, Kazakhstan's largest city and economic hub.
McDonald's opened its first restaurant in the vast Central Asian country in 2016.
It operated 24 restaurants across six cities in Kazakhstan, with the local franchise run by Kairat Boranbayev, a relative of Kazakhstan's first president Nursultan Nazarbayev.
Boranbayev, Kazakhstan's 14th richest person in 2021 according to Forbes, was in March accused of embezzlement.
In early January, the local operator said McDonald's would close its doors in Kazakhstan due to supply restrictions.
The Kazakh agriculture ministry later said that there were issues with the supply of Russian-produced meats and other products due to McDonald's leaving Russia.
Like many Western brand giants, McDonald's left neighboring Russia last year after the Kremlin's invasion of Ukraine.
In Russia, McDonald's was bought by a Russian businessman and renamed "Delicious. Full Stop" ("Vkusno i Tochka" in Russian).
RELATED:Sauce SOS: Man survives 24 days at sea by eating ketchup
*****
Credit belongs to : www.philstar.com