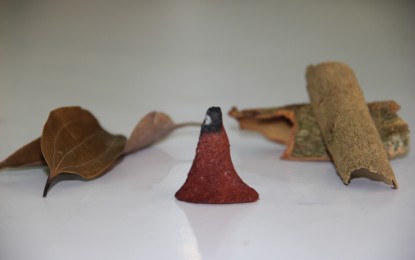 MANILA – The Forest Products Research and Development Institute (FPRDI) is currently developing incense products using residues from extracted and processed forest materials, its chief announced Friday.
"We are targeting to develop incense cones and incense sticks, using hydrosols and solid residues from barks, leaves and resins of raw materials or forest species after oil extraction," FPRDI director Romulo Aggangan told the Philippine News Agency in an interview.
Aside from being fragrant, the incense products will be assessed to determine their ability to repel insects such as mosquitoes, flies, and ants.
"Once the prototype products are developed and optimized, their ability to repel insects will be tested. After filing for IP (intellectual property) protection, (product) piloting and technology adoption will follow," he said.
Aggangan pointed out that these products are both fragrant and may also be used as an insect repellant. Hydrosols will be used as a liquid ingredient instead of plain water, thus making it aromatic.
He added that the product's ability to repel insects is likely since the raw materials to be used are known to have that capability.
The FPRDI has allocated PHP612,000 this year for this study, which started in January 2022 and will run until December 2023.
This study is part of the FPRDI's Flavors and Fragrances from the Forest Technology Program (F3TP) that seeks to explore and utilize non-timber and timber forest products, by conducting and producing research and development (R&D) innovations and products.
Through the F3TP, the FPRDI has been exploring healthcare and aromatherapy products such as essential oils, salves, bar, and liquid hand soaps, spray mist, massage oils, foot deodorants, and lotions using extracted cinnamon oils and hydrosol.
Aggangan said trial production of soaps, lotions, massage oils, and foot deodorants is ongoing. By the second quarter of this year, the FPRDI will start the sensory testing for these products.
In a taped report aired on Friday, Department of Science and Technology (DOST) Secretary Fortunato de la Peña said that through the F3TP, the FPRDI will be developing by-products that will not only lessen waste accumulation but also become a potential source of income for local communities and industries.
"The anticipated volume of process residues is greater at the commercial scale, thus the need to explore other possible uses for these wastes. If not managed properly, the accumulated wastes can pose possible environmental problems," De la Peña said. (PNA)
*****
Credit belongs to : www.pna.gov.ph