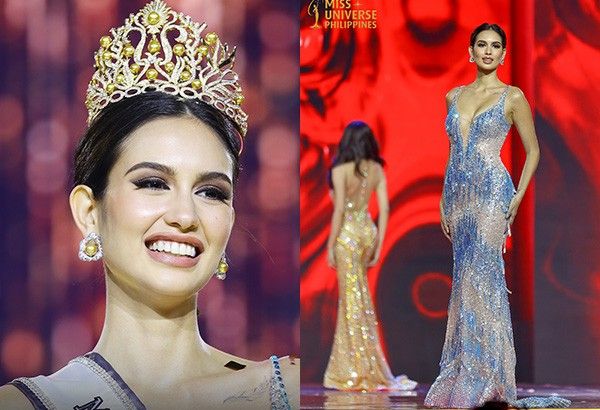 MANILA, Philippines — Next Sunday, January 15 (Manila time), the Philippines will know if it will have its fifth Miss Universe title courtesy of Filipina-Italian Celeste Cortesi.
Her popular name might not end with the letter "A" like the previous four Miss Universe winners from the Philippines (Gloria Diaz, Margarita Moran, Pia Wurtzbach and Catriona Gray), but her grit has been one of her outstanding qualities since she decided to fly all by herself to the Philippines five years ago barely speaking fluent Filipino or English.
Born Silvia Celeste Rabimbi Cortesi on December 15, 1997 in Pasay City, the recently turned 25-year-old spent her growing up years in Parma, Italy after her family moved to her father's native country when she was just six months old.
Cortesi grew up in a single parent household when her father died when she was young. To help ends meet, she worked as a model and a cashier during her teenage years.
She admitted that she used to be ashamed about her past in her YouTube channel, but has grown to accept it over time.
"There was a time when I was kinda embarrassed, (and I) didn't really wanna show that side of me to others. It's really important because you should never deny your past and be shy of what you've been through because it's what made you who you are right now. I'm proud of it. I really wanna show where I came from," Celeste said.
Her mother proved to be a big influence on Celeste. It was her who told Celeste about Pia's historic and unforgettable win at the Miss Universe tilt in 2015, and this particular winning moment inspired Celeste to fly back to Manila to represent the Filipino community of Rome at the 2018 Miss Earth pageant.
For her first foray in a prestigious national pageant, Celeste bagged several major awards. Needless to say, she went home with the crown that night.
Four years later and one year earlier than planned, Celeste joined Miss Universe Philippines 2022 upon the prodding of Miss Universe Philippines 2020 Rabiya Mateo.
Celeste recalled how Rabiya's words of encouragement gave her the strength to enter last year's Miss Universe tilt instead of this year as she had planned.
"Me and Rabiya are very close, and I remember that before submitting my application for Miss Universe Philippines, I was talking to her and I was opening up about me wanting to join next year, not this year. I was telling her that I just want to prepare and be ready 100%. [And] If there is something that Rabiya really told me, it's you will never be 100% prepared," Celeste said at the presscon organized by PLDT after she won the crown on April 30, 2022.
It was a full circle for the Filipina-Italian beauty born in Pasay to represent the city of her birth and end up as the runaway winner of Miss Universe Philippines 2022.
She bested 31 other lovely candidates, and again, took home several awards including Best in Swimsuit.
It was not a product of fate, but of her own determination, she shared the day right after her win on her Instagram account.
"I've grown so much since I came to the Philippines five years ago and I really promised myself that I would only join a pageant when I am ready to take on the responsibility of a crown, and I am now," she said.
"Yesterday, as I was walking on that beautiful stage all I was thinking was my mom and dad. The strength I got from them is indescribable. I've worked so hard for this, I've prepared. And I let God do the rest knowing that whatever is meant for me will never pass me by," she added.
Apart from a beauty title, Celeste is currently completing her degree in real estate management and pursuing her Philippine real estate license.
Next Sunday, she is going to try to bring home the crown with 83 other entrants all over the world at the coronation night to be held in New Orleans, Louisiana.
Celeste revealed that she is more prepared now, and is raring to represent the Philippines with pride and passion.
"I feel like this (Miss Universe) journey is going to teach me a lot – about my personality, my purpose, that's why I'm focusing on it a lot," said Celeste in a December presscon during her launch as the cover girl of a digital magazine.
She shared that she hopes to take the crown as a birthday gift. "Not only for myself but also for the country!" she said.
RELATED: Celeste Cortesi receives sash for Miss Universe 2022, bonds with roommate Miss Italy
*****
Credit belongs to : www.philstar.com