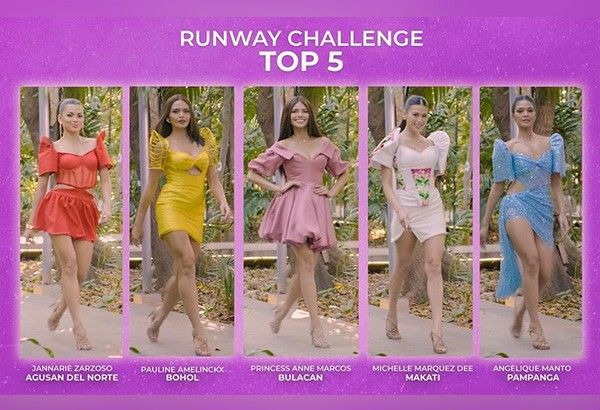 MANILA, Philippines — The online voters have finally spoken! Based on the Miss Universe Philippines (MUPh) poll on the Jojo Bragais Runway Challenge, favorites and frontrunners made the Top 5 list.
Leading the pack is Bulacan's Princess Anne Marcos. She is followed by Bohol's Pauline Amelinckx and Makati's Michelle Marquez Dee. Completing the list are Jannarie Zarzoso of Agusan del Norte and Angelique Manto of Pampanga.
This year's Runway Challenge is a far cry from the 2021 batch where Cebu Province delegate, Steffi Rose Aberasturi, set the standard so high that it would take a long while for another contender to come close to what she accomplished atop the Cebu-Cordoba Link expressway. To achieve that feat, a delegate must have the right connection, the right team and ample resources.
This year's edition was done in one and the same place. What made it lackluster is the venue where the paved walkway still reeked of wet concrete, while the linear camera work just took out all the artistry the girls may have invested in this challenge.
But what made this challenge a bit "challenging" is the decision to wear a Filipiniana ensemble. Regardless of length, choice of neckline and deconstructed design lines, the proper way to wear it remains the same.
Just like how the Japanese would wear their kimonos, the Indians their sari, the Chinese their cheongsam, the Koreans their hanbok, the Indonesians their kebayas, the Viets their ao dai, or the Siamese their chut thai. There is a proper way in wearing each of these different national attires.
A number of candidates, unfortunately, failed in this challenge. The pollsters must have seen how wrong they moved in their dress. While it is true that one needs to be fierce in this challenge, it doesn't follow that one has to throw away decorum observed by countless Filipinas who lived before them.
As one pageant analyst would put it, it doesn't mean that you have certain pasarela skills that you have to flaunt them every opportunity you get. This is what sets apart a thinking and learned entrant from a wannabe beauty queen, which also includes members of her team who have no inkling about history and patrimony.
Kudos is given to shoemaker Jojo Bragais for continuously creating footwear for women, in realization of their dreams. His long line of footwear ranges, while helping women stand tall on their feet, has also bolstered the Walk/Win campaign.
The winner of the Runway Challenge, and all other pre-pageant challenges, will secure spots in the semi-final round during the coronation night. The 2023 final show will unravel on May 13 at the SM Mall of Asia Arena. Stay tuned!
RELATED: Dark horses dominate Miss Universe Philippines 2023 photo challenge
*****
Credit belongs to : www.philstar.com