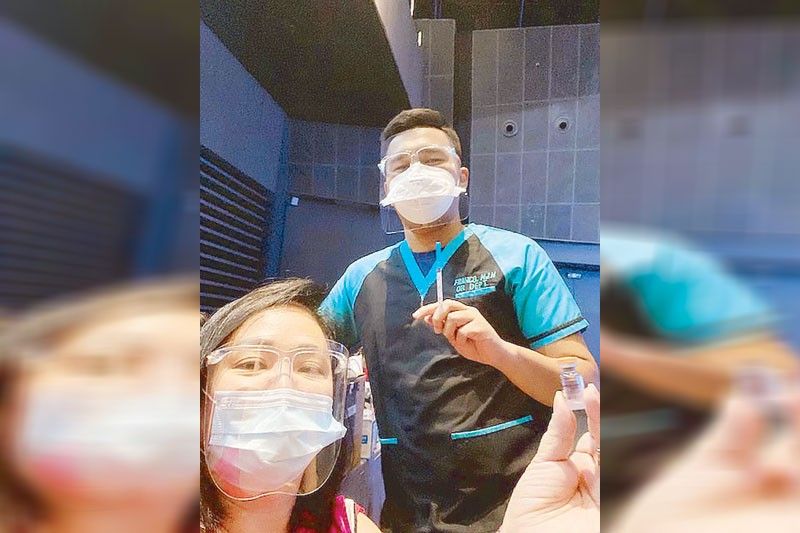 I finally got vaccinated on May 21, and I'd like to share how I made my decision after nearly three months of thinking and rethinking.
I had always wanted to get vaccinated, but I was waiting for feedback on the available brands before I made my decision. When friends offered to put me on the list for an American brand, I was delighted even if they warned me that it would arrive in July or even later.
A dear friend kept egging me to apply online and get a schedule. He insisted that I was qualified since at my age (55), I had existing comorbidities like hypertension, high cholesterol and sugar. He even harshly said that I was obese, a claim I adamantly denied (hahaha!!!). I believed I could wait a little longer because there were those who needed the jab more than I did.
Last April 2, however, 15,301 COVID cases were recorded in a single day, and the National Capital Region (NCR) was again put under Enhanced Community Quarantine (ECQ). The ECQ gave me lots of time to rethink my earlier position. The friend I mentioned earlier became more insistent and reminded me that I go to work every day, visit the bank and grocery store regularly, attend meetings face-to-face, and go to the studio for set visits. At the end of each workday, I go home to my children, thus exposing them and my household staff.
Luckily, I have never been infected by COVID. I must admit though that I've been a Person Under Interest (PUI) on a number of occasions when people I was in close contact with tested positive. I've had numerous PCR and antigen tests done regularly, and thankfully, I've never tested positive. But how long can my luck, if you can call it that, hold?
My friend reminded me that the virus doesn't choose its victims, so let's not be choosy as well with the vaccine. Experts say it's just a matter of time until we all get infected, which is why everyone is encouraged to get vaccinated. Even with the vaccine, we are not spared from contracting the disease. But it does lower the chance that we will require hospitalization and die from COVID's worst effects.
The vaccine is also your ticket to traveling abroad. Some countries will not allow visitors entry unless they've been fully vaccinated. This was the clincher for me. After not being able to travel for over a year, I am raring to go!
To cut to the chase, I finally got my date with whoever my vaccinator would be. With Sinovac as the vaccine, no ifs and buts. Sinovac, said my mom quoting medical sources, is a good choice. She has also heard from senior citizens who got jabbed with it that they did not experience any side effects. That it can be stored in a standard refrigerator at 2-8 degrees Celsius was also a plus. That it's an inactivated vaccine that works by using killed viral particles to expose the body's immune system to the virus without risking a serious disease response is also worth noting. And though Sinovac has not yet been approved by the World Health Organization (WHO), the Chinese drug company that produced it is confident they will soon get approval. Personally, I think it's just a matter of time since it will be discriminatory not to approve it when more than 243 million people in China have already been inoculated with Sinovac and Sinopharm.
For the sake of our loved ones, do get vaccinated. As the government has repeatedly said, the best vaccine against COVID-19 is the one in your arm.
*****
Credit belongs to : www.philstar.com