MANILA, Philippines — If you want to be inspired, have a good cry and just be filled with hope after watching a film, especially during this time, there's Ron Howard's Hillbilly Elegy on Netflix.
Here's one family story that could happen anywhere. You have a mother whose love for her family is challenged by her struggle with her personal demons; a grandmother who is the epitome of tough love, oftentimes misunderstood, but it's what holds them together; and you have children raised by their grandparents and at times, left to act like a parent to their own parent. But whatever happens, and no matter its dysfunction, family is family and more often than not, it's worth fighting for.
Directed by the Oscar-winning Ron Howard (A Beautiful Mind), the film is based on a real, flawed, multi-generational family who relied on each other to get through the best and worst parts of their lives. Specifically, this was adapted from the 2016 #1 New York Times best-selling memoir by J.D. Vance (played in the film by Gabriel Basso) about the complex dynamics in his family that's rooted in the "poor White community" in the Appalachia (eastern US), including his volatile relationship with his mother Bev who has an addiction problem, and his memories of his feisty grandma Mamaw who raised him.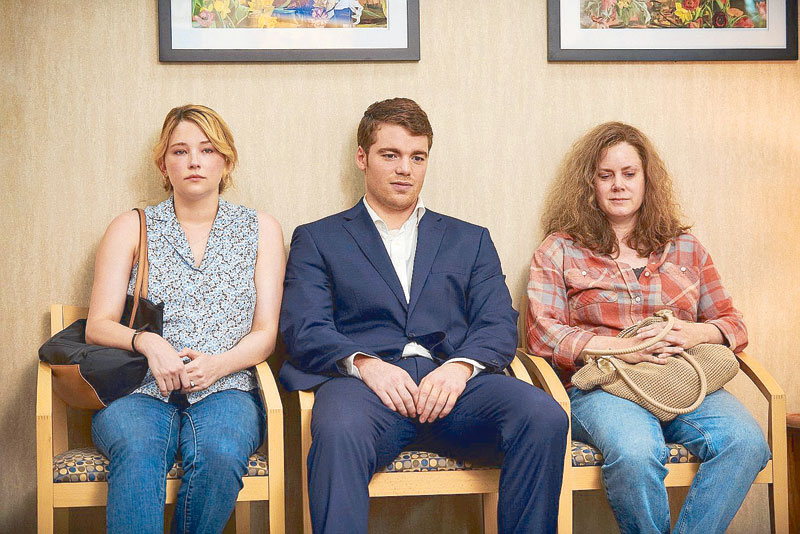 Amy with co-stars Gabriel Basso and Haley Bennett as Bev's children J.D. and Lindsay
Photos courtesy of Netflix
The STAR recently had a virtual chat with the lead stars Glenn Close, 73, and Amy Adams, 46, touted in the US press as Oscar contenders anew — they've had multiple nominations in the past — for their portrayals as Mamaw and Bev, respectively, in the film.
When asked how he assembled such a cast, Ron told this writer, "I had worked with Glenn Close before (1994 comedy-drama film The Paper) and, of course, (she's) in the age range of our Mamaw character. And Glenn is, you know, among the very elite actresses of her generation, and she's a friend of mine, and she told me she had read the book, was very interested and loved the character of Mamaw. I told her, 'Well, I'm actually working on a screenplay for that project. And I'd love you to read it.' So, it just came together very, very quickly."
Amy was immediately the target for her role — she was the first, second and third choice, as the filmmakers put it — but it took some convincing for her to come onboard.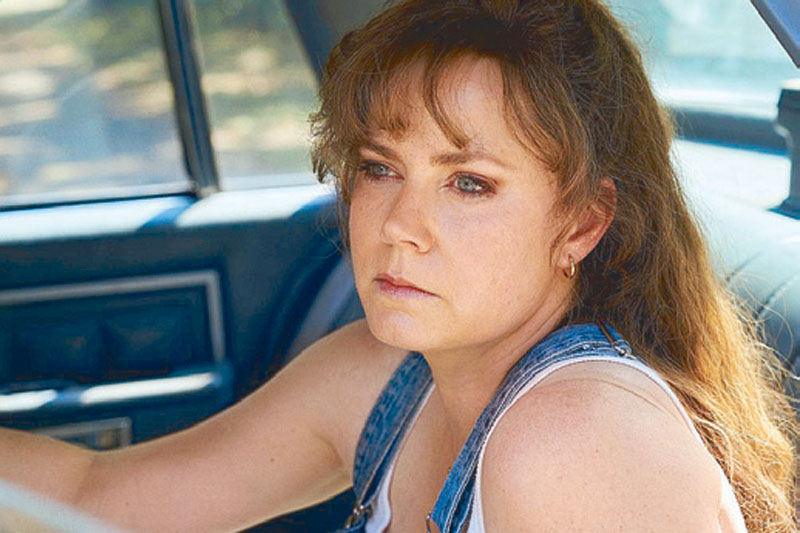 Amy as Bev Vance, the troubled mother of J.D.
Ron said, "She is somebody I've long wanted to work with. And I began to notice that photos of J.D.'s mom Bev when she was younger look so much like Amy. But Amy was difficult to convince because the character goes through so much turmoil and causes so much pain and suffering. That part of her did not want to live through that. But ultimately, she felt it was a story that offered real insight and healing."
Here's the rest of our Zoom interview with Glenn and Amy:
On the insights they have learned about family through this film:
Glenn: "I think any story this specific about families and about what families are going in certain areas of this country can only be good when people take the time to actually listen to them. Listen to what the characters are saying and try to understand, you know, something about their life. I think if we did that more, we would perhaps be in a different place than we are now.
"And I think one of the things that art does is to tell stories. Everybody has a story and everybody's story counts. Those of us who choose to be in stories like this, you do it to have personal fulfillment, but also you do it because you think it's something that's important to do and I did feel that — I thought it was an important story to tell.
Amy: "The pull into the family was the reason that I did this film as well and focusing in on sort of the struggles that they're dealing with. One of the things I find so compelling is the strength of the women inside of the story, be it the mother, the sister, and the way that helps shape J.D. There's something to be found in understanding these characters."
Glenn: "Like any family, they didn't always get along. All the great drama ever written is based on family. So, there's a lot of drama in every single family, you have good times with some siblings and you have bad times with some siblings, and then they change and it comes around. That to me is just human.
"The fact that we were attempting to tell the story about a family made me feel like I was right at the heart of what it means to be human. Let's explore what this family was and what they meant to each other, and when they hurt each other, when they helped each other.
"Why the story is so inspiring is that J.D. did stop that generational cycle that the family had been in the clutches of, and that's inspirational for many people who don't have to come from the hill country of Kentucky."
Amy: "That's what I was attracted to as well — this idea of generational trauma, how do you break the cycles, and how do you move past that sort of upbringing and yet still stay rooted in your family. I come from a big family so that's something that I'm constantly tasked with. You know, embracing who it is I want to grow to be, but at the same time staying rooted in the truth of who I am."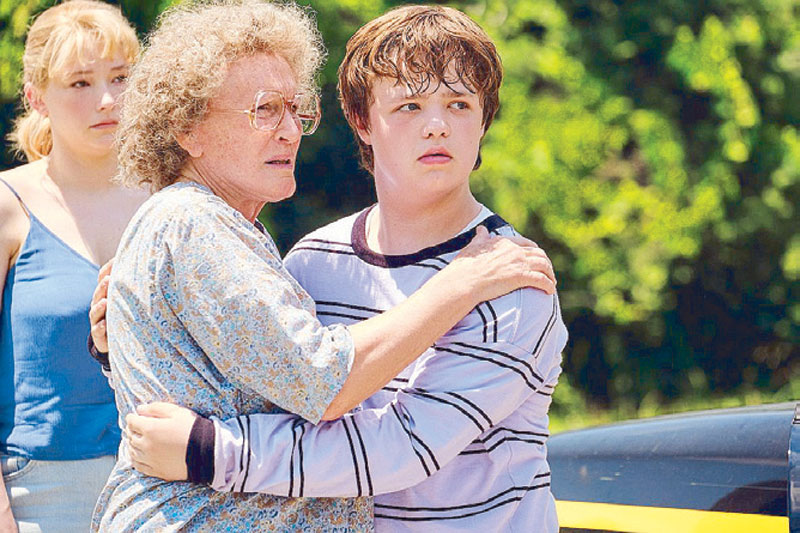 Glenn with Owen Asztalos as the young J.D. Vance
On the challenges of getting into their characters:
Glenn: "When we started, when I learned about Mamaw, I didn't want to be distracted by my face, and so I wanted to change my face in a very subtle way so that I knew people weren't saying, 'Oh that's Glenn Close with a crazy wig on.'
"I went to the people who were my Albert Nobbs collaborators for the makeup and the hair, and just very, very subtle changes to my nose, my ears, and the wonderful hair which we went by a portrait, and black-and-white photographs that we had of Mamaw with those big glasses as well…. And I felt there came a point where you look up and you say, 'Ah, there she is. I don't see myself anymore. Now, I can just take off from here.'
"But it was very, very helpful to ask specific questions to the family, and see videos and see her energy and how she related to people, in motion… The Mamaw that you see is the Mamaw that I learned about from the family. And as an artist, you just instinctively make it your own somehow, but it was a thrilling journey for me to try to find the essence of this remarkable woman."
Amy: "The most challenging part of it was that Bev is alive and doing well. That's the wonderful part of it, but wanting to honor her story, be able to tell it with a lot of humanity and empathy and in a way that reflected honestly this period of her life, I also wanted to make sure we understood that she was a smart woman, she put herself through nursing school, she was a single mother on and off for a lot of the time.
"I wanted to really honor that part of her story as well as telling her part in the generational trauma that existed. There was a lot to undertake and it was very rewarding and again, the family was so important to us and so courageous and generous."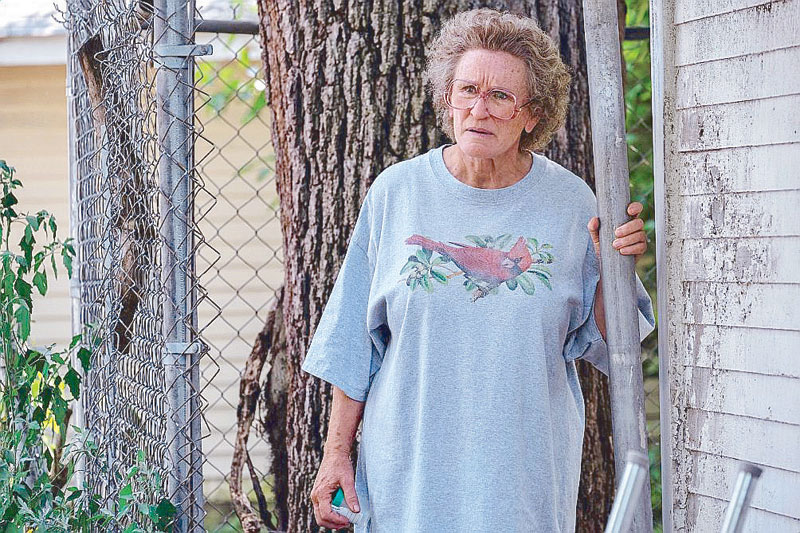 Glenn as Mamaw, the feisty matriarch of the Vance family, who raises the memoir author J.D. Vance
On working with each other:
Glenn: "I went into this having deep respect for Amy's talent. I'd met her on red carpets, you know, as you do, but we didn't ever spend any time together but we sat next to each other every morning in the makeup truck and that, for me, is the beginning.
"You kind of look, kind of see what she is doing now, how are they doing her makeup and, oh she's doing her own bangs, she has the curling iron, she's doing another setup. How does she talk to the people who are working with her? So, you start to get a sense of even as basic as that of how somebody works, and the respect they have for people they're collaborating with and that means the most to me because what we have, as actors, is the process of making something together.
"If you're aware that with a director like Ron Howard, you have the best of the best, so the collaboration is vital and thrilling. And that's what feeds my soul — to have those experiences, and to have them with somebody like Amy. And, you know, she listens to music more than I do. So I'd love to know what music she put on in the morning.
"A company is like a living organism and at the center of it is the director and the lead actors. And you have everything to do with the whole atmosphere in the whole kind of spirit of that company and to be at the heart of a company with Ron and Amy was thrilling for me and one of the best experiences of my career."
Amy: "Working with Glenn is really a dream and as far as I could bottle the Glenn special sauce that would be awesome. But it is very much like what she said, you see somebody, the way they attack the work, the way they approach different people on set, their integrity, their passion.
"One thing I loved about Glenn is that she still has so much passion for the work that we do. And it was really contagious because I can be quite fearful… It was always fun working with Glenn, like we always had a good time and worked hard, really, really hard. But the joy that she brings to it and the joy that I feel that she has for the craft was something that was really inspiring."
On what it means to them to be recognized amid Oscar buzz:
Glenn: "It means a lot. Frankly, I think we're in a very difficult profession. Hopefully, we should only get better as we get older and have the privilege of exploring the landscape basically of what the human condition is.
"But I have to say that the thing that means the most to me is when our peers choose our performances as being worthy of attention. That means the most to me, when it comes from my peers."
Amy: "It's a very meaningful thing to be recognized. And in any given year, there are so many wonderful performances and I just feel lucky to be a part of the stories that are being told that are resonating with people and that's a very fortunate position to be in. I'm very grateful for that."
Hillbilly Elegy is streaming on Netflix.
Credits belong to : www.philstar.com