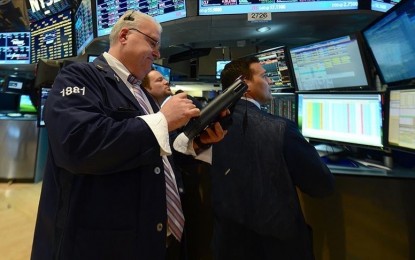 ANKARA – Eyes turned to the United States Federal Reserve Wednesday as it is expected to hike the benchmark rate for the first since 2018.
The Fed is expected to make a 25-basis point rate hike to start monetary tightening.
Russia's invasion of Ukraine led central banks to reassess their monetary policies, with the Fed taking center stage amid concerns over supply disruptions and a sudden inflation shock rising day by day.
Annual consumer inflation in the US rose 7.9 percent in February, marking the largest 12-month increase since January 1982, according to the US Labor Department.
Producer prices in February were up a record 10 percent annually, the department's figures showed.
Brent crude jumped last week to USD139.13 per barrel, its highest since 2008, amid the US' import ban on Russian oil, natural gas and coal.
Other commodity prices, such as wheat, palladium, copper, platinum and nickel, also soared last week.
While it is almost certain the bank will increase interest rates by 25 basis points, clues will be sought in the text of the decision on how the pace and extent of the tightening will follow in the upcoming period.
Investors will also watch the messages on the roadmap to be followed regarding the termination of asset purchases and balance sheet reduction with the remarks of Fed Chairman Jerome Powell after the interest rate decision will be decisive in the course of the markets.
The Fed last hiked interest rates in November 2018 to end the expansionary monetary policies it had put into effect after the global financial crisis.
The bank is projected to increase interest rates by 25 basis points seven times this year, and verbal guidance regarding the bank's response to the economic impacts of the Russia-Ukraine war will reshape market expectations.
Meanwhile, US President Joe Biden signed a sweeping federal government spending bill on Tuesday that includes USD13.6 billion in additional funding to assist Ukraine in the war with Russia. (Anadolu)
*****
Credit belongs to : www.pna.gov.ph