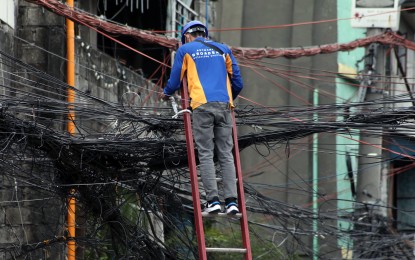 MANILA – Telecommunications (telecom) company Globe on Friday thanked the Department of Public Works and Highways (DPWH) for releasing Department Order (DO) No. 29 removing a bottleneck that prevented telecommunication service providers from constructing infrastructure projects along national roads.
"With this, (the company) sees faster network builds in the country," Globe said in a statement.
It said the order allows information and communications technology (ICT) service providers to construct and undertake excavations and restoration works for infrastructure projects "within the allowable right of way limits of national roads."
"This will be determined by the concerned District Engineering Office of the DPWH," Globe said.
The order was signed by DPWH Secretary Mark Villar on March 23 and amended DO No. 73 issued in 2014 that outlined the DPWH's policies on telecommunication and internet infrastructures.
The amendment, it said, complies with the Bayanihan to Heal as One Act (Bayanihan 1), or Republic Act (RA) No. 11469, that paved the way for accelerated approval of permits and other documents from the local government to speed up the construction of telecommunication towers.
In addition, Bayanihan 2, or RA No. 11494, further eased the construction of telecommunication infrastructure by waiving several other permitting requirements for telecommunication companies.
In 2014, the DPWH issued DO No. 73 prohibiting telecommunication and power companies from constructing posts along national roads as it "creates an imminent danger to lives and properties and hamper relief operations" during calamities.
In the midst of the Covid-19 pandemic last year, the Department of Information and Communications Technology (DICT) and the National Telecommunications Commission (NTC) asked the DPWH to consider changing the order as it "slowed down the rollout of critical telecom infrastructure." (PNA)
*****
Credit belongs to : www.pna.gov.ph