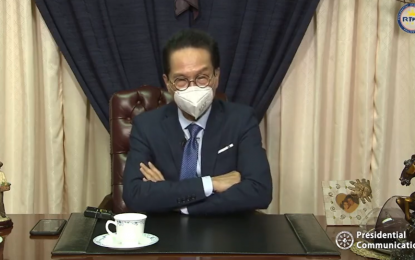 MANILA – The Duterte administration could ask the court to compel the Philippine Red Cross (PRC) to submit their financial records for scrutiny, Chief Presidential Legal Counsel Salvador Panelo said on Sunday.
Panelo made this remark as President Rodrigo Duterte repeatedly demanded PRC Chair and Senator Richard Gordon to open the humanitarian organization's financial records.
"For one, kung hindi kusa magbigay ng report (if they won't voluntarily give the report), we can go to court to compel them to comply with what the law asks them to do," Panelo said in an interview over DZBB.
He said the PRC would have liability if it failed to submit its financial records and would have a violation if it failed to submit them within five years' time.
Panelo said the PRC should submit itself to an audit of its finances if they wanted to prove that its business dealings did not "smack of greed and a desire for inordinate profit."
"If it truly has nothing to hide, then the PRC should refrain from coming up with imagined reasons why the Filipino people do not have a right to be informed on the business dealings of an entity upon which they have granted a multitude of benefits and exemptions," he said in a separate statement.
Absence of legally mandated discounts
Panelo questioned the absence of legally mandated discounts on PRC services, particularly on Covid-19 testing.
He cited how the PRC boasted that it is the leader in Covid-19 testing in the Philippines, having conducted more than 4 million reverse transcription-polymerase chain reaction (RT-PCR) tests, which it said accounts for about 25 percent of the entire tests conducted in the country.
"Oddly though, the PRC conveniently failed to disclose that it hasn't been forthright in its sale of services to the people," he said.
Panelo reiterated that the PRC, which is already exempt from the payment of all taxes, failed to apply discounts on its RT-PCR tests for senior citizens and persons with disabilities (PWDs) as mandated by Philippine law.
"Taken in context with the more than 4 million RT-PCR tests that the PRC has conducted and multiplied by the price that it offered it at, which was at one point PHP4,000, it appears that the PRC may have well indeed bagged billions of pesos in profits, in clear and apparent contravention of the law," he added.
He also questioned why party-list organizations and other cause-oriented groups, who were supposed to protect the rights of the elderly and PWDs, were silent on the issue.
In a prerecorded public address aired Saturday morning, Duterte again vented frustrations over a series of hearings by the Senate Blue Ribbon Committee led by Gordon on the government's procurement of medical supplies amid the Covid-19 pandemic.
He threatened to cut ties with the PRC and stop its funding if Gordon rejected his call for the humanitarian organization to undergo a state audit.
Duterte also said it would be a dereliction of his duty as head of COA if chair Michael Aguinaldo refused to audit the PRC.
Earlier, Malacañang said COA can conduct a special audit of PRC's finances, citing Article 9 of the 1987 Constitution which provides that the state auditing body has the power to examine on a post-audit-basis all accounts pertaining to the uses of funds by PRC that is "receiving subsidy or equity, directly or indirectly, from or through the government." (PNA)
*****
Credit belongs to : www.pna.gov.ph