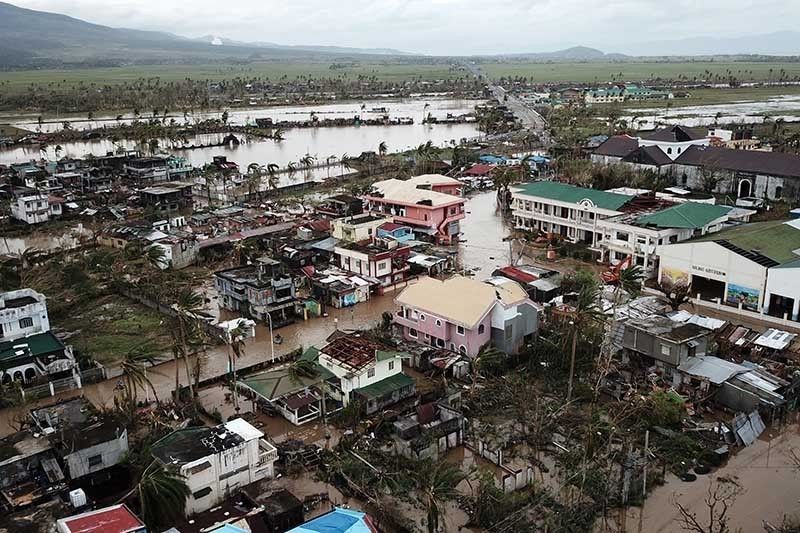 An aerial view shows destroyed and flooded houses after super Typhoon Goni hit the town of Malinao, Albay province, south of Manila on November 1, 2020.
MANILA, Philippines — Climate crisis is not only an environmental or political problem but also a human rights issue that threatens people's rights to life and livelihood, an environmental organization said Thursday
In a forum coinciding with the Human Rights Day, Greenpeace Southeast Asia Executive Director Yeb Saño pointed out that climate crisis poses danger to the realization of human rights.
"Climate emergency is not just an environmental conservation dilemma. It's now the single biggest threat to lives, livelihood, human dignity, security. It is absolutely a human rights issue," Saño said.
"Climate crisis is not an issue about disaster event alone. It is compromising human existence, the fundamental dignities of people, their lives, livelihood, their health, home and all the basics that people need in order to survive," Rep. Edgar Chatto (Bohol) also said.
The Philippines is an archipelagic country highly vulnerable to the catastrophic impacts of climate change such as sea level rise, increased frequency of extreme weather events and rising temperatures.
"Climate crisis is indeed generational and Filipino communities are at the forefront of the impacts. The Philippines has been facing impacts of climate emergency not only today but from many decades already," Saño said.
"We cannot anymore keep on telling ourselves we are resilient and through our resiliency, we can rise up and pick up the pieces every time and stand back on our feet. We need to stop romanticizing our resilience," he added.
The historic Paris climate accord, signed five years ago, called for blocking global warming at well below 2 degrees Celsius and 1.5 degrees Celsius, if possible.
Earth's surface has already warmed 1.2 degrees Celsius on average, and new study shows that a return to 2019 levels of carbon pollution would likely push the planet past the 1.5 degrees Celsius milestone around 2030.
Climate emergency
Last month, the House of Representatives adopted a resolution declaring a climate and environmental emergency. The declaration urges local government and government agencies to adopt policies to mitigate the effects of climate change, but does not legally compel them to act.
"The House resolution declaring climate and environmental emergency is not just a mere symbolic gesture but it should be an instrument that aims to ensure coherent actions in the executive and legislative agenda of our government," Chatto, chair of House committee on climate change, said.
Saño said the climate emergency declaration is the start of "big steps" toward addressing concurrent crises.
"This declaration is a call to initiate an urgent whole-of-government and whole-of-society mobilization to respond to the climate emergency," Saño said.
Better normal
Bill Bontigao, a Bicol-based youth leader, called on the government to set priorities to tackle the climate crisis and hold big polluters accountable for their contribution to the warming of the planet.
He also called on young people like him to act on the crisis to attain a "better normal."
"I don't want my nieces and nephews, including the next generations, experience a future where they can't enjoy the rain nor the warm feeling of the sun because the world has changed so much… I don't want them to experience a future where their survival is being challenged rampantly," Bontigao, a survivor of Super Typhoon Rolly (Goni), said.
"I don't want them to question me and my generations, telling me, 'Uncle, what did you do when you had the chance to take action? Did you just do TikTok or Facebook? You and your generations failed to make a better world for us.'" — with report from Agence France-Presse
As It Happens
LATEST UPDATE: December 9, 2020 – 6:06pm
At current levels of greenhouse gas emissions, Earth could warm by 1.5 degrees Celsius (2.7 degrees Fahrenheit) as early as 2030, the Intergovernmental Panel for Climate Change says in a landmark report.
"Global warming is likely to reach 1.5C between 2030 and 2052 if it continues to increase at the current rate," the report concluded with "high confidence."
Earth's surface has warmed one degree Celsius (1.8 degrees Fahrenheit)—enough to lift oceans and unleash a crescendo of deadly storms, floods and droughts—and is on track toward an unliveable 3C or 4C rise.
December 9, 2020 – 6:06pm
Earth remains on course to warm more than 3 degrees Celsius by the century's end despite a dip in greenhouse gas emissions due to the pandemic and pledges to curb pollution, the UN says Wednesday.
In its annual assessment of emissions levels, the UN's Environment Programme find that 2020's 7-percent fall in carbon pollution would have "negligible impact" on warming without a broad and rapid shift away from fossil fuels. — AFP
December 8, 2020 – 1:23pm
An international group of researchers warns enormous stimulus packages to boost post-pandemic growth could worsen global warming with huge investments in fossil fuel activities.
Around $12.8 trillion has been pledged to help companies and households recover from the worldwide crisis, with the G20 group of advanced economies accounting for about $11 trillion of that figure.
That is roughly three times more than what was promised following the global economic crisis in 2008. — AFP
December 3, 2020 – 8:32am
From small island states to urbanised powerhouses, every country on Earth faces "multiplying and intensifying" threats to human health as climate change renders future pandemics and system collapses ever more likely, a major study concluded on Thursday.
A deadly mix of extreme heat, air pollution and intense farming are combining to produce the "worst outlook for public health our generation has seen", according to the Lancet's fifth annual report on the links between health and climate.
The assessment showed that the last two decades have seen a 54 percent increase in heat-related deaths among older people, with extreme heatwaves claiming close to 300,000 lives in 2018 alone.
While climate-linked phenomena such as tropical storms remain for now problems overwhelmingly faced by developing nations, the authors said extreme heat was already inflicting devastating damage to health in wealthier countries. — AFP
December 2, 2020 – 9:22pm
This year is on course to be one of the three warmest ever recorded and could even top the record set in 2016, the United Nations said Wednesday.
"2020 has, unfortunately, been yet another extraordinary year for our climate," said Petteri Taalas, secretary-general of the UN's World Meteorological Organization, as it unveiled its provisional 2020 State of the Global Climate report. — AFP
December 2, 2020 – 9:21pm
Climate change is now the biggest threat to UN-listed natural world heritage sites like glaciers and wetlands, and has pushed Australia's Great Barrier Reef into "critical" condition, conservationists said Wednesday.
In a fresh report, the International Union for Conservation of Nature (IUCN) revealed that shifts due to the changing climate now imperil a full third of the 252 UNESCO-listed natural sites around the globe.
The report "reveals the damage climate change is wreaking on natural World Heritage, from shrinking glaciers to coral bleaching to increasingly frequent and severe fires and droughts," IUCN Director-General Bruno Oberle said in a statement. — AFP
Credit belongs to : www.philstar.com