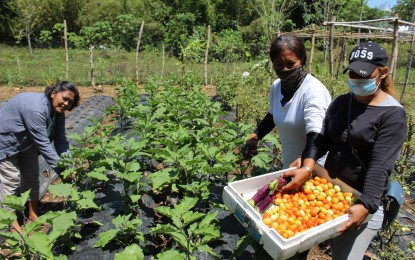 CEBU CITY – When people of different strokes come together to build a common livelihood for the entire community, that is resiliency in the making amid difficulties of the pandemic, with the heaven blessing them with a bountiful harvest.
While this sounds too good to be true, this is happening in Purok Tulingan, Barangay Kawit in the northernmost town of Medellin, Cebu.
Husbands, wives, mothers, community leaders, and various village residents have come together to establish a communal garden called "Gulayan sa Barangay" in their small village.
While the husbands are out to catch the bounty of the sea, the wives make themselves busy from dawn to dusk, tending to their communal vegetable garden.
These wives and mothers found that gardening is their new source of inspiration as it complements their usual day-to-day activities.
Despite the pandemic that everyone is facing, these wives feel that farming has come out as a good source of livelihood especially that it complements their husbands' fishing that brings good catch from the sea.
"We are not really used to farming as some of our family members are fishers. When we started our small garden, we don't even know how to properly tend it," Virgie Rosos, the president of the 15-member core group of the community garden, said in Cebuano in a statement by the Department of Agriculture in Central Visayas (DA-7) Tuesday.
For them, the Gulayan sa Barangay is not just a communal garden but a social activity brought about by the "bayanihan" spirit as it fosters responsibility and a sense of belongingness during this time of health crisis.
The communal garden has not only taught them unity but also the importance of eating healthy and nutritious food.
Despite coming from various levels of economic standing, residents have dedicated themselves to work as one and committed to cultivating the garden no matter what time of the day.
"Some of us will be here as early as six in the morning to tend our garden and will go home as late as seven in the evening. We take turns in cultivating our crops and vegetables," Rosos said, noting that their garden's produce are chemical-free and safe to consume.
She narrated that they went through a lot of challenges when they started their garden.
As they say, "some people will pull you down" but these things did not dampen their spirit to continue what they have started, she said.
DA-7 said it has seen these efforts and visited to check how the project is going.
Recently, during a project monitoring visit by the DA-7 staff, technical working group, and private volunteer members of the Integrity Circle of the DA-7's Agriculture Dialogue and Information Network Groups (ADING) program, their communal garden showed a haven of fresh and nutritious green, leafy vegetables. The department officials have seen that the garden serves as a convergence of the villagers.
Beaming with pride, Rosos together with her members, toured the ADING members to their garden planted with different varieties of vegetables such as green pepper, petchay, eggplants, tomatoes, and "kangkong", among others, from the vegetable seeds given by the DA.
The garden looks adorned with the different colors flashed by different varieties of vegetables. Indeed, the garden is not just a good source of fresh and nutritious food but also a good source of savings and livelihood.
"We have saved money because we just get food from our garden. We also save the other income of the garden for the group's future expenses," Rosos said.
The group thanked the DA-7's Gulayan sa Barangay, saying members have been reaping good harvests from their naturally-grown vegetables.
Still, the members seek to avail of more assistance such as training and seminars from the DA to enhance their knowledge and skills in farming. (PNA)
*****
Credit belongs to : www.pna.gov.ph