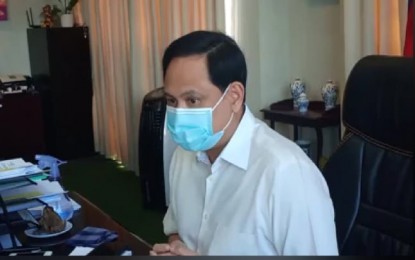 ILOILO CITY – Iloilo Governor Arthur Defensor Jr. has called on the Iloilo Police Provincial Office (IPPO) to investigate an explosion that occurred hours before the groundbreaking ceremony for a government project in Barangay Panuran, Janiuay, Iloilo on Wednesday.
In his regular press conference on Thursday, Defensor said while he condemned the incident, he has yet to sit down with IPPO Director, Col. Gilbert Gorero, for a briefing.
He said as a lawyer, he could not simply attribute the incident to any group and instead wait for the police to do its task.
"We are giving them time to investigate," Defensor said.
In his report furnished to the media on Wednesday afternoon, Gorero said soldiers of the 603rd Regional Mobile Force Battalion (RMFB6) were traversing the boundary of barangays Pangilihan and Canauili in Janiuay on their way to Barangay Agcarope when they heard an explosion at about 9:30 a.m.
They were supposed to conduct a clearing operation for the groundbreaking of an agroforestry support facility sub-project in Barangay Panuran that afternoon, the report said.
The Iloilo City Explosive Ordnance Disposal and Canine Unit (EOD) found an improvised explosive device (anti-personnel mine), the directional type, measuring 6 inches in diameter and 8 inches in height.
It made use of an orange PVC pipe containing 714 pieces of shrapnel made of 9 mm. corrugated steel bar.
"Two suspects fled immediately after the explosion," the police report added.
No casualty was reported after the incident.
In an interview over RMN Iloilo, Major Gary Tungala, team leader of the EOD unit, said they also recovered a firing wire of about 30 meters to 40 meters.
Most likely, Tungala said, the target was the police patrol car but the device exploded after it passed the area.
He added that it was likely the blasting cap failed to ignite the explosive, otherwise, its "detonation distance" could have reached 50 meters to 100 meters. (PNA)
Credit belongs to : www.pna.gov.ph