Health and Wealth in pandemic times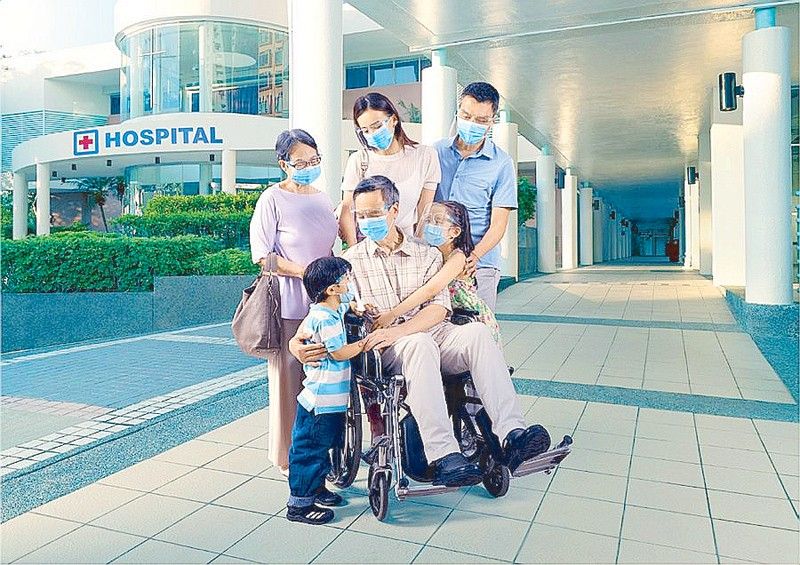 The coronavirus pandemic threatens the overall health and financial well-being of families around the globe. The virus doesn't discriminate. Rich and poor alike find themselves equally vulnerable.
And the past two years clearly prove that, above all else, our family's health and well-being should remain our top priority.
This is what celebrity couple Mikaela Daez and Miss World 2013 Megan Young realized when COVID-19 hit.
"Megan and I got married in January of 2020. At that time, we both agreed that we would work hard and save first before starting our family," shares Mikael.
The newlyweds would spend most of their time planning and shooting for their blog and podcast, where they talk about relationship goals, as well as the ups and downs of married life.
But their plans took a backseat when the government first imposed the enhanced community quarantine (ECQ) in March 2020.
"Work was definitely our top priority," Mikael shared during a Zoom event on how to take charge of one's heath and future. "And it shifted in an instant. Health moved all the way to the top of our priority list."
In these trying times, lessons abound.
"Life is still the most precious thing we have," Mikael added. "Working outside is so scary and difficult. To limit our exposure, Megan and I set up a mini studio at home. We also had to learn new skills. Right now, we take turns as our own cameraman and editor."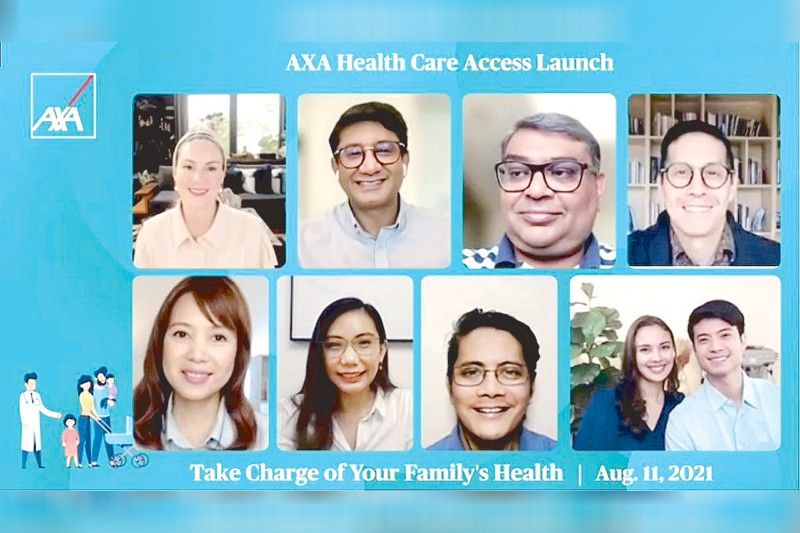 AXA Philippines CEO Rahul Hora (top row, second from left) with (from left) Chesca Garcia-Kramer, AXA Phils. retail propositions chief and health and protection head Alok Rungta, en-trepreneur Edric Mendoza, (bottom) host Nina Corpus-Garcia, AXA Phils. Corporate planning and strategy director Grace Mallabo, Dr. Randy Dellosa, and celebrity couple Megan Young and Mikael Daez
Take charge of your health, your future
Adults often feel the pressure to act responsibly with everything related to their health and their wallets. And nothing says "adulting" quite like budgeting for medical expenses.
In the time of the pandemic, medical expenses should be a top budgeting priority, because you'll never know when COVID-19 might strike.
According to a report on health spending released by the Philippine Statistics Authority in late 2020, paying for one's medical needs grew in the country by 11 percent in recent years.
Of this spending, a staggering 48 percent of the expenses came from "household out-of-pocket" needs. Meaning, Filipinos have resorted to digging into their hard-earned savings — or worse, turning to loans — to be able to pay for the cost of hospitalization or other medical expenses that they did not have the capacity to cover.
AXA Philippines, one of the country's leading insurance companies, introduced its latest health insurance plan Health Care Access.
"We are going through unprecedented times and doing and trying to do our best, despite the uncertainty of it all. Everyone is also being especially careful to take care of each other, especially when it comes to our health. Because, despite the current medical developments, the end of this pandemic is still not quite there as of yet," said Rahul Hora, AXA Philippines president and CEO.
To enable Filipino individuals and their families to protect themselves from life's unexpected moments, AXA Philippines developed a comprehensive and affordable healthcare plan that would free them from their worries, "while affording them a more secure future."
AXA Health Care Access offers a comprehensive and affordable healthcare solution for one's hospitalization and medical needs through a modest monthly or annual premium.
It comes in two plan types: Health Care Access Prime and Health Care Access Lite.
Health Care Access Prime provides comprehensive coverage of up to P5 million, annually. This plan is ideal for those who have no HMO like entrepreneurs, freelancers and consultants. Health Care Access Prime offers inpatient and outpatient care, and emergency care treatment up to the Annual Benefit Limit (ABL). This also includes an Annual Physical Exam starting from seven basic exams, with life and accident insurance benefits of up to P500,000. Moreover, customers can include an optical care benefit to the plan by paying a small additional annual premium.
For those with HMO coverage from their employment but who need additional protection, Health Care Access Lite is designed to provide just that on top of one's existing health care plan or personal health fund.
Health Care Access Lite offers inpatient and emergency care treatment up to the ABL. It also includes life and insurance accident from P50,000 to P500,000.
Moreover, you can enhance the coverage of your plan with outpatient care, optical care, or dental care benefit by also paying a small additional premium.
Full coverage in a pandemic and more AXA
Health Care Access provides full coverage and cashless payment arrangements, which is advantageous given today's ongoing pandemic. It also comes with free access to 24/7 teleconsultation via voice or video call with a medical professional.
Other superior benefits include the Longevity Health Fund, which one can tap into for health setbacks as they grow older and when they need it the most — beyond the age of 75. Customers get guaranteed renewability, family coverage within one plan, and even a premium reduction of 10 percent when the plan is extended to at least one family member, plus the option to add a "booster" or add-on depending on your specific needs.
The Critical Illness Booster provides an additional cash benefit if one gets diagnosed with any of the 56 critical illness conditions, and may be used for other medical expenses or as income replacement. The Annual Benefit Limit, on the other hand, automatically increases one's annual benefit limit by 10 percent every three years to help keep up with rising medical costs.
AXA Health Care Access encourages a more proactive and preparedness-oriented attitude towards health for everyone, allowing Filipinos to take full charge of their physical well-being for the future.
"AXA is committed to helping Filipinos, prepare for life's uncertainties. As we, as a nation, move forward in vaccinating the community, we need to stay prepared due to the emergence of new variants of the virus — while not forgetting other medical emergencies that are real, and that still need our attention. There is really a need to take charge of health and future and to be prepared. And we hope that, through our newest products, we'll have fewer worries to think about," added Hora.
* *
For information on Health Care Access, visit https://bit.ly/3xwunlp.
*****
Credit belongs to : www.philstar.com