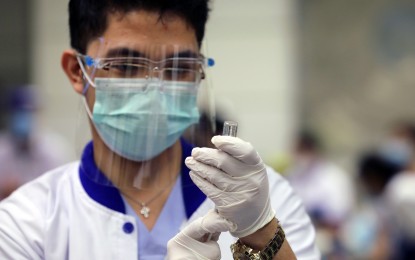 MANILA – Coronavirus disease was the cause of death of a healthcare worker recently inoculated against the disease, the Department of Health (DOH) said Wednesday.
In a joint statement, the DOH and its attached agency the Food and Drug Administration said the regional and national Adverse Event Following Immunization (AEFI) committees have conducted and completed a thorough investigation of the case.
Following the 2019 World Health Organization's AEFI causality assessment methodology, the committees concluded that "the death was caused by Covid-19 itself and not the Covid-19 vaccine."
They added that Covid-19 vaccines cannot cause Covid-19.
In a Viber message to reporters, the DOH confirmed that the patient is "a healthcare worker who succumbed to Covid-19."
However, it did not elaborate on details about the patient, including the brand of Covid-19 vaccine he or she had received.
Now that the vaccination program for healthcare workers has started, the DOH and FDA encourage them to get vaccinated amid the surge of Covid-19 infections.
"Millions of people around the world have received this vaccine, and evidence continues to show that the benefit of vaccination outweighs the risk of severe disease and death caused by Covid-19," the statement read.
Health authorities said vaccines are only one part of the solution in ending the pandemic.
The public is reminded to continue adhering to the health protocols such as wearing masks, maintaining physical distancing, washing hands frequently, and avoiding crowded places and settings. (PNA)
*****
Credit belongs to : www.pna.gov.ph