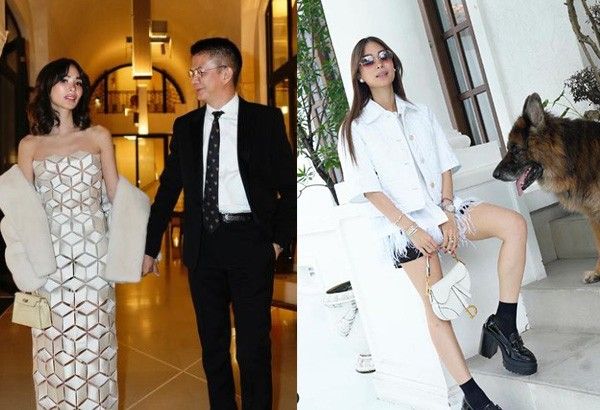 MANILA, Philippines — As a well-followed local celebrity, Fashion Week constant and a socialite hailing from the prominent Ongpauco family of Barrio Fiesta fame, Heart Evangelista seems to be the kind of girl who could buy everything she wants – and as endorser of e-commerce site Zalora, as someone who can add to cart anything she likes and check them out without looking at the price.
But all these are misconception, Heart said at a recent media launch that witnessed her contract renewal with the online shopping portal.
"In terms of clothes, it would be something that I know would be buildable, in the sense that you can mix, match with other items that you have. So even if you say 10 years from now, magagamit mo pa rin 'tong leather jacket na 'to, if your answer is 'yes,' then I would get it," she said, dispelling myths that she, as an "artista," tends to treat clothes as disposable.
Contrary to public opinion, she said she only buys branded and designer stuff not just for everyday OOTD (outfit of the day) but for its future value as a probable investment.
"If it's something that's like a trend, then no. If it's something that's couture, can be, because for me that's an art piece that I can eventually showcase in a museum or something like when you usually buy couture dresses, the fashion house sometimes borrows the dress and they'll like have an exhibit that would go for charity."
She attested that she doesn't just go on a shopping spree on a whim: "So, there would always be a reason for me behind each purchase that I have."
"It would have to be something that would have value, like in jewelry or the bags, you only get the best. If you have to upgrade into something else, then you know, may resale value. So you know, it's a business for me whenever I invest on something," she explained.
Although she was rocking an Yves Saint Laurent number at the presscon, her online shopping picks are actually surprisingly simple: "I love buying myself socks… I have a drawer full of socks I normally use. But it makes me feel comfort, safe."
"Also, I'm a sucker for canvas bags," she noted. "Especially when I travel, I always have something rolled in my bag. Kasi when I'm on a rush, I need to be with my canvas bag."
She is also always on the lookout for "nice oversized knit sweaters" and shirts with smileys.
"Sometimes, when I want to feel empowered, especially here in the Philippines, once they feel that you're 30 or so, it's always about your age or whatever your status. Sometimes they think, 'You should be less trendy.' No. I want to always go opposite. I love all the graphic shirts and the fun prints. I love wearing that to make me feel empowered," she expounded on why she loves smiley shirts.
Whatever one's fashion choices might be, she advised to always be mindful in spending because even in her case, she works hard to have purchase power.
"Fix the way you think first before you purchase something because again, we work very, very hard to buy something that we want."
RELATED: Heart Evangelista: Filipinos now treated better at Fashion Weeks abroad
*****
Credit belongs to : www.philstar.com