MANILA, Philippines — With the pandemic and advisories of physical distancing and banning of parties and gatherings, we're limited to our homes, but these should not hinder us from sharing what we have, especially the food on our holiday spread. Don't we often say that "Happy tummies make happy lives"?
So, we should share our common love for good food via a Zoom cooking session or cooking food to be delivered to our friends and loved ones.
Here some food and drinks that you can try to bring cheer to your holiday "e-ting" and "e-numan."
S'mores and 'Towers of Joy'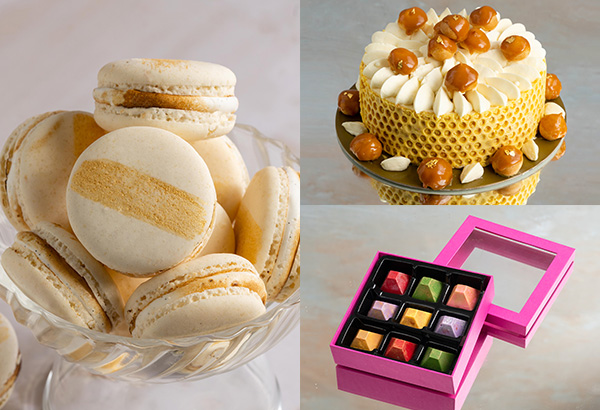 The 2020 catalogue offers treats for sharing and giving.
Photo release
The year 2020 has taught us the importance of expressing love to family and friends, celebrating everyday moments and finding heartfelt joy.
If kissing under the mistletoe is out for now, one can choose to send lip-smacking delights such as the creations under Bizu Joyeux Noël 2020 catalogue.
Designed to be works of art intertwined with delicate and decadent flavors, Bizu introduces its holiday cakes headlined by the Christmas confection The Cleopatra, a round beehive-like cake featuring layers of white chocolate mousse with honey-truffle oil and créme brûlée, topped with crunchy pearls and soft profiteroles. Hints of gold foil add sparkle to this distinctive cake, which comes in two sizes, Grande or Midi.
Targeting to be true to its name, Towers of Joy are made of cream puffs decorated with sparkly snowflakes, buttery-soft madeleines, or dainty French macarons rising to a height of 12 inches (or even double).
Other holiday cake selections include Chocolate Caramel Cake, Salted Caramel Cake, Strawberry Rose Cake, Bonita Basque Burnt Cheesecake, Ube Basque Burnt Cheesecake and timeless classics such as the Rocher Cake with Hazelnut Ganache, Orange Almond Butter Cake, and rum-soaked Fruit Cake.
Christmastime is about savoring both the sweet and succulent. Splurge on crispy-skinned and tender Cochinillo (roast suckling pig), Prime Ribeye Roast Beef, Whole Roast Turkey, Roast Lamb Leg, or 10-hour Roast Beef. Indulge in the rich, smoky, and salty layers of Smoked Salmon Caviar and Baked Salmon Rockefeller, a tradition in many households.
The Paris-themed patisserie's latest macaron flavor, Cookie Butter S'mores Macaron de Paris, combines the fireside comfort of biting into toasty marshmallow and buttery almond. Other macaron varieties include Rose with delicately scented Madagascar Vanilla, French Earl Grey, Ube and Queso de Bola, Malagos Chocolate and Italian Pistachio.
Send a chocolate surprise with a box of Truffle Pyramids, candy-colored and including guilt-free varieties such as the sugarless Macadamia Honey (Macadamia nuts, dark chocolate ganache, acacia honey) and Dominique (dark chocolate ganache, dark chocolate couverture).
These confections are available via any of the patisserie's branches or Bizu.ph, with last orders for December 24 to be made by December 21 and last orders for December 31 to be made by December 28. Allot three days for roasted dishes.
Have a 'five-star' Christmas party at home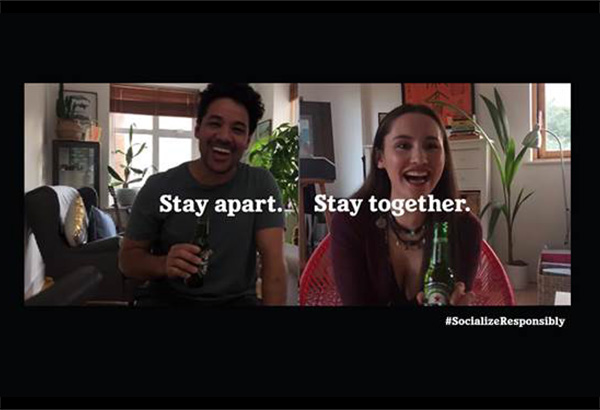 From new discoveries that help people become better versions of themselves, or honing in on skills that can be used to contribute or help, people should celebrate all the new experiences (or creative skills) people they have gained from living under lockdown.
Photo release
If there's anything 2020 has taught us, it's that sometimes we just need to see things with a fresh perspective. While embracing a new normal, people at home — in the Philippines and throughout the world — began trying new things. Suddenly, friends became bakers. Some turned into barbers and beauticians. Others, gardeners. And let's not forget the Tik-Tokers.
From new discoveries that help people become better versions of themselves, or honing in on skills that can be used to contribute/help other people, Heineken celebrates all the new experiences (or creative skills) people have gained from living under lockdown with the new Magnum 1.5-liter beer, ideal for any "five-star" Christmas party.
Known for its iconic green bottle with a red star, Heineken is a world-class, premium quality beer brand, beloved for its refreshingly balanced taste. True to its open-minded, cosmopolitan and witty personality, the beer brand has been inviting the Gen Zs and the Millennials of the world to take on a new approach to life.
Life has made us all slow down a bit, take a step back, find new ways to connect, and see things through a fresh perspective (even when things are not so favorable). It all comes down to what you make of it, and sometimes all it takes is a fresh perspective to create a fresh experience.
Have a 'naked' Christmas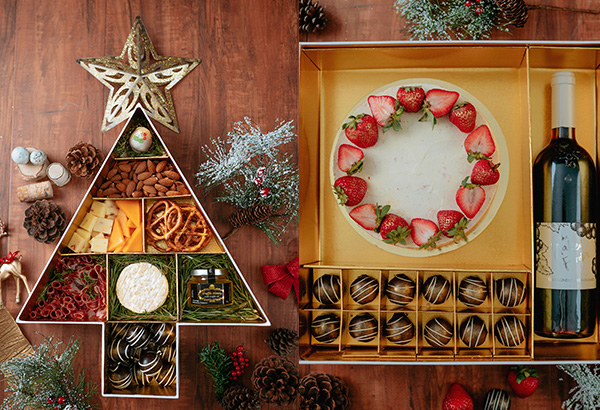 A passion project of Christian Mark Jacobs, Naked Patisserie specializes in making premium bespoke cakes, gift sets, spreads, wines and other food using naked and quality ingredients.
Photo release
After overcoming the obstacles of 2020, it is an understatement to say that we all deserve a Happy Holiday. Christmas might be celebrated a little differently this year, but Naked Patisserie wants to make sure that it is still festive and enjoyable with the launch of its latest Holiday collection of delicious desserts, gift boxes and giveaways.
A passion project of Christian Mark Jacobs, Naked Patisserie (nakedpatisserie.com, also on Instagram) specializes in making premium bespoke cakes, gift sets, spreads, wines and other food using naked and quality ingredients.
Known for its signature Strawberries 'N Cream, Chocolate Oreo Cheesecake Truffle and sweet and savory Holiday Snackers, the patisserie sweetens its offerings with new flavors and boxes to try that will certainly have you rockin' around the Christmas Tree together with closest friends and family.
The King's Crown is a moist chocolate ganache cake finished with edible gold and Ecuadorian sugar roses. Meanwhile, Strawberries 'N Cream Wreath Cake is a festive spin on the brand's award-winning Strawberries 'n Cream Cake, a moist strawberry cake with cream cheese frosting surrounded with premium strawberries, sprigs of rosemary and edible gold dust.
On the other hand, Luxe Chocolate Ganache Christmas Cake is a moist festive chocolate ganache cake finished with Chocolate Oreo Cheesecake Truffles, ripened strawberries, sprigs of fresh rosemary and edible gold dust.
Choco-Berry Drip Cake is a moist chocolate cake covered in rich dark chocolate ganache and finished with dark chocolate drippings, chocolate ganache, crushed oreos and premium imported berries.
Luxe Whiskey Set includes one's choice of cake, Chocolate Oreo Cheesecake Truffles and Johnny Walker Black Label Whiskey.
Luxe Wine Gift Set, meanwhile, includes a choice of cake, 12 Chocolate Oreo Cheesecake Truffles, and a selection of premium sparkling wine, rose, white or red wine.
Savory Holiday Snacker is a unique spin on the traditional grazing box, shaped like a Christmas tree with all your favorite cheeses and cold cuts and 10 Chocolate Oreo Cheesecake Truffles as a bonus.
Sweet Tooth Holiday Snacker is a good gift for that special someone who has a sweet tooth with its new French Kiss Cookies, French macarons, Chocolate Oreo Cheesecake Truffles, candied almonds, Chocolate Covered Pretzels and more.
Chocolate Oreo Cheesecake Truffles are the brand's famous cheesecake truffles, made with New Zealand cream cheese, Oreos and select ingredients from the patisserie's signature recipe. The truffles come in three, eight or 16 pieces, and when you pull the ribbon the Christmas card pulls out of the side or front of the box.
Taste of togetherness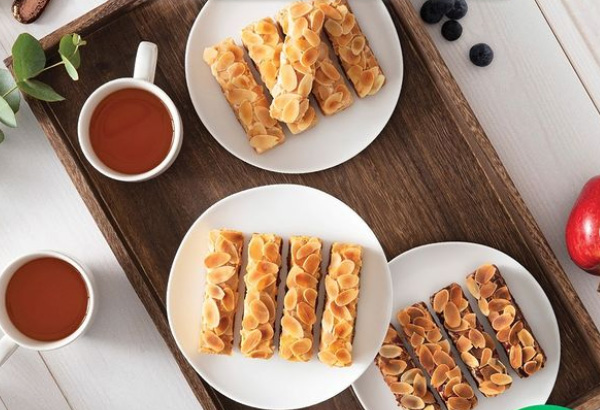 The pastries are touted to be handmade with artisanal standards.
MX Mooncakes Philippines via Instagram
Made from pure butter without preservatives, shortening, margarine or additives, Hong Kong MX Pastries are handmade with artisanal standards. Available via MX Mooncakes Philippines Facebook, Instagram, Lazada, Shopee, Foodpanda's PandaMart, select Rustan's Supermarket and Robinsons Supermarket branches, the brand can be found in GrabMart, SM Mall of Asia until January 15, 2021 and Eastwood Mall until January 25.
Its almond mille-feuilles, butter pastries, egg rolls, cookies come in gift sets with reusable metal cases. The Mille-Feuille Gift Set includes 192 layers of puff pastry, in almond, hazelnut and chocolate flavors. Meanwhile, Pastries Trio Deluxe have butter cookies and come in flavors like macadamia nut, hazelnut and maple syrup, among others. The egg rolls gift box has 15 pieces of coconut, matcha, chocolate and original flavors.
Jose Mari Chan, Nico Bolzico team up for holidays
Do Jose what we see?
There are a number of powerhouse music collaborations, but the latest one featuring legendary crooner and Christmas icon Jose Mari Chan alongside funny man Nico Bolzico may just be the most surprising — a perfect way to greet the holiday season and double up on the festivities.
The Christmas mash-up titled "Remix in Our Hearts," may be the most unexpected of matches, but with 2020 being unpredictable, this awesome duo, brought together by famous snack brand Lay's, may be just what we need to end the year on a high note.
The accompanying music video sees the pair clad in matching Rudolph sweaters, while performing a rap-sung duet and snacking on their favorite chips to double the fun on their small yuletide celebration.
Just like Jose Mari Chan and Nico Bolzico, you can double the holiday flavor and double up with Lay's Duo Packs. Enjoy the various combinations of the potato chip brand's signature flavors: classic, barbecue, sour cream and onion, and cheddar and sour cream.
With each duo pack, both your large online gatherings and intimate offline reunions might get two times more exciting and two times more delightful, making sure the spirit of Christmas lives on for 2020 and into 2021.
Meet Tiktok's hot 'shrimp-fluencer'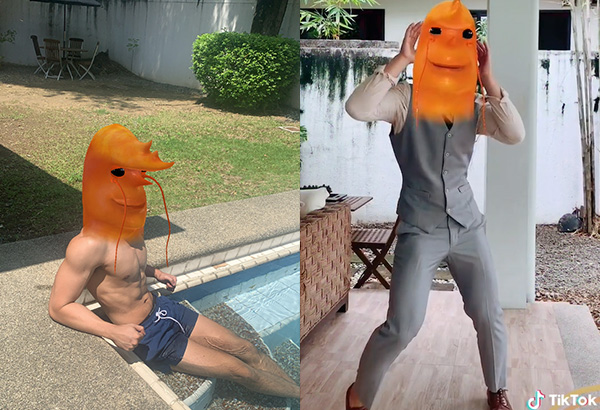 Hot Hipon lounging (left) and dancing to BTS' 'Dynamite' on Tiktok
Photo release
Living in a digital age under quarantine, we're always keeping ourselves entertained with the trendiest challenges and influencers, while also getting a much-needed pick-me-up from the funniest memes.
The influencer who's been taking over TikTok and Instagram with his entertaining content and sleek dance moves is actually more than a person — and his name is Hot Hipon. The shrimp-headed dancer started the "HOTtaw Challenge" on TikTok, which has spread through the app like wildfire, with over 242 million views to date.
Hot Hipon also recruited his celebrity HOTkada, Rayver Cruz, Riva Quenery, Maverick Legaspi, Ruru Madrid and Gabbi Garcia, among others, to try out the hottest dance craze themselves.
The catchy moves were inspired by Hot Hipon's favorite snack, Spicy Oishi Prawn Crackers. Just like the dance challenge, the spicy seafood snack in the Philippines kicks things up a notch with delicious spiciness.
Apart from catching everyone's attention with his confidence, sharp dance skills and funny content, his fans can't help but be intrigued about the man behind Hot Hipon.
New milk tea ice cream cone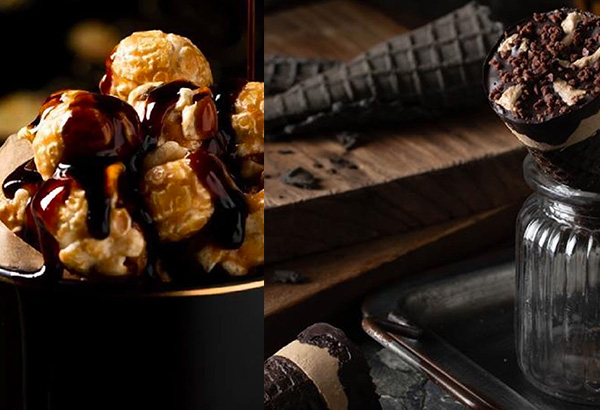 Tiger Sugar popcorn and ice cream cone
Photo release
Milk tea lovers will have every reason to celebrate this Christmas as Tiger Sugar releases its latest ice cream sensation with an online debut via the popular frozen delivery e-commerce site FrozenMNL.com.
The site specializes in handling frozen food deliveries such as ice cream, pizza, dim sum, meat, poultry, seafood and ready-to-eat frozen meals from top rated chefs and restaurants. It is dedicated to the proper handling of frozen items with a service promise that customers will never have to deal with defrosted food deliveries again.
The first Boba Ice Cream Bar was released last summer, and it became a mainstream hit that the makers decided to create a second variant – the Milk Tea Ice Cream Cone made with black sugar milk tea ice cream with special boba that maintains its chewiness inside the black sugar cone, topped with dark chocolate and crisp flakes. Both ice cream products are available at FrozenMNL and are bundled with Tiger Sugar Popcorn.
The site offers a vast selection of ice cream brands like Carmen's Best, Merry Moo, Meiji Ice Cream, Magnolia, Grom, as well as Keto and vegan ice cream. Fresh flown in weekly from Japan and Korea, the Philadelphia Cheesecake Oreo and Matcha KitKat flavors are some of the best-selling items. Popular frozen pizzas include Shakey's and Pizza Pedrico's. Other iconic brands include Pegi Waffles, Eat Fresh Dimsum, Eng Bee Tin, Theo & Brom Chocolate Tableya Cake and the Korean cheesy corn dog craze from Bibigo. Bolzico beef, Angus steaks, seafood, pork, poultry and Beyond meats are also sold onsite.
'Sleigh' the holidays with an app
Christmas truly is a time for giving, sharing, and spreading the holiday cheer. For the gift that keeps on giving, the Pick.A.Roo eGift Card store is now up on the app, which will allows users to purchase gift vouchers for their friends and family to use on the app. With more than 500 curated brands available, including Wolfgang's Steakhouse, 8Cuts, Din Tai Fung, Farmers Market, Fresh Options, Hawker Chan, Kam's Roast, Locavore, Manam, Milking Bombs, Mo' Cookies, Mothercare, Ooma, Paradise Dynasty, Robinsons Supermarket, S&R, S&R Pizza, Tim Ho Wan, Via Mare, Wild Flour Café + Bakery, Zagana and Gourdo's, a new roster of shops are added to the app, including Dyson, Bizu, Cibo, Mary Grace, Landers Central Pizza, MedExpress, Ace Hardware and True Value.
For those that aren't sure where to start on their Christmas shopping, ROOdolph is around to save the day with the live chat on the app, or send @pickaroo a message on Twitter, then drop a line for ROOdolph, in order to get a tailor-made set of gift suggestions.
The app also has a new iPhone 12 lined up for pre-order in partnership with Beyond the Box, for a hassle-free delivery experience. Those interested better hurry in ordering as only limited stocks are available. Ordering is made easy without having to line up or fill a long form.
For those abroad that can't make it home for the holidays, the app aims to make celebrating and sending gifts out to loved ones a piece of cake. They can simply shop on the app, pin a delivery address in any serviceable area, and leave the rest to the app. Presents sent out will be delivered to their doorsteps in as quick as just an hour. The growing list of serviceable areas now also include Bacoor, Imus, Lipa, and Nuvali.
From Christmas shopping to planning those family feasts, the app aims to be a one-stop shop for all holiday needs.

The best of two worlds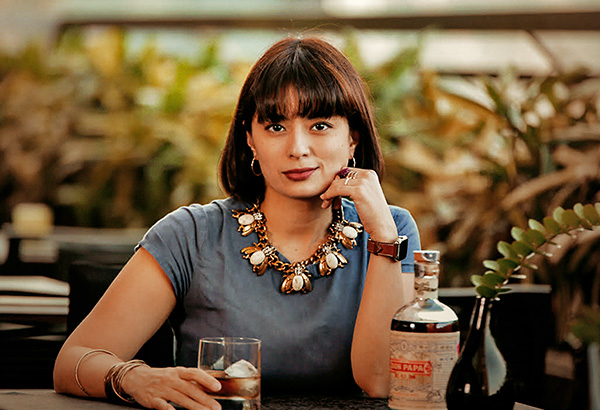 Asked about which food could pair well with the new rum, Monica Llamas-Garcia, Head of Brand and Communications shared, "What always works for me is chocolate. But the light spice notes and subtle sweetness of our Rye also works well with a traditional heavy meal—think barbecue or maybe even lechon."
Photo release
The Bleeding Heart Rum Company, makers of Don Papa Rum, has taken inspiration from 1920s American prohibition for their new release, Don Papa Rye Aged Rum.
The new expression was introduced to the members of the media in an event last November 20 at The Kanlaon — a virtual speakeasy, inspired by Negros island's Mount Kanlaon, hidden in the depths of the Sugarlandia jungle.
"Though the Spanish occupied the Philippines for more than 300 years, the Americans still managed to leave a lasting impression on Filipinos," Global Brand Manager Mig Molina explains. "Imagine a lush rye field on a Tennessee spring day merging with a warm tropical shower blowing in from the Philippine sea. This is the inspiration for the rum—American Rye meets Philippine sugar. It combines the intense, granular, spicy notes from the rye barrels with the black gold molasses rum."
The resulting product is a smooth, silky, complex new rum with a unique personality. The new expression has a delicate combination of spicy, salty, and fruity notes with a hint of pepper.
The liquid, with a pale golden straw color, has a rich, dry, velvety mouthfeel, and a smooth finish. These notes make the rum a fine expression for whiskey connoisseurs.
"The great thing with our expressions, especially the Rye Aged Rum is that it's quite diverse in the ways you can enjoy it," said the brand's Program Development Manager Aaron Goodal.
"You can enjoy it neat, you can have it on the rocks, or even as a cocktail. As it's a bit drier than your usual, Rye Aged Rum is a unique rum that bridges the gap between the whiskey world and the rum world."
Asked about which food could pair well with the new rum, Monica Llamas-Garcia, Head of Brand and Communications shared, "What always works for me is chocolate. But the light spice notes and subtle sweetness of our Rye also works well with a traditional heavy meal—think barbecue or maybe even lechon."
Beloved whiskey brand marks 200 years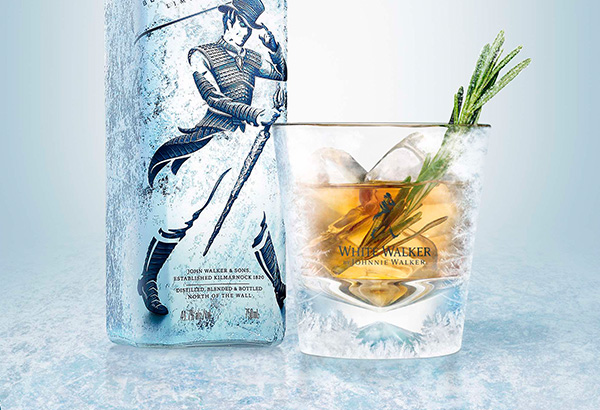 The 'White Walker' made for 'Game of Thrones'
Photo release
This December 17, Johnnie Walker held the "2XX & Beyond," a virtual festival to celebrate Johnnie Walker's 200th anniversary.
For the six-hour affair, the Scotch whiskey is going virtual and streaming the Festival on the Johnnie Walker Facebook Page with a private screening of "The Man Who Walked Around the World," an independent feature documentary that explores what it takes to become an icon in popular culture and how the brand remains relevant after 200 years.
Brand Ambassador Nico Bolzico's tell-all interview and the 2XX & Beyond Festival capped the virtual event. Powered by Karpos Multimedia, the festival brought in some of 2020's freshest musical acts: Breakbot + Irfane, FERN., August Wahh and Jason Dhakal.
Credits belong to : www.philstar.com