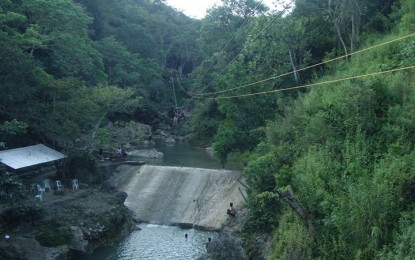 LAOAG CITY – A bill that aims to resume the development of a forest into an eco-adventure park has revived the hopes of officials and residents here.
Paraiso ti Caribquib, located in Barangay Caribquib in Banna, Ilocos Norte, began its development in 2007, with a 160-meter zipline as the main attraction.
A series of typhoons and lack of funds, however, resulted in its deterioration.
House Bill 6625, authored by Ilocos Norte 2nd District Rep. Angelo Marcos Barba, aims to declare Paraiso Ti Caribquib as a new tourist destination.
Once enacted, it will have regular funding from the Department of Tourism.
Local officials led by Banna Mayor Carlito Abadilla expressed excitement on Friday as the development will bring huge revenues to the town.
"Although tourism is still limited throughout the country because of the pandemic, it is expected that our economy will rise quickly if we prepare for local tourism," Abadilla said.
While pushing for its official declaration as an eco-tourism site, a tourism development plan for the conservation of its rich flora and fauna is also being prepared.
Barba said pushing for the promotion of local tourism would help the economy recover.
He commended the villagers of Barangay Caribquib, led by then-chair Adonis Manuel, for initiating the project in 2007.
From Laoag City, the area can be reached in less than 30 minutes via the Batac-Banna Road.
Aside from the zipline adventure, Paraiso Ti Caribquib has a breathtaking view of waterfalls, century-old trees, picnic cottages, a hanging bridge, and a trail leading to the highest peak of Banna, Mount Maoac-oacar. (PNA)
Credit belongs to : www.pna.gov.ph