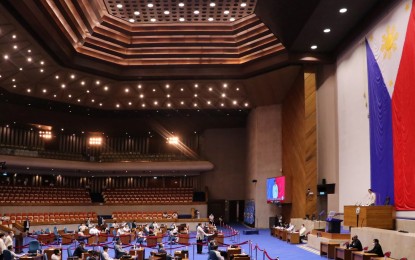 MANILA – The House of Representatives will prioritize the passage of measures aimed at boosting the country's economic recovery from the impact of the coronavirus disease 2019 (Covid-19).
In an interview over PTV-4 on Monday, Deputy Speaker Mikee Romero said their focus is on passing the rest of the Comprehensive Tax Reform Program as the third regular session of the 18th Congress formally opened ahead of President Rodrigo Duterte's final State of the Nation Address (SONA).
"Dalawa ang priority ng ating House of Representatives. One is ang ekonomiya natin. And ipapasa po natin iyong mga program (The House of Representatives has two priorities. One is the economy and the passage of the programs of the) comprehensive tax reforms," he said.
The Corporate Recovery and Tax Incentives (CREATE) and Financial Institutions Strategic Transfer (FIST) laws are meant to tide the country over amid the ongoing pandemic.
Signed into law on March 26, the CREATE Act aims to attract more investments and maintain fiscal prudence and stability with reforms to the corporate tax and incentives system.
The law ensures that the grant of tax incentives is performance-based, targeted, time-bound, and transparent.
It also reduces the corporate income tax rate by 5 to 10 percent for micro, small and medium enterprises, and other corporations.
The FIST Act, signed as Republic Act No. 11523 on February 16, seeks to encourage financial institutions to dispose of non-performing loans and assets to asset management companies by granting tax exemptions, reduced registration, and transfer fees.
Also passed into law were the Tax Reform for Acceleration and Inclusion (TRAIN) in 2017 to correct a number of deficiencies in the tax system; and the Tax Amnesty Act or Package 1B in 2019 to allow errant taxpayers to affordably settle their outstanding tax liabilities while also providing the government with additional revenues for its priority infrastructure and social programs.
The increase on taxes on tobacco, alcohol, and e-cigarette products to fund universal health care was also approved in January 2020,
Aside from helping the country recover from the economic setbacks of the Covid-19 pandemic, Romero said it is also important to provide government support to individuals and families, especially the vulnerable.
"Pangalawa ho iyong mga ayuda, iyong pagbibigay ng tulong sa ating mamamayang Pilipino. Iyan din po ang pagkakaabalahan ng ating lehislatura ngayon. Kasama na po dyan angBayanihan 3. Iyong pondo po nito ang ating hinahanap sa ngayon (Our second priority is providing cash assistance under Bayanihan 3. We are looking for funds)," he said.
During his opening speech, Speaker Lord Allan Velasco vowed that the House would push for landmark legislations to further help Filipinos recover.
Other remaining legislative priority measures are amendments to the Retail Trade Liberalization Act, Foreign Investments Act, and the Public Service Act; and approval of the Medical Stockpiling Bill, and establishment of the Virology Institute of the Philippines, and the Center for Disease Control and Prevention.
Velasco hailed the President for his legislative agendas that promoted economic development, strengthened the administration of justice and the rule of law, enhanced the protection of labor and social welfare, improved the quality of and increased access to education and information, enhanced the health and emergency response system, and strengthened the political and governmental institutions. (PNA)
*****
Credit belongs to : www.pna.gov.ph