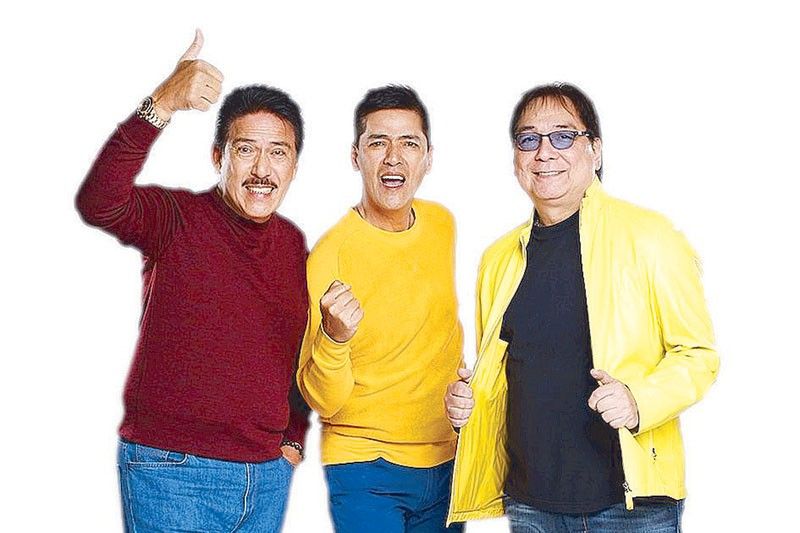 They were known as TVJ, Television Jokesters, as TV was usually the medium where they unleashed their wicked, inane, irreverent, takes on anything that could be sung. Think shows like Okay Lang, Iskul Bukol or variety shows like Student Canteen or later their very own Eat, Bulaga.
TVJ, actually stood for Tito, Vic and Joey, a talented trio, who initially floundered in assorted jobs but later on unexpectedly landed in the field of comedy. Hey, we can make people laugh. They probably thought when the jokes they once only shared with friends and family gained more and more fans everywhere.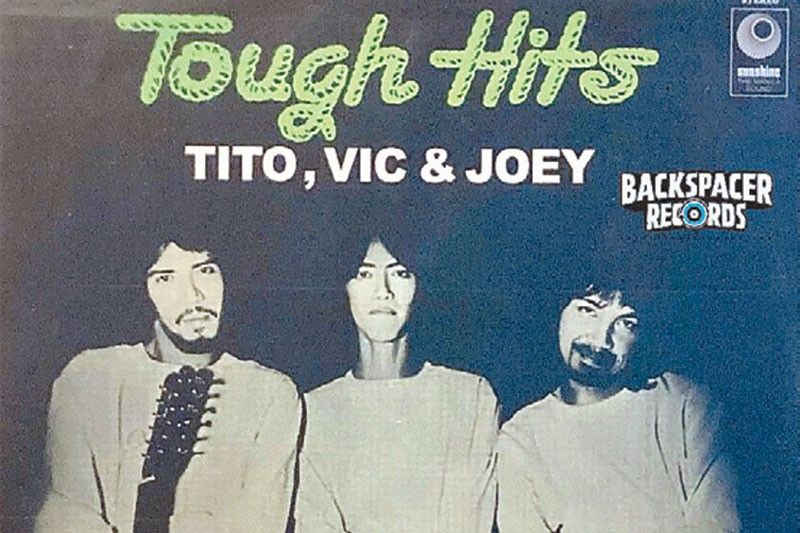 Tito is Vicente Sotto. While a student at the Colegio de San Juan de Letran, he became front man of a band named The Tiltdown Men. I do not know how the name came to be but Tito with bangs and sideburns could pass for the British musician Dave Clark, so the group performed Dave Clark Five songs in their gigs. He later got into the music business as a record producer.
Vic is Marvic Sotto, Tito's younger brother. They were close and Vic was usually where Tito was. Fortunately, he could also sing, so it seemed like he would follow in older brother's footsteps as a singer or producer, songwriter, etc.
Joey de Leon was known as the best-looking radio disc jockey back then. As a kid, he was said to look like Mark Lester of the movie Oliver. By the time he got into radio with Inday Badiday and Ike Lozada, he had bangs and long lioness curls and was called David Cassidy. He liked writing and would often show off his puns to friends. Hanging around with Tito and Vic resulted in their funny trio, who won fame as television's naughty Escalera Brothers.
One evening back in 1976, they thought of putting their song jokes on record. They invited some friends to join them at the Cinema Audio Recording Studio in Mandaluyong for a live recording. They thought it would be best to perform as the Song Wreckers with an audience and live laughter. Thus, the now classic series of albums called Tough Hits was born.
Cringey at times but mostly funny in an easy, istambay sa kanto style, Tito, Vic and Joey spared nobody. Body odors, dental hygiene, domestic spats, looks, etc. Terribly politically incorrect, but hey, it was the '70s and '80s eras. Back then, people out here were not yet that shall we say, aware.
Sung to the tune of Barry Manilow's I Write The Songs: "We write the songs that make the whole world sick/winawasak naming ang mga awitin/ we wreck the songs that make the young girls cry/we wreck the songs…"
Sung to The Way We Were: "Alaala ng tayo'y mag-sweetheart pa/nagsasampalan sa Luneta/ dahil sa pera…"
Their take on Ang Pipit: "Mamang may anghit/ ang amoy mo'y napakalupit…"
Ngayon at Kailanman became "Maliligo ka lang…"
This one with Tito on solo duty had the Mr. Blue melody and a punch line that took a long time coming: "Our guardian star lost all its glow that day that I lost you/ she lost all her glitter the day you said no and her silver turned to blue/ like him I am doubtful that your love was true/ but if you desire to call on me ask for Mr. Blue/ I'm Mr. B.O…."
Yuck. Yuck. Remember I said, cringey. But the first album with the trio in straight-jackets on the cover sold so well that Volumes 2 and 3 and more soon followed. If I remember right, there were six Tough Hits albums released before Tito, Vic and Joey became too busy with bigger things as movie stars.
After producing Sharon Cuneta, VST& Co, Hagibis and other artists for Vicor Music, Tito went into politics became a vice mayor, senator and is now running for vice president.
Vic and Joey became a songwriting team. Ang Boyfriend Kong Baduy, Awitin Mo at Isasayaw Ko and others. On their own, they had hit songs, among them Ipagpatawad Mo for Vic, Sex Bomb for Joey. Vic became a major box-office star, Lastikman and is now also a film producer. Joey also soloed in the movies and had hits, Starzan, She-Man. He still writes and is a respected painter.
I do not know if they still do Tough Hits in private once in a while but nearly 50 years later, the first Tough Hits album, which is now available on vinyl, still sells big.
*****
Credit belongs to : www.philstar.com