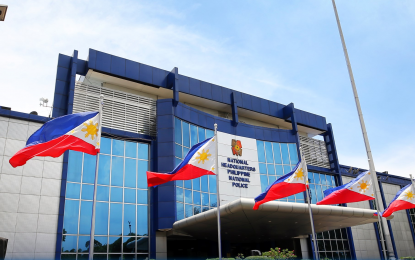 MANILA – A manhunt is underway against communist terrorist group (CTG) members behind the attack in Camarines Norte that killed five police officers and injured two others on Friday.
Philippine National Police (PNP) Officer-in-Charge, Lt. Gen. Guillermo Eleazar on Saturday said he has ordered the Police Regional Office (PRO) 4A (Calabarzon) and 5 (Bicol) and coordinated with the military to go after the perpetrators of the ambush.
"Ambushes like this do not usually succeed without the help of the CTG supporters. So I am also ordering the RD (Regional Director), PRO5 to conduct a thorough investigation to identify those who may have aided these NPA (New People's Army) members in the conduct of their ambush and to bring them to court," he said in a statement.
Eleazar also deplored the attack which he said provides that the communist movement never desired genuine peace for the country.
"The CPP-NPA-NDF (Communist Party of the Philippines-New People's Army-National Democratic Front) has been given all the opportunity to sit down in order to give peace and development a chance for the Filipino people. Yet over the years, they repeatedly turned down peace negotiations and instead resort to cowardly attacks even in the time of the pandemic," he said.
He, meanwhile, condoled with the families of the slain police officers and vowed a stiff response to the communist terrorists' treacherous acts.
"Clearly, these people do not understand the language of peace so will deal with them in a manner that they fully understand our message that we shall never tolerate this kind of terrorism activity," he said.
Initial reports showed that police personnel from the 2nd Provincial Mobile Force Company (2PMFC) were sent to the vicinity of a road construction project in the municipality of Labo, Camarines Norte which will connect it to a portion of Quezon province to hasten transport of goods for local farmers and mobility of residents.
On Friday night, seven members of the 2PFMC were ambushed in the vicinity of Purok 6 in Barangay Dumagmang, Labo town. The incident led to a three-hour encounter where the five police officers died while two of their colleagues were wounded.
On Saturday, reinforcement troops have been deployed to the scene and retrieved the bodies of their slain colleagues. The injured police officers are now in a hospital.
The names of the deceased police officers were withheld pending notification of their families.
Eleazar has ordered the PRO 5 to provide necessary medical assistance to the wounded police officers and ensure appropriate benefits for the bereaved families of the fallen police officers.
"These five young men held their ground and died with their boots on while protecting the barrio against communist terrorists. They deserve all due recognition and honors for their heroism," he said. (PNA)
*****
Credit belongs to : www.pna.gov.ph