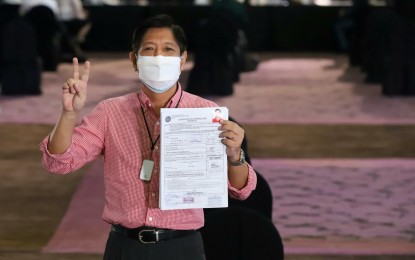 MANILA – Another disqualification case was filed against presidential aspirant Ferdinand "Bong Bong" Marcos Jr. by his fellow Ilocanos before the Commission on Elections (Comelec) on Tuesday.
In a petition, Margarita Salonga Salandanan and others urged the poll body to disqualify the former senator, citing the same arguments by other petitioners who said Marcos was convicted by Quezon City Regional Trial Court in 1995 over his failure to file his income tax returns as governor of Ilocos Norte for taxable years 1982 to 1985.
"WHEREFORE, premises considered, it is most respectfully prayed that this Honorable Commission: (a) GRANT the instant Petition for Disqualification for the reasons stated thereabove; and (b) PERPETUALLY DISQUALIFY Respondent Ferdinand "Bongbong" Romualdez Marcos, Jr. to run for any elective position, or from pursuing his candidacy as President of the Philippines in the forthcoming 2022 Philippine National Elections if not yet elected, or if elected, from holding the said elective public office…" they said in the petition.
In a statement, the petitioners, who called themselves "Pudno Nga Ilokano" (the pure Ilocanos) and residents of the so-called, yet mythical solid north, joined the petitioners for the disqualification and cancellation of Marcos' certificate of candidacy for president.
"While we have cited the same reasons as most of the earlier cases did, we would like to add our voice and arguments to disallow a person by the name of Marcos to aspire for, much more become president, of the country to which he willfully and arrogantly refused to pay taxes to," the group said.
"We thus say, he should not only be disqualified but made to answer under our laws. He should be elsewhere, in jail perhaps (as his father did to some members of this group), but not in our ballots," they added.
Nuisance cases
Meanwhile, Victor Rodriguez, chief of staff and spokesperson of Marcos, said all the petitions seeking to disqualify the aspirant from the presidential race are now being addressed by their legal team.
"And while we maintain that these petitions are nothing but nuisance cases, we urge those who are behind these pathetic stunts to please respect the Filipino people and their democratic right to decide for themselves and their collective future," he said in a statement.
"We also urge them not to remove the right of the people to freely choose their leader and stop looking down on the intelligence of the Filipino people. Election is won and settled on election day and not through the filing of nuisance petitions," he added.
The other petitions filed against Marcos are for declaration as a nuisance candidate filed by Danilo Lihaylihay, for cancellation of certificate of candidacy by Fr. Christian Buenafe and others, and by Tiburcio Marcos.
The present case was the fourth disqualification petition filed against Marcos, the other three were filed by Bonifacio Ilagan and others, Akbayan Citizens Action Party (Akbayan) and Partido Federal ng Pilipinas (PFP).
The cases have been raffled to the First and Second Divisions of the Commission. (PNA)
*****
Credit belongs to : www.pna.gov.ph