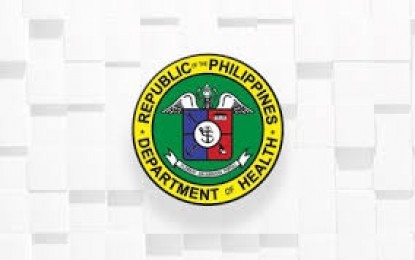 MANILA – The Department of Health (DOH) on Thursday said the increase of Covid-19 cases across the country is "more evident" in the past week particularly in Mindanao and Luzon, outpacing the National Capital Region's (NCR) infections.
"Despite the increase in cases, we haven't seen yet any jumps in the percent of active cases, naiiwan naman tayo sa (we're left at) less than 5 percent, we want that to stay that way that it won't be higher than the around 4 percent of the total cases remaining to be active," DOH Epidemiology Bureau OIC-Director Alethea de Guzman said during an online media forum.
De Guzman noted the country's severe and critical cases are at 3 to 4 percent while the cumulative case fatality rate is at 1.6 to 1.7 percent.
"Yesterday, the top five regions are the same except that we saw Region 11 being included yesterday among the regions with the most number of cases, but if we will look at the more granular data it is usually the NCR, Calabarzon, but Davao City reporting 226 additional cases yesterday," she said.
As of June 2, the top five regions with the most number of new cases are NCR with 954; Region 4A (Calabarzon) with 775; Region 3 (Central Luzon) with 533; Region 6 (Western Visayas) with 391; and Region 11 (Davao) with 368.
Meanwhile, the top areas of new cases are Cavite with 285; Davao City with 226; Quezon City with 222; Laguna with 183; and Batangas with 150.
The NCR, Region 2 (Cagayan Valley) and Cordillera Administrative Region (CAR) still have high risk average daily attack rate (ADAR).
"Though high risk, their current ADAR is lower than their ADAR last week and with slight increase considering the cut off we've set at around 7 to 100,000," de Guzman said.
The 12 regions which continue to have increasing ADAR and positive growth rates include Regions 9 (Zamboanga Peninsula), 10 (Northern Mindanao), 6 (Western Visayas), 12 (Soccsksargen), 1 (Ilocos), 11 (Davao), 7 (Central Visayas), 5 (Bicol) and 8 (Eastern Visayas), Caraga, and Bangsamoro Autonomous Region in Muslim Mindanao.
After recording significant decline of cases in April, these regions have plateaued in May.
"Average daily cases now is higher, from May 27 to June 2 at 6,691, than start of May, which 6,410 during May 6 to 12, but still lower than peak in April at 9,831," de Guzman said.
She added the increase in cases nationwide is coming from the NCR Plus areas which have slight upward trend, and Mindanao and the rest of Luzon that outpaced the NCR Plus composed of Metro Manila, Bulacan, Cavite, Laguna, and Rizal.
"The Plus areas consistently showed decreasing cases but with slight increase over past week. Region 2 and rest of Region 3 have highest cases and fastest incline, Region 6 cases continue to increase at a fast rate, and Regions 7 and 8 with gradual increase," she said.
While cases are not as high, the Mindanao regions are increasing at a fast rate.
The deaths recorded in May are significantly lower at 77 deaths per day average compared to those recorded in April at 111 deaths per day average but still higher than the peak last year at 69 deaths per day average. (PNA)
*****
Credit belongs to : www.pna.gov.ph