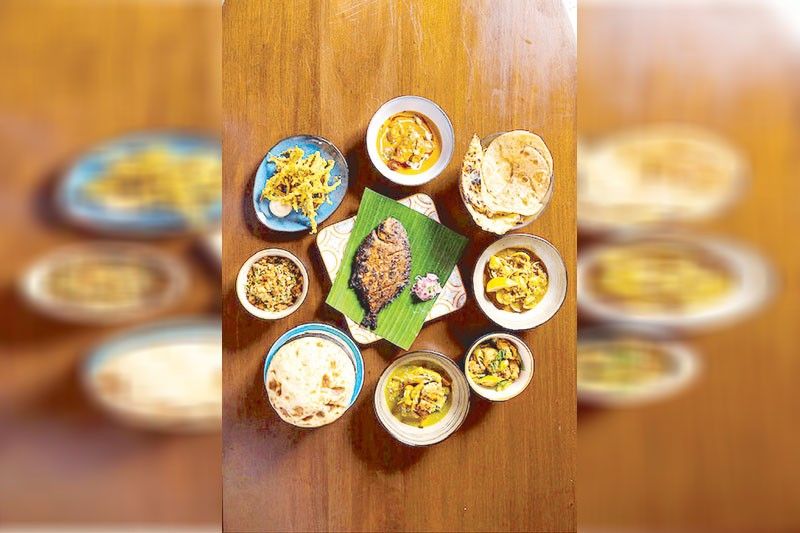 Makati and BGC have a fairly rich landscape of Indian restaurants, but there's a new player that stands out in Greenhills, San Juan, and its approachable, affordable, and absolutely delicious Indian food has been drawing in the area's Chinese and neighboring communities.
Ricksha Streetside Tandoor is the baby of Cyril and Pierre Addison, two sommeliers who met in wine school in the United States, but decided to settle in Pierre's home country of the Philippines.
"I came here and I was like, nice," recalls Cyril. "We got married here in 2009."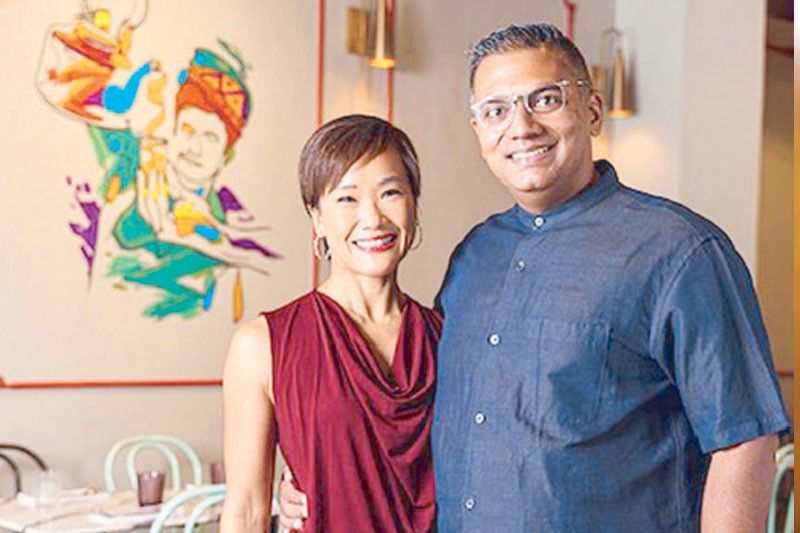 Ricksha owners Cyril (right) and Pierre Addison at the new Greenhills branch along Missouri Street.
Cyril's goal was to open a restaurant, but found the market here very different from what he was used to in the United States, so he worked with the Raintree group for seven years, immersing himself in the local scene, while Pierre sold wines to restaurateurs like Chele Gonzalez. This led to the couple becoming fast friends with the Spanish chef and eventually forming Adviche, a consulting firm offering F&B solutions to those in the industry.
But while they were doing this, Cyril, who hails from Bangalore in Southern India, was still nurturing his dream of he and Pierre opening their own restaurant. Cyril had grown up eating the excellent home cooking of his mother, Rebecca Addison, whom he calls "Amma."
"I would say about 95% of the recipes are from her," he admits, "like for the dosa (Indian pancake), chutney, sambar (vegetable stew)." He was also well versed in Dhaba-style food, the street-side fare that locals ate in his region.
Pierre says, "When I traveled to India and then came back with him, I said, 'The best thing to do is open an Indian restaurant since it's your heritage and you know how to make it. Your mom's here living with us now, so why not go for that?'"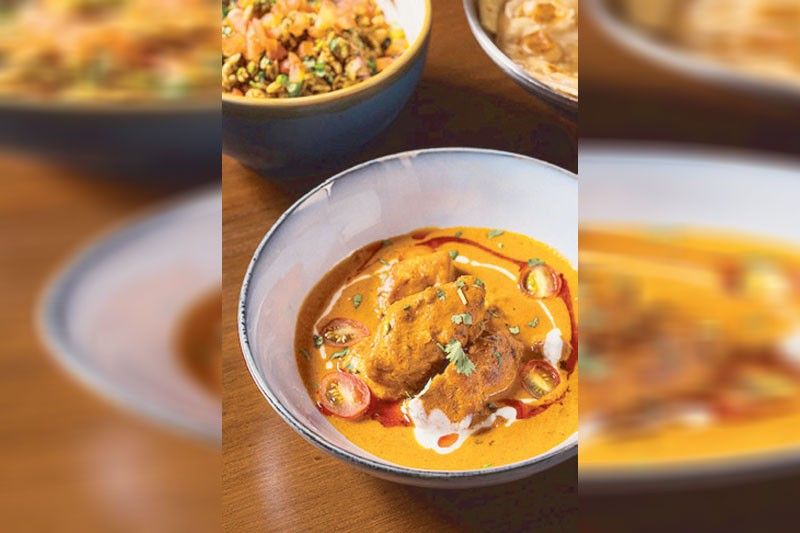 Bold, smoky flavors: Ricksha's Famous Butter Chicken
The only thing was, Amma never actually wrote down her recipes, so the Ricksha team had to follow her around every time she would cook, write everything down and try to recreate them in the kitchen.
Then they'd have Amma taste it, and if it wasn't quite right, she'd show them the correct way to cook it. "So before we opened I had a team of chefs working in our kitchen for almost a month," Cyril recalls.
The Addisons opened the first Ricksha in Kapitolyo, Pasig, in April 2019 with 20 seats and dishes that quickly garnered fans, like the butter chicken (P295), dosas (P135), and biryani (starting at P235), which Ricksha does Dum-style, putting the rice and protein in a clay pot, covering it with naan bread and cooking it in the tandoor oven — a visual and gustatory stunner when it arrives at your table.
I ask Cyril why he called an Indian resto Ricksha, and he tells me, "When we were growing up, my dad used to take us to the market every Sunday. Three-wheelers in India today are called rickshaws, and he would always say, 'Go get me a rickshaw; we'll go to the market. So it's just something that kind of stuck with me."
During the pandemic, Ricksha in Kapitolyo had to pivot and focused on takeout food. When indoor dining was permitted, the 10% occupancy rate meant that only two seats were available, so the OG branch became a private resto for couples who wanted the place all to themselves.
Eager to branch out post-pandemic, the Addisons looked for a suitable spot and found it in Greenhills, where Ricksha is now a 70-seat restaurant on Missouri Street with a private table good for eight curtained off from the main dining area. (The OG is now closed.) It's bright and welcoming, from the signage to the interiors, but the colorful eclecticism we've come to expect from Indian restaurants is more youthful, modern and inviting.
We started with a couple of cocktails: Chai Tea Negroni for me, made with Campari infused with the spiced tea; and a Mirchi Margarita for Scott, which has tequila infused with Kashmiri chilies. Though not overly spicy, the latter does have a nice kick to it.
Pierre recommended Chaat (finger-licking appetizers) like Pani Puri (P110), for which you spoon potato-and-pea masala into crunchy hollow spheres, pour tamarind water over it and pop the whole thing into your mouth. These are so crispy, full of flavor and perfectly spiced that they're addictive.
The other Chaat is very different: Bhel Puri (P150) is a salad made with puffed rice, and it's unique, refreshing, and crunchy in texture.
Unlike other Indian restaurants, Ricksha doesn't ask you what level of spice you prefer. All the dishes have noticeable heat, but it's quite mild and very doable.
We tried Ricksha's Famous Butter Chicken — boneless chicken thighs marinated in a spice mix and tandoor paste before being cooked in butter, tomatoes and cream, and understood why it's so famous, with its bold, smoky flavors.
At this point in the menu Pierre recommended a chardonnay Riesling and rosé to go with our dishes. If you're wondering what the restaurant of two sommeliers would be like, Ricksha has not one but three different wine sections: Dhaba Selections, which are very affordable bottles (P1,500 to P3,500 per bottle) that pair very well with Ricksha's food; Love Pierre Favorites, which feature more adventurous wines from countries like China, Argentina, and Portugal (P1,700 to P4,600); and lastly, Mysore Palace Offerings, which are premium selections of classic wines (P2,700 to P6,500).
"We have a lot of wine friends that want to spend a little bit more money on wine, so a little bit of something for everyone," notes Cyril. "We're going to do wine dinners and the first is coming up at the end of this month; we're going to pair Indian food and Chinese wine into a nice marriage together" — much like Cyril and Pierre's own union.
The wines we had went hand-in-glove with the Gunpowder Egg Dosa (P185) dipped into sambar and coconut chutney; Baingan Bharta, a lovely eggplant curry (P210) for which we used the dosa to mop up all the sauce; and a Tandoori Whole Pompano that was so flavorful and moist it was a pescatarian dream.
"The fish comes in fresh every day from the market, we marinate it overnight in homemade tandoori paste, and then the next morning we basically grill it right in the tandoor," Cyril reveals. "So you can see that charred crust on the outside, but the inside is really soft and flavorful."
Capping our meal was Gud Bud Ice Cream, which comes in a tall parfait glass good for two. "As a child, on Saturdays, my dad would give us some money, like, 'Go hang out with your friends,'" relates Cyril. "So we would go play cricket, and then after we would go to the ice cream shop and have Gud Bud. It's basically layered Jell-O, biscuits, fresh fruit, there's three different kinds of ice cream — mango, vanilla and strawberry. Gud Bud means halo-halo, like a medley of things."
Greenhills has always welcomed a medley of things — restaurants, shopping plazas, shopping finds both high and low. Ricksha is now in the neighborhood, in the mix, and ready to serve something unique, especially for Indian food lovers.
* * *
Ricksha is located at 6 Missouri Street, Greenhills, San Juan, open daily from 11 a.m. to 10 p.m. Contact (0917) 637-2113 or email [email protected] for reservations and info.
* * *
Follow the author on Instagram @theresejamoragarceau and Facebook (Therese Jamora-Garceau).
*****
Credit belongs to : www.philstar.com