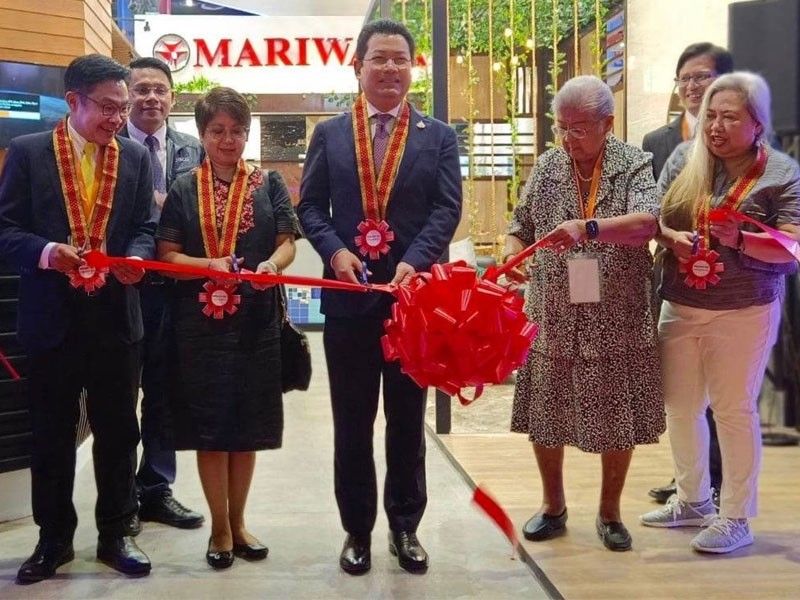 MANILA, Philippines – After two long years of working around the online space due to the pandemic, Mariwasa, a pioneer in the Philippine ceramic tile industry, on Thursday returned to a face-to-face setup for the 26th edition of WORLDBEX at the World Trade Center, Pasay City, where they featured their latest innovative home solutions.
Jakkrit Suwansilp, president at Mariwasa Siam Ceramics, Inc., couldn't contain his excitement at the brand's momentous comeback to the much-awaited event of the building and construction industry.
"During the pandemic, we launched a lot of new products and activities. But this time, it's face-to-face. This year, Mariwasa will transform itself from [a] tiles [manufacturer and producer] to [offering] DSB (decorative surface and bathroom) sets. We can now complete your dream home," Suwansilp said.
He added that despite Mariwasa's eagerness to return to physical events, they still faced the challenge of making the booth more enticing to encourage guests to view the products they curated for Filipino buyers.
The brand presents itself as Mariwasa Home to show Filipinos they're the brand to turn to for quality products that are worth every centavo. Mariwasa produces new designs annually to cater to its clients' ever-evolving tastes. It hopes to create a meaningful connection with customers and homeowners from different generations because the home should be a place of happiness for every Filipino.
Suwansilp shared that their exhibition at WORLDBEX will feature products with new effects and functions suited for every room in a household. Upon entering the booth, guests can experience firsthand Mariwasa's anti-slip tiles, which Suwansilp advises to use in areas with heavy foot traffic. Compared to other tiles, Mariwasa's anti-slip product gives people a sense of safety because they don't have to worry about accidents due to the surface area.
"Our dedication lies in uncompromising quality. Every product we launch, we make sure it follows Philippine standards or more," Suwansilp said.
Mariwasa's booth also features bathroom fixtures like sinks and toilets, along with Mariwasa's other popular products, including its tile grout. Their handy and trusty mascot Tyler is also present to keep guests entertained and delighted as they see what the company offers.
While progress and artistry are two vital components of Mariwasa's products, the company also follows sustainable practices by following the ESG (environmental, social, good governance) framework.
Instead of using fossil fuels, Suwansilp shared that Mariwasa utilizes alternative energy to produce tiles and practice energy-saving methods in their facilities. They also partner with local communities to promote environmental sustainability through common approaches like recycling and upcycling.
Also present at the WORLDBEX is SCG Marketing Philippines Inc., which highlighted their new developments that complete a modern home. SCG offers world-class quality cement products that ensure safety without sacrificing anything.
"We are glad to share that SCG Marketing Philippines Inc., has ensured that this year's WORLDBEX will allow our visitors to discover the true essence of a home through SCG products. We are excited to let everyone experience what our customers in ASEAN countries have experienced for almost 100 years, from a durable SCG Smartboard to the energy-saving SCG insulation and of course the SCG Smartwood that completes the homey vibe in our booth," said SCG Marketing Philippines Inc. president Bancha Chaiprom.
*****
Credit belongs to : www.philstar.com