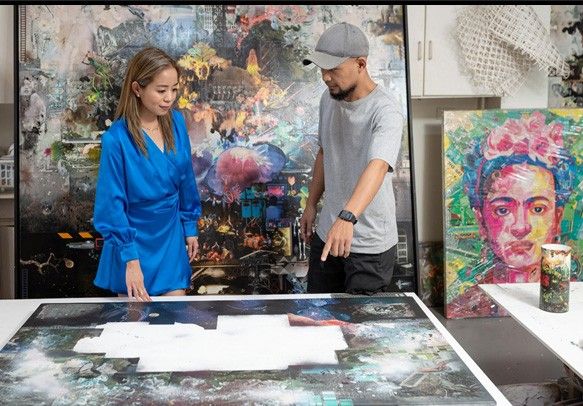 SINGAPORE — When you say "Asian design," resort designers usually reference to Chinese Orientalism, Japanese Zen or Balinese woodcarving.
But in Bohol, an international team of designers need not look any further the Philippine island city for inspiration.
"Everything is unique about Bohol," stressed Hope Uy, the Boholana Managing Director of Alturas Group who heads the P25-billion Panglao Shores project in the island, composed of two properties emphasizing sustainable practices: South Palms, a beach holiday destination; and South Farm Panglao, an agri-tourism initiative.
"You know, we Filipinos love fiestas, and that festive atmosphere. We love being with each other," she said in a media briefing in Singapore. As such, they master-planned Panglao Shores as a gathering place with "some green belts and this central area where we would gather to celebrate" since for Boholanos, "every day is a celebration!"
When asked why Bohol culture is unique, Hope said: "Oh, we love fiestas… Bohol is a spot for fiestas! We have a one-month celebration. It's a festive family gathering. Anyone can come in your home for meals. We have this joke that on the month of May, you don't need to cook because you just can go to any house to eat. So we'd like to bring that into this commercial area to respect the culture of Bohol where the natives are very, very hospitable."
Aiming to interpret with respect Bohol's culture as being hospitable and festive into the property, Hope assembled an international set of sustainable designers to work on the 10-year project.
Related: Filipinas assemble own 'Avengers' design team to develop P25B world-class Bohol destination
New life for salvaged timber, Capiz windows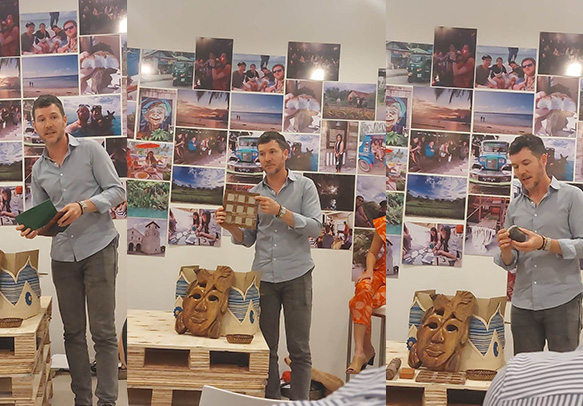 Philip Pond of Atelier Pond showing samples of (from left) tiles made from recycled materials, Capiz shell windows and Asin Tibook
Philstar.com/Deni Rose M. Afinidad-Bernardo
During the pandemic, the group started South Farms, a farm near the project site, where they gathered timber from trees leveled by super typhoons.
"A year ago, we were able to help people who needed us to buy parts of their broken houses, so that's a part of our story as well," shared Uy.
In addition to upcycled wood, the project's buildings would repurpose Capiz shell windows from old houses in Bohol. Uy assured that the buildings have been designed "according to our tropical conditions," and even the upcycled windows are being tested to withstand different wind conditions.
The Manila-based SCSY Studio, architect for South Palms and master planner for Panglao Shores, shared that salvaged materials available for use are "gems" that connect to nature and to people – giving new life to the history of the neighborhood. The "reinvention story," the studio said, continues to their use of tiles made from recycled plastic and other materials like paper.
"For us, Bohol is really this designer supermarket. It's really this source of fantastic ingredients that come from the land," said the studio's representative and architect.
Drew Anderson of Topo Design Studio, which is working on South Palms and South Farms, shared that from salvaging, they found a great expanse of natural rock like limestone within the island that they would use.
Patricia Ho of White Jacket, with clients that included Shangri-La and InterContinental Hotels across Asia, serves as the interior designer of majority of the hotel and its rooms and ballrooms except for the food and beverage components. She said that they are also looking into repurposing old boats and recycling textiles like denim as furniture upholstery.
Bill Barnett, founder of consultancy firm C9 Hotelworks Company Limited, said that these upcycled materials sourced just within the island "lend a living history to these buildings" and the "sense of time" to this property sends message that it is there for the long run.
"We understand the nature of the Philippines being in the earthquake zone and everything, so the property is to have low-to-mid-rise buildings erected following international standards," he assured, explaining that they heightened the ground level based on historical high tides and flooding dating back to about 30 years.
He attested that their "pandemic-proof master plan" includes spacious rooms made with a probable isolation among residents in mind, but "not a single part of the design was changed because of the pandemic."
Immortalizing Bohol's sights, colors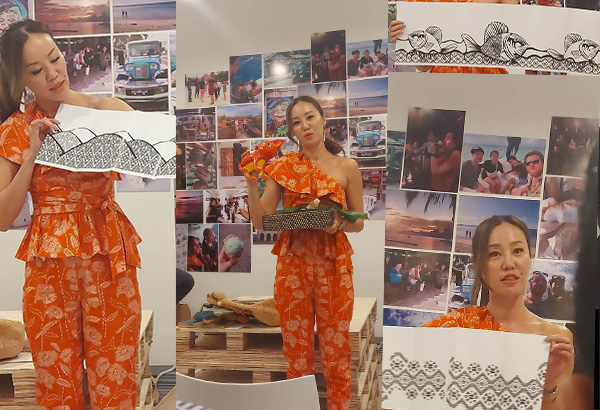 Patricia Ho of White Jacket presents their corridor and wall designs and patterns inspired by Bohol's traditional weaves, seas and Chocolate Hills. She also showed a sample of a handmade Tarsier toy that could be used as interior accents.
Philstar.com/Deni Rose M. Afinidad-Bernardo
In an interview with Philstar.com, Uy said they are making sure that the church should be part of the project's phase one. Although there are already over a hundred churches in Bohol, according to her, their Catholic faith as Boholanos also makes them unique that is why they are making sure that the church will be the center of the community they are building.
At the media presentation, Anderson showed color-blocked tiles inspired by the province's colors.
According to Ho, their design philosophy is "creating an attitude, not just an interior."
"What is important is the emotions," she stressed.
Four years ago when she met the Alturas Group, she learned how passionate they are about their culture and how involved they are in their community. As such, her interior designs for the project would be like a storytelling of the island province's arts, crafts, textures, sea and fishermen. The corridors would be dressed in wallpaper patterns inspired by local weaving techniques and Bohol's most famous landmark, the Chocolate Hills.
"Every space has a story and every space is important," she vouched.
Bohol's arts, crafts at the forefront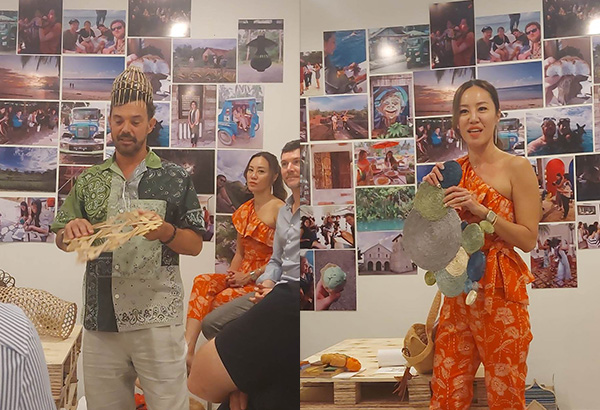 From left: Patrick Keane of Enter Projects showing samples of Bohol bamboo weaves to serve as inspirations for their designs; Ho presenting a mat made from raffia coasters stitched together
Philstar.com/Deni Rose M. Afinidad-Bernardo
Patrick Keane of Enter Projects, in charge of the property's external features, reception areas, chapel, stairs and connecting spaces to bind the property together, said that their design would be inspired by natural formations, and Bohol's basket weaving and other arts and crafts from five generations of passed-down skills. He said the property is to have large-scale art installations and accessories in raffia.
"Raffia is known all over the world but Bohol, Cebu and Visayas – they're the world capital of this," declared Anderson.
Ho appreciates the island's raffia loom-weaving tradition as it gives jobs and at the same time, preserves the craft. According to her, straw mats made from colorful raffia coasters stitched together would be part of the interior design. SCSY Studio noted that raffia could also be used as furniture stuffing.
Room decors would include hand-painted tarsier toys, while the future Lola Spa – named as such because Asian grandmothers are known to be naturally caring and trustworthy – will have therapists that come with their own signature herbs and relaxing instruments in handcrafted trinket boxes.
Farm-to-table
Philip Pond of Atelier Pond, in charge of food and beverage in all restaurants, referred to Bohol's Asin Tibook tradition as a "genius of salt production."
Dating back to pre-Hispanic times, Asin Tibook, Asin Tibuok or "Dinosaur Egg" because of its look is the unique Bohol art of preserving salt in pots. The salt pots are made by salt makers using a very labor-intensive method traditionally coinciding the rice harvest. Coconut husks are soaked for three months in saltwater pools near mangroves. The husks are then burnt in controlled temperatures. Ashes are then put into large filters, then more seawater is poured into the ashes until the salt rock forms, then many more meticulous processes follow before the salt pot can be used to be cracked and grated for use. It has been highly prized in Bohol for its slightly sweet and smoky taste.
It's an "amazing" souvenir to take home, said Philip. Hope said that from being at the brink of extinction, Asin Tibook is getting popular again and they have been using it in products for their brands' food and pastries.
Besides Asin Tibook, Panglao Shores' F&B outlets like the beach bar Serena and semi-fine-dining restaurant Tiya's House would have a farm-to-table concept, sourcing from the property's own farm, including livestock, herbs and vegetables, said Uy.
"My dad is a farmer as well. We've been doing it for 30 plus years, so we have poultry, piggery, so we supply all these to our existing resort. One hundred percent of our poultry and pigs come from Bohol farms," she added.
She explained that they named their beach bar Serena because it is a "Filipino term for mermaid and sometimes, we like to pretend as a mermaid." Serena, she added, also refer to sea nymphs in Filipino culture. The property's rooms will be inspired by Bohol folklore as well.
The retail areas, meanwhile, will take cue from the sari-sari store, noted Ho.
"The sari-sari store creates a sense of openness, being hospitable," Pond said.
Library of Philippines' legacy trees
According to Barnett, the integrated community will be within a "green belt" featuring native plant species such as legacy trees from Filipino hardwood instead of introducing new ones that might "look entirely different other than what's being used locally."
The outdoors are integral to their design to motivate their community to stay active. Barnett claimed that while some developers usually advise to utilize outdoor space into indoor floor space, they would rather have these open spaces untouched because outdoor living helps preserve Bohol's flora and fauna.
"Despite this 188-room property not starting yet, we're starting now to be sustainable for our developments," Uy enthused.
"We're preserving this culture and in fact, we're inspired by these colors and will apply these in some of our developments, even in pedestrian zones."
RELATED:'Bring people back to the provinces': New Bohol development to defy urbanizing island cities
*****
Credit belongs to : www.philstar.com