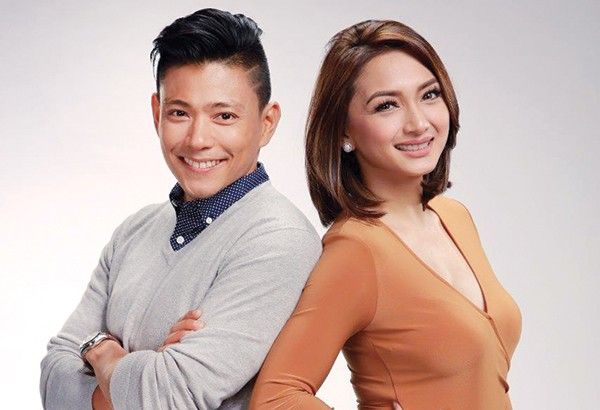 MANILA, Philippines — Host-singer Iya Villania shared a look of her, her husband Drew Arellano, and their four kids' shared "bedroom," and had to settle down some anxious individuals who found the space too small.
Iya posted on her Instagaram account several differently-angled photos of the second floor of their house in Rizal, which was just a double-decker bed on one side and a wider bed on the other, with the stairway in between them.
"Just the right accents to make the place pretty. Nothing too fancy or too delicate for a house designed for kids," Iya had originally written in her caption.
The host-singer then added an update after several people expressed their anxiety at the small space — the house itself is only 48 square meters, and they have been staying there since September 2022 — and with the windows seemingly easy for children to climb out of.
Iya explained that the beds, which are stackable, appeared that way just for the photos and often just one layer is used as all six of them co-sleep.
Additionally, the second floor was really designed for resting and sleeping, so any playtime activities could be done in the playground area.
"For the windows, I guess my children know not to climb out. I'd like to believe your children would know not to as well," Iya explained further. "And if in the future, I see it does become a problem, then I will make the changes necessary."
She also said that with such a small space, it's easy to see if the kids — Primo, Leon, Alana, and Astro — are "up to some monkey business."
"As with any new house, there are things you only discover as you use the place which is why my family and I have been testing it out first before we let YOU GUYS use it too," Iya ended, joking that the most daring child Leon has yet to climb out the window.
Drew chipped in some funny replies in the comments such as "I never knew reading comments can be so entertaining! Ayun nahulog ako pababa ng hagdan dahil nakatingin ako sa phone!" and "Buti nalang may kapit-bahay kaming doktor!"
Iya and Drew officially tied the knot in January 2014 and had their eldest child Primo two years later. Leon followed in 2018, Alana was born in 2020, and they recently welcomed Astro in 2022.
RELATED: Iya Villania admits making the first move on Drew Arellano
*****
Credit belongs to : www.philstar.com