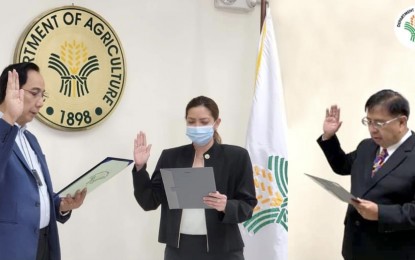 MANILA – Less than a year before he ends his six-year term, President Rodrigo Duterte saw the need to enhance the Department of Agriculture (DA) and recently appointed three undersecretaries who will assist Secretary William Dar in the continued implementation of the "OneDA" Reform Agenda aimed at modernizing the agriculture sector.
Kristine Evangelista will handle consumer and political affairs while Rodolfo Vicerra has been designated as Undersecretary for attached agencies while still serving as legislative liaison officer. Both took their oaths of office on Monday.
Dr. Fermin Adriano was also promoted as Undersecretary for policy, planning, and research after previously serving as Dar's senior policy advisor on flagship programs and projects.
"Mr. Adriano is also tasked to set up an effective program and project monitoring and evaluation system, lead a data analytics team, and craft agriculture and fishery programs and projects for possible funding by international financial institutions and donor countries," the agency added.
He was also an agriculture and policy consultant at the World Bank, Asian Development Bank, US Agency for International Development, Canadian International Development Agency, Australian Agency for International Development, United Nations Food and Agriculture Organization, Ford Foundation, United Nations Development Programme, and The Asia Foundation.
Evangelista, on the other hand, served as Assistant Secretary for agribusiness and marketing, tasked to ensure the availability, accessibility, and sustainability of food supplies in the country under the "Kadiwa ni Ani at Kita" marketing program.
Aside from consumer affairs, she will now oversee the "Bantay-Presyo" advisory committee and handle DA political affairs.
In a Facebook post, Evangelista said she is "accepting the challenge".
Vicerra, formerly of the policy, planning, and research group, is now tasked to ensure that the DA attached agencies implement mandated programs, conforming with the "OneDA" Reform Agenda.
He will continue to head the Department's legislative liaison office, providing the necessary links with both houses of Congress, particularly the committees on food and agriculture, and related committees.
Other designated officials include Rosanna Mula, Officer-in-Charge (OIC) and Director, Agricultural Training Institute (ATI); Antonieta Arceo, OIC/Assistant Director, ATI; Dennis Arpia, Director for National Capital Region; Rose Mary Aquino, Regional Technical Director (RTD) for research and regulations, DA-Regional Field Office (RFO) 2; Eduardo Lapuz, RTD for operations and extension, DA-RFO 3; Arthur Dayrit, RTD for research, regulatory and integrated laboratory, DA- RFO 3; Gina Nilo, Assistant Director for operations, Bureau of Soils and Water Management (BSWM); and Evelyn Fernando, Assistant Director for administration and finance, BSWM. (PNA)
*****
Credit belongs to : www.pna.gov.ph