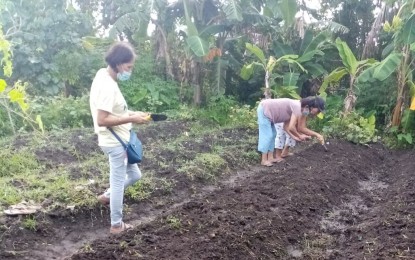 LEGAZPI CITY – With the low supply of vegetables in the market due to travel restrictions amid the coronavirus disease 2019 (Covid-19) crisis, the Legazpi City Women's Federation (LCWF) has spearheaded communal vegetable gardening activities across the 70 villages here.
LCWF president Geraldine Rosal, the wife of Mayor Noel Rosal and a former mayor herself, said in an interview on Wednesday that all the officers and members of the women's groups are now engaged in planting assorted vegetables that they could consume, or even sell to the market for additional income.
She said the vegetable gardening project could also augment the income of those families affected by the Covid-19 pandemic.
The City Agriculture Office (CAO) handed the women's federation assorted vegetable seedlings such as "pechay", string beans, eggplant, pepper, squash, "upo" (bottle gourd), and okra.
CAO has also provided fertilizers and brochures to the LCWF that were distributed to its members.
"We have 70 barangays but we have 75 chairmen of women's organizations because there are five villages with two organized women's groups," Rosal noted.
She said the project is also a way of promoting a healthy lifestyle and reducing the prevalence of obesity-triggered diseases in the community.
In time for the Mother's Day celebration last month, Rosal distributed 10 heads of range chicken to each of the women barangay chiefs. (PNA)
*****
Credit belongs to : www.pna.gov.ph