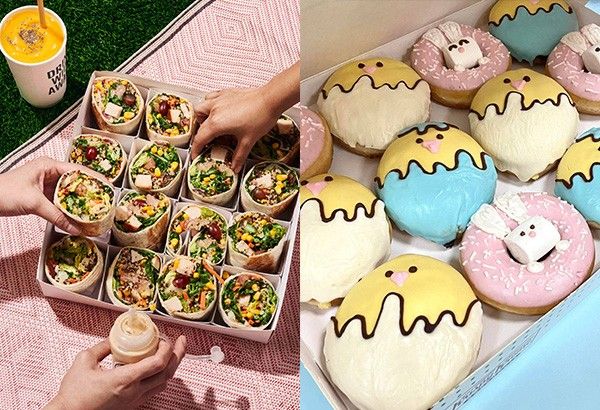 MANILA, Philippines — Social media platform TikTok recently held a seminar in Makati City to unravel the trendy food for this summer.
TikTok Philippines Vertical Lead Life Dawn Cervero told Philstar.com that Filipinos look up to their platform for food to enjoy during the dry season.
"We're also seeing in the platform that Filipinos would want to get into their summer food favorites such as ice cream, halo-halo, the delicacy na na-eenjoy mo 'pag summer. They are very popular on the platform," Cervero said.
Whether you're staying at home or frolicking under the sun, here are some Lenten and summer options to try:
Have a healthy summer with MyPharma Essentials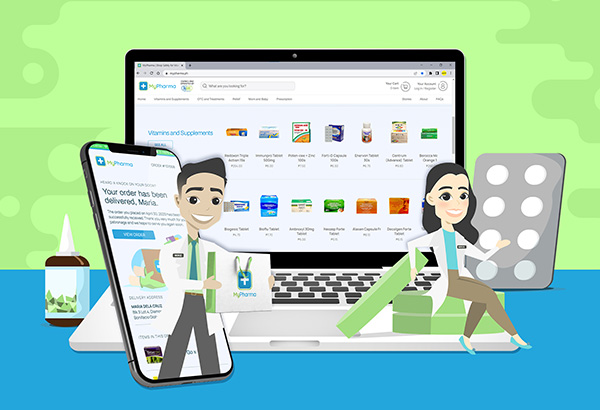 Enjoy seamless and straightforward service, with items packed securely and delivered on time from the MyPharma website
Photo release
Summer has began and it is time to make sure that you are in top form for your outings with family and friends. No one wants to miss out on having fun under the sun because of sickness, so your best defense is to make sure that you are at the peak of health during vacation time.
One way to have a healthy glow all summer long is to protect your health with the regular check-ups and by having your healthcare essentials on hand. MyPharma makes it easier to have a healthy summer with your supplements and generic and branded medicine needs ready for delivery to your doorstep.
There's no need to go out and line up for your healthcare products as it is so convenient to order securely from the MyPharma online pharmacy that offers free delivery for orders P1,500 and above. It is backed by the reliability of the DyGen Pharma Distribution Corp., which ensures that all products are safe, authentic, and properly handled and stored.
Among the items in its online shop categories are vitamins, health supplements, over-the-counter medications and treatments, and even a special section for Mom and Baby. There's also a skincare line that will help you achieve that summer glow-up just in time for those beach days. Of course, when you head out on a trip, it is also wise to have a first aid kit on-hand with OTC medicines and handy emergency supplies in your carry-on luggage. All these items are available at the MyPharma store.
Enjoy seamless and straightforward service, with items packed securely and delivered on time from the MyPharma website at www.mypharma.ph and to find out more about its latest products and promos, visit the official MyPharmaPH Facebook and Instagram sites.
Salad Stop's Sunny Duo makes a comeback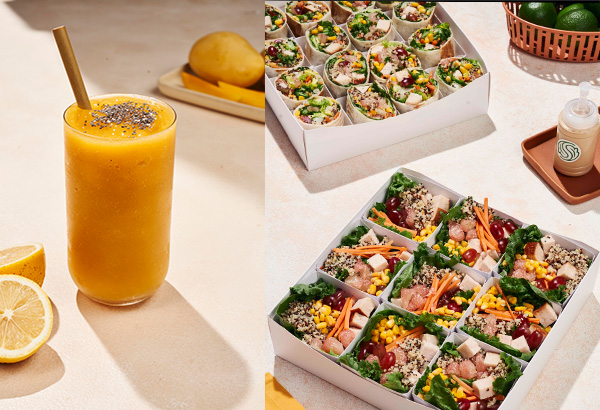 From left: Sunny Slush, party trays
Photo release
The summer sun is shining brightly and the heat is on! Enjoy brighter days ahead and cool down with the freshest pairing of the season. With fun summer activities up ahead, SaladStop! is here to give your body the right kind of fuel so you can look and feel your best.
Nourish, energize, refresh with SaladStop!'s Sunny Duo, featuring the Summer Fling salad and Sunny Slush smoothie.
Light and energy-giving, taste summer in a bowl — or wrap! — with Summer Fling (P375) which combines juicy chicken ham with romaine, kale, quinoa, carrots, sweet corn, grapes, pomelo and tossed in a tangy Sesame Lime dressing. This salad is high in fiber, protein, and iron – giving you the nutrients needed to power you up for the day.
Picnics or parties with colleagues, friends, and family are made more exciting as Summer Fling is now also offered as a Party Tray (P1,200 for salad tray / P2,300 for wrap tray). What's more, this seasonal salad is also available for ordering as part of your Daily Bowls 3-day or 5-day subscription via saladstop.pickup.ph.
Need something refreshing on a hot day? Pair your Summer Fling salad with the Sunny Slush (P160), a sweet and zesty blend of mango, lemon juice, honey, and chia seeds. A good way to start the day or boost a slow afternoon, this smoothie is good for the palate as well as the heart.
Keep feeling fresh so you can do more, be more, and feel more this season. The Sunny Duo — enjoy it as a duo or order individually — is available from March 14 to May 8 in all SaladStop! stores. Updates are also up on the SaladStop! Philippines Facebook page and @SaladStopPH on Instagram. Subscribe to a 3-day or 5-day meal plan via saladstop.pickup.ph and get fuss-free daily deliveries of fresh, healthy bowls and wraps from the store straight to your doorstep.
Specialty Food Retailers, Inc. (SFRI) is the exclusive franchise holder of SaladStop! in the Philippines. SFRI is a member of SSI Group, Inc. SaladStop! is located at Alabang Town Center, Ayala North Exchange, Burgos Circle, Central Square, Glorietta 2, Greenhills, Power Plant Mall, Robinsons Cyberscape Gamma, SM Grand Central, SM Mall of Asia, SM Megamall, Salcedo Village, Solenad 3 Nuvali, TriNoma, UP Town Center and their cloud kitchen in Pasong Tamo. Help SaladStop!' sustainability mission to reduce single-use packaging waste and get P10 off your salad or warm proteins order when you Bring Your Own Bowl (1L) at any SaladStop! store.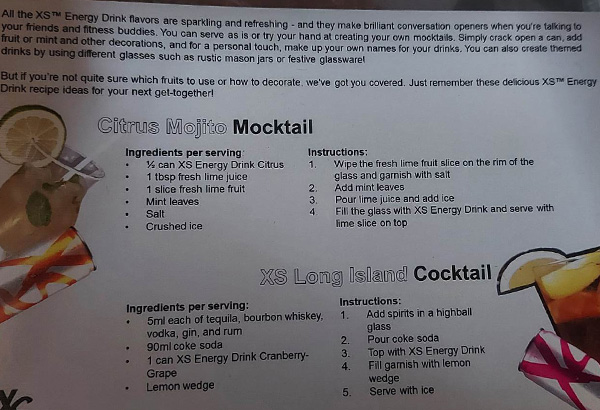 Summer mocktail and cocktail recipes to try
Photo release
Kenny Rogers Roasters' Grilled Salmon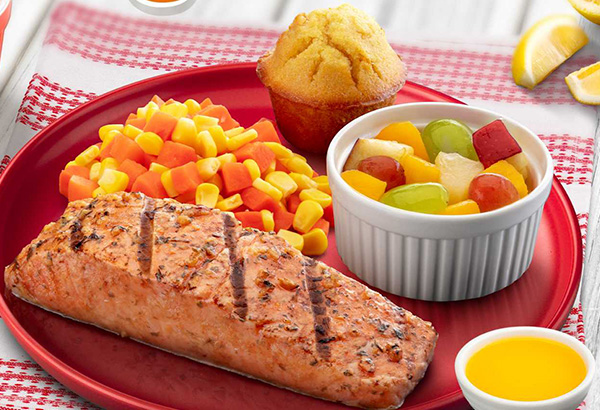 In time for the Lenten season, this deliciously healthy dish is made with a special marinade, with hints of lemon and garlic.
Photo release
Kenny Roger's Roasters, the home of deliciously healthy offerings, is serving yet another delightful and filling meal with its new Grilled Salmon, the latest addition to its Fish Collection Menu now available in stores.
In time for the Lenten season, this deliciously healthy dish is made with a special marinade, with hints of lemon and garlic – a perfect salty-sweet complement to the rich salmon fillet with a garnish of lemon pepper bits.
The Grilled Salmon meal is served with garlic rice, Corn Muffin, and a choice of two side dishes. For only P450, this delectable dish will surely help you have a luscious yet guilt-free dining experience.
The newest Grilled Salmon is available in all Kenny Roger's Roasters stores nationwide. You may also order this sumptuous new dish and have it delivered to you thru www.kennyrogersdelivery.com.ph, via Hotline: 8-555-9000, or by ordering via Grab Food, and Food Panda.
Learn more about this must-try dish and other deliciously healthy offerings from Kenny Roger's Roasters by following its official social media pages: @KennyRogersPH on Facebook and @KennyRogersRoasters on Youtube.
Celebrate the sunny season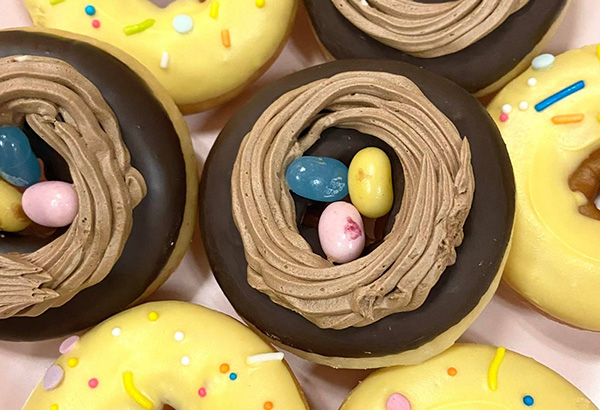 Minis collection
Photo release
Krispy Kreme is making the summer season more delightful with two creations that will bring happiness to you. To celebrate the joyous and festive period, Krispy Kreme is introducing their new Easter Doughnuts which are best paired with a refreshing sip of their Frozen Lemonades.
A basket full of happiness is coming up with the new Easter Doughnuts and Minis collection. Inspired by Easter's famous icons, put these little doughs of happiness in your basket starting off with Blue Easter Chick, White Easter Chick, and Pink Rabbit. The Blue Easter Chick is an egg shell doughnut filled with dark choco, dipped in yellow colored choco and white choco, decorated with choco icing and pink chocolate.The White Easter Chick is an egg shell doughnut filled with custard creme, dipped in yellow colored choco and white choco, decorated with chocolate and pink chocolate.The Pink Rabbit is an unglazed ring doughnut dipped in pastel pink colored chocolate, topped with white sprinkles and marshmallow, decorated with chocolate icing, pink chocolate and vanilla kreme. Get these boxes right in time for Easter starting at P65.
They might look mini in shape, but the wonderful pieces of Easter Minis will surely fill your day with sunshine. The Mini Easter Eggs is an unglazed mini ring doughnut dipped in dark chocolate and decorated with chocolate kreme and jelly belly candies. The Mini Easter Sprinkles is an unglazed mini ring doughnut dipped in yellow chocolate and pastel sprinkles. Go for these mini treats starting at P370. Pair these adorable doughnuts with a refreshing cup of Frozen Lemonades that's perfect for the summer season. Starting at P95, enjoy the Frozen Original Lemonade, an iced-blended zesty lemonade drink, or the Frozen Strawberry Lemonade, an iced-blended fruity drink made with lemon and strawberry, or lastly, the Frozen Lemonade Iced Tea, an iced-blended drink made with a mix of house blend tea and lemonade.
"As we dive into the summer season, we have whipped up new treats that will make us Spot Happy. We hope that the Easter Doughnuts and Frozen Lemonades will give you smiles as we go into one of our most favorite seasons. . Share it with your family and friends, and let's spot happy with Krispy Kreme," said Ysabel Cruz, Marketing Manager of Krispy Kreme.

Go to any Krispy Kreme stores nationwide to check out these specials.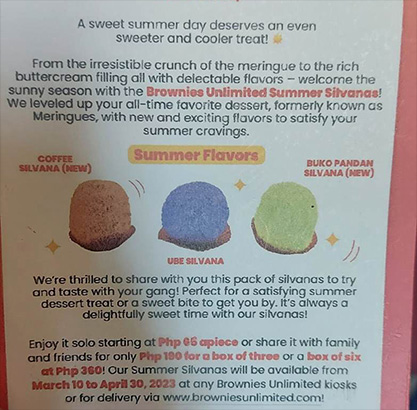 Silvanas for summer, anyone?
Photo release
John, Camille Prats in new McDonald's Happy Meal O'Clock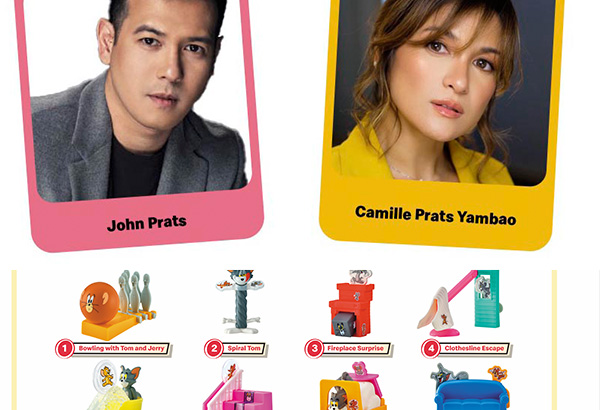 Genetics and mannerisms are not the only things parents pass on to their kids. Sharing their habits and hobbies is also one way of fostering a stronger bond between them.
Because of that, the new McDonald's Happy Meal O'Clock episode will be tackling how parents can pass on and share their interests with their kids to create more fun bonding moments. In a livestream event via McDonald's Facebook page, celebrity siblings John and Camille Prats shared their experience of growing up together and how the interests they had as kids— from hobbies, toys, and even cartoons— are also shared with their own kids now.
To be featured in the Happy Meal O'Clock livestream is the new Happy Meal collection with the iconic cat and mouse duo, Tom & Jerry. The collection includes eight toy collectibles that both kids and parents can enjoy together. The Tom & Jerry Happy Meal collection is now available in McDonald's via dine-in, take out, drive thru, and delivery.
Make breakfast a delightful family time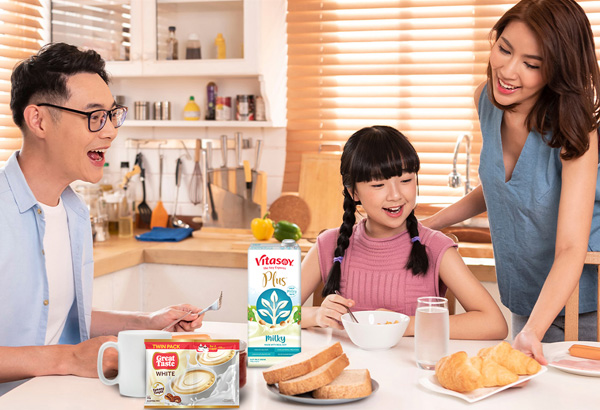 Having a delightful breakfast is a must in every family's morning routine! It helps give everyone the energy they'll need to conquer all the tasks and activities at work or school. To whip up tasty and nutritious meals and drinks, remember to use high-quality products such as those from Universal Robina Corporation (URC).
For breakfast, classic silog meals like tocilog and baconsilog are foolproof. So, make sure to choose products that are farm-fresh quality, like the ones from Robina Farms.
Honey-Cured Bacon: You and your children will enjoy this tender, premium bacon that has the right amount of sweetness from honey.
Primera Tocino: Another option for the family? These juicy chunks of prime pork that have a delicious blend of sweet and savory flavors.
Premium Brown Eggs: Of course, you can't forget the -log in your silog. Choose these farm-fresh ones that contain essential nutrients such as DHA and choline.
To complete the morning meal, include delicious and energizing drinks! Here are some good choices for the family:
Vitasoy Plus Milky: This one's for the whole family! Satisfy your creamy and milky morning cravings with this calcium and protein-rich soy milk drink.
Great Taste White Twin Pack: You and your hubby will surely love its swaktong timpla ng rich coffee at sweet cream. As a cherry on top, its Aromanamnam (coffee aroma) can help boost your energy – aroma pa lang ganado ka.
With a breakfast made delightful with these products, your whole family will be excited to wake up every morning.
Coffee and wafer: Made for each other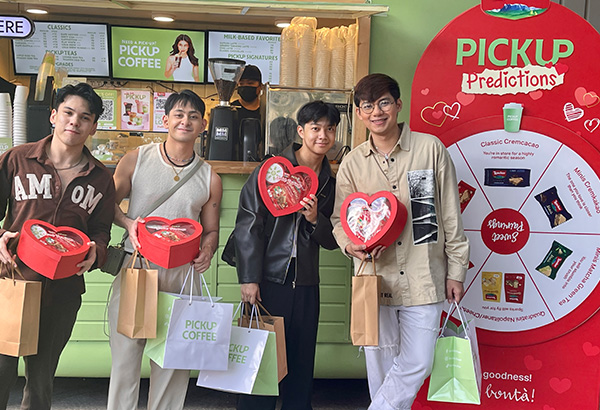 How many times have you wished to know your destiny? How would you meet your partner? Or, how would that pickup lead you to your own movie-style meet-cute? Countless, right?
Last February, Loacker launched its first Love Pickup Prediction filter on social media platforms like Instagram and Facebook. In partnership with Pickup Coffee, the Love Pickup Prediction filter allowed Instagram and Facebook users to see their love predictions with just a slight blow on a digital Pickup drink.
Whatever the season may be, Loacker and Pickup Coffee could be anyone's ideal food and beverage match.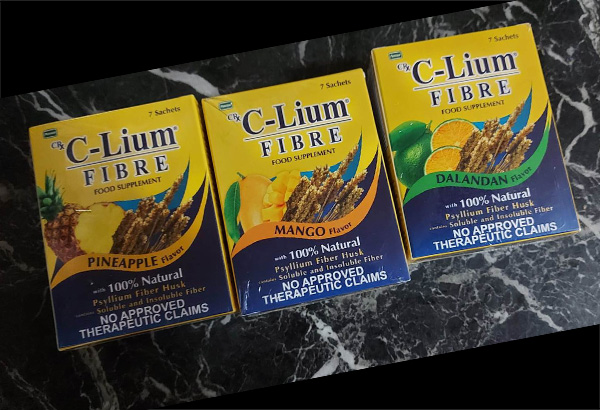 With its 100% natural Psyllium Husk which helps regulate bowel movement, lower blood sugar and cholesterol, C-Lium Fibre and its new flavors make for a fitting companion in your journey.
Photo release
New buffet hangout in Manila
Illo's opened their newest buffet branch in Adriatico, Manila.
The former ghost kitchen has now four physical stores which includes restaurant in Paranaque, Greenhills, Makati and now Manila.
Indulge in unli Chicken Galantine, Lasagna, Mozarella Meatballs Pasta, Chef N' Beef Salpicao, Kare Kare ni Lola Remy, Crispy Pork Binagoongan, Ribs Bicol Express, 40 Cloves of Garlic Chicken, Singaporean Chili Prawns, Baked Salmon Formage, Seafood Paella, Paella Negra, and Bagnet Paella, to name a few.
For desserts, the heavy favorites are Dark Chocolate Mousse, Strawberry Shortcake, Eggnog Flan Cake, Halaya Cream Rolls and Alcapone Cinammon Rolls.
Celebrities such as Claudine Baretto, Ruffa Gutierrez, Marian Rivera, Karen Davila, Yam Concepcion, Doug Kramer and family, Jessa Zaragosa, Giselle Sanchez, Ara Mina, Vina Morales, Isabel Oli, Regine Tolentino, Carmina Villaroel, Diane Medina, Liz Uy, Tim Yap and JM De Guzman are some of the stars who are their regular customers.
Singaporean seafood feast
Tung Lok Seafood recently unveiled mouthwatering seafood dishes curated by their Singaporean executive chefs to showcase the distinctive taste of Singaporean cuisine. From the ame group that brought the Singaporean classic restaurant Tung Lok Signatures to the Philippines last 2022, Tung Lok Seafood opened their first location in S Maison, Conrad Manila last February 11.
Focused on offering the best of Singaporean-Chinese style seafood, Tung Lok Seafood continues to innovate and prepare dishes synonymous with quality and standards of the Tung Lok brand.
Celebrate special occasions and intimate gatherings with friends and family in any of Tung Lok Seafood's four private rooms, each with a capacity of 10 to 20 guests. Perennial favorites include TungLok's Signature Chili Crab with a side of mantou, Wasabi Mayo Prawns, Lobster Sashimi, Australian Beef Tenderloin, and many more delectable dishes.
The phrase "Tung Lok" comes from a Cantonese saying which means "happy together." Tung Lok Group started as a family-owned business in Singapore during the 1980s. Today, Tung Lok has expanded to over 30 stores across Singapore, China, Indonesia, Vietnam, and Philippines. Tung Lok Seafood and Tung Lok Signatures stores were introduced to the Philippines by the same group under Eric Teng (Chief Executive Officer) that brought international brands such as Mango Tree, Mango Tree Cafe, Sen-ryo, and Genki Sushi to the country.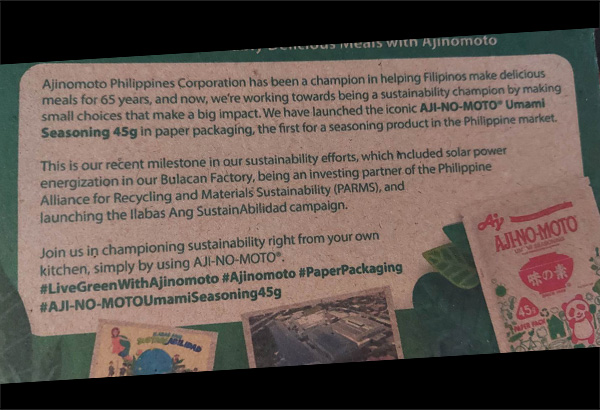 Ajinomoto introduces new eco-friendly packaging
Photo release
The circus is coming to Alabang Town Center on Easter weekend

Step right up, folks, for the greatest Easter celebration in the city. Easter is always fun at Alabang Town Center and this year promises to be even more exciting and delightful as Alabang Town Center is bringing the circus to town!
The festivities start on April 8 all through to April 10, 2023. All are invited to celebrate the holiday with circus games and activities kids of all ages would love and enjoy!
At the center of it all is the Digital Circus Ring at the Activity Center. The kids can get creative in drawing and coloring their own circus animal and see it come to full view on the large LED screen. They get to marvel at the circus animals in large 3D format, too, that will make it seem like they have come to life! And that's not all—fun circus games like Dunk Tank and Foam Blasters will be open to all those who want to play. Soft play games will also be available for kids three years old and below.
On Easter Sunday, take the kids to Town for a most wonderful Easter Egg Hunt. There will be five batches that are to be scheduled throughout the day. The search for the golden egg will commence on the hour from 11 a.m. to 6 p.m. And each lucky child who finds the golden egg will be eligible to participate in the grand raffle and get the chance to win a brand new Nintendo OLED! Kids ages two to seven years old are scheduled to hunt at 11 a.m. and 3 p.m. Kids ages eight to 12 years old are scheduled at 1 p.m. and 4:30 p.m. One last hunt will be scheduled at 6 p.m. for kids ages two to 12 years old!
To participate in the Easter weekend activities, a Cirque du Animaux wristband must be acquired. To obtain the pass, one must present a single or accumulated receipts worth P2000 and must be presented to the concierge for each child. To join the hunt on Sunday, an additional single or accumulated receipt worth P1000 must be presented. For soft play games, a Soft Play wristband must be acquired by presenting a single receipt worth P500 for each toddler who wants to play.
For those who only want to participate in the Easter Egg Hunt, a single or accumulated receipts worth P3000 is required. Slots are limited for the Easter Egg Hunt, so gather those receipts and sign up as soon as you can!
Come and take part of all the Easter activities Alabang Town Center has in store for the big Easter weekend and experience and see why everyone always wants to go to town. — With reports from Deni Rose M. Afinidad-Bernardo
*****
Credit belongs to : www.philstar.com