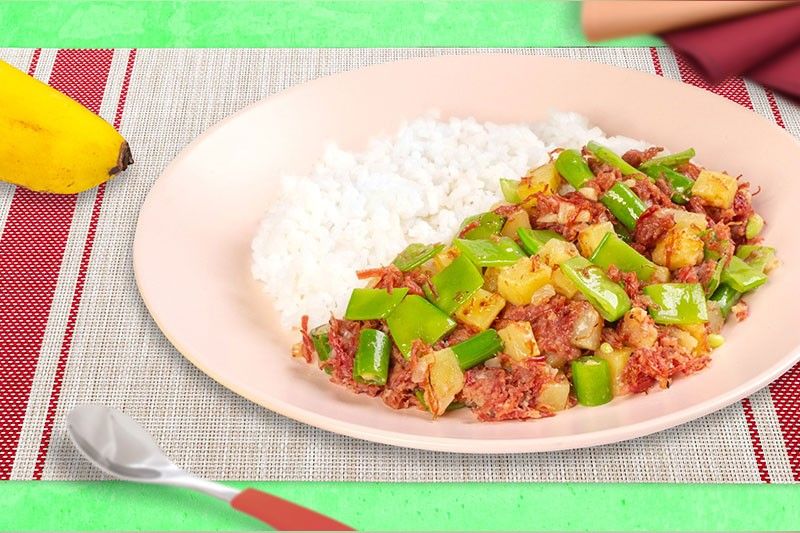 MANILA, Philippines — Moms are always on the lookout for new recipes to try, as they prepare meals for the family.
Breakfast is particularly important, since it is the first meal of the day and it practically sends everyone off to work and to school for a whole day of hard work. So breakfast has to be nutritious and filling.
Here is a suggested power breakfast recipe from Ajinomoto Philippines Corporation:
Sautéed Corned Beef with potatoes and vegetables
Ingredients:
1/4 cup cooking oil
1/2 cup onion, sliced
1/2 cup garlic, chopped
1 3/4 cup potatoes, small diced
1/4 cup water
1 1/4 cup Baguio beans, sliced
1 1/4 cup chicharo, sliced
1 3/4 cup corned beef
1 pack Aji-Ginisa Flavor Seasoning Mix (8 grams)
1/2 tsp. fish sauce
1/8 tsp. black pepper, ground
Procedure:
1. Heat oil in a pan. Sauté onion and garlic. Add potatoes and sauté until cooked. Add water if necessary, and add Baguio beans, chicharo and corned beef.
2. Season with Aji-Ginisa, fish sauce, and pepper. Mix and cook for 1 minute.
3. To prepare Sautéed Corned Beef with Potatoes meal for kids, assemble 3/4 cup Sautéed Corned Beef with Potatoes and 1/2 cup rice to a plate. Serve with 1 pc. banana and 1 glass of milk.
Cooking tip:
Sauté the potatoes first before mixing with other ingredients to prevent it from getting mashed.
RELATED:Why premium heirloom crop Adlai is healthier rice alternative
*****
Credit belongs to : www.philstar.com