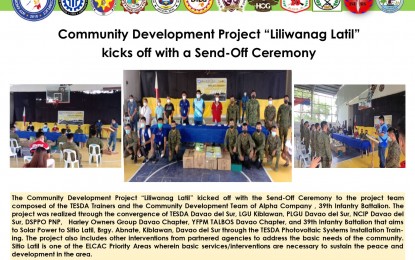 DAVAO CITY – Almost three dozens of homes in an isolated community in Davao del Sur have been lit up by a solar electrification project launched jointly by the Technical Education and Skills Development Authority (TESDA) and the military.
In a statement Tuesday, the 39th Infantry Battalion (39IB) said the Inter-Agency Community Development Project "Liliwanag Latil," which it spearheads with TESDA Davao del Sur, lighted some 35 households in Sitio Latil, Brgy. Abnate in Kiblawan, Davao del Sur on Monday.
The project started on Sept. 14 and aims to provide training on Photovoltaic systems and Solar Panel Installation, and solar energy power to off-grid remote villages not reached by regular electricity distribution lines.
Considered one of the most secluded communities in Davao del Sur, Sitio Latil is a former guerilla base in a remote village home to the B'laan tribe and can be reached via a two to three-hour hike.
Due to its remote location, electricity has not reached the community for decades.
"It became the New People's Army's (NPA) terrorist haven for a long period of time," the 39IB said. Mayor Jason Rama identified the "whole-of-nation" approach as a key to lasting peace in strife-torn areas in Davao del Sur.
"The peace and development efforts through the convergence of different line agencies of the government is a clear manifestation that our government is serious on its campaign in ending this local communist armed conflict," he said.
Rama vowed to promote government programs even in the most remote communities to protect the Indigenous People (IP) from the propaganda and deception of the communist terrorist group.
Meanwhile, Gina Sabellano, TESDA-Davao del Sur Instructor, expressed optimism that the project will bring "light and hope" to the social care needed by Sitio Latil and other geographically isolated and disadvantaged areas (GIDA).
Meanwhile, Datu Rogelio Bulani, Latil's Sitio Leader recognized the efforts of the different government agencies in continuously reaching communities in far-flung areas.
"We thank the government for their unending support to help the IP communities. We are now enlightened that only the government programs and services can help us achieve lasting peace and prosperity," Datu Bulani said in the vernacular. (PNA)
*****
Credit belongs to : www.pna.gov.ph