MANILA, Philippines — Their recent Unloving U virtual media conference gave everyone a glimpse into Loisa Andalio and Ronnie Alonte's life as a couple. Ronnie used "beh" as a term of endearment for Loisa, who gave him a fairly long look while Ronnie was answering. There were moments also when LoiNie, the couple's uniname, simply looked in the eye. One could sense their on-cam and off-cam chemistry. They were a picture of happiness. It came from a place of mutual trust and respect.
"Perhaps, it is about trusting each other," said Ronnie of LoiNie's secret to a healthy relationship. "May tiwala kami sa isa't isa at nagbibigayan kami, walang mataas, walang mababa (We respect each other's space and treat one another as equals)." The couple also knows how to handle petty things, as Ronnie implied, that could also be blown out of proportion when not resolved. If arguments are unavoidable, they sit down and talk things over. "After nun, bati kaming lalabas," he added, "bigayan lang, respeto sa desisyon, at yun magtatagal kayo kung may respeto kayo sa isa't-isa at alam ninyong mahal ninyo ang isa't-isa."
Time, like the lockdown period that all experienced, let Loisa and Ronnie discover new things about each other. You know bits and pieces that reveal of a beloved's personality.
"He loves dogs," said she, "he has a soft side. He is also family-oriented."
"Ang sipag at masarap magluto, (She is hardworking and can cook delicious food)," said he, "yung pagka-kalog niya, ganun pa rin. I find it sweet when someone is kalog at nilalambing ako… ng malumanay."
Given their story, one can say that Loisa and Ronnie were two right people who met in the right place at the right time. Although any relationship is a work in progress, theirs is blissful as compared to the affair LoiNie's characters have in the couple's first original digital series.
"When you (think of the title), it gives you that painful feeling," said Ronnie. "We're siblings, pero di naman totally magkapatid. She's my stepsister. I'm Alfie, the son of Ms. Gelli's character. She is the daughter of Sir Ariel's." Another real-life couple, Gelli de Belen and Ariel Rivera, play their parents in the iWantTFC's special Valentine treat and Kapamilya tearjerker. LoiNie had the privilege to see how Gelli and Ariel worked professionally and why their marriage is among the strongest in showbizlandia.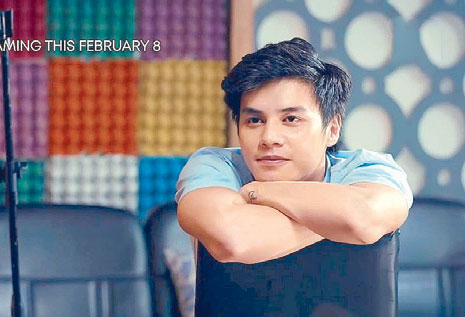 Ronnie Alonte as stepsiblings Fiona and Alfie in the iWantTFC special Valentine tearjerker and digital series
"Based on (my work) experience, even if the title sounds heavy, I enjoyed doing it," said Loisa. "I also got excited how the series would turn out at the end."
Their Fiona and Alfie are made to live under one roof, said director Easy Ferrer. People create a special bond when they get to spend more time with each other. "The premise can be put this way. Two right people who met up at a wrong time," added Easy. "Hindi nila pwedeng gawin yung love, so kailangan nilang i-unlove ang sarili nila (They can't love each other. So they have to unlove one another)."
Easy was tapped to do the series because of his filmography, "which is about nostalgia," the director said, "childhood love, childhood memories, painful experiences when loving someone because there's this issue or that issue. I feel the love story with a nostalgic effect is the kind of (movie) assignment that is always given to me." He recalled that his previous works such as Finding You and Ben x Jim dealt with the ideas of "cherishing and loving someone na may bigat ng mga memories na pinagdaanan ninyo throughout the years. There's that element (in Fiona and Alfie's story)… It's about love nang bata pa lang tapos dala, dala hanggang sa pagtanda."
Even if their latest work is heavy, theme-wise, Loisa and Ronnie had fun on the set. The digital series is their Valentine's Day follow-up to last year's film James & Pat & Dave.
Subscribers can watch Unloving U on iWantTFC app and iWantTFC.com, which carries content like the Thai series I'm Tee, Me Too, starring Off, Gun, Tay, New, Krist and Singto. It is about finding friendship and people to celebrate life.
(For details, like www.facebook.com/iWantTFC and follow @iwanttfc on Twitter and Instagram and subscribe to www.youtube.com/iWantTFC.)
Credits belong to : www.philstar.com