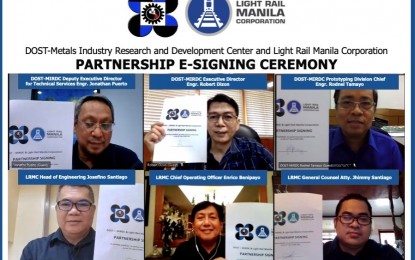 MANILA – The Light Rail Manila Corporation (LRMC)—the operator and maintenance provider of the Light Rail Transit Line 1 (LRT-1)—has partnered with a line agency of the Department of Science and Technology (DOST) for the maintenance and upgrade of the LRT-1.
In a statement on Friday, the LRMC said the DOST-Metals Industry Research and Development Center (MIRDC) has agreed to "perform specific functions" to sustain improvement in the LRT-1.
This after both parties signed a memorandum of understanding on Wednesday.
"LRMC is seeking the expertise of the DOST-MIRDC in conducting structural repairs of specific light rail vehicles (LRVs), as well as the local re-engineering and/or fabrication of spare parts that are already obsolete and/or difficult to source," the LRMC said.
Moreover, the DOST-MIRDC will help the LRMC through the use of several apparatus for non-destructive testing such as an ultrasonic testing machine and radiographic testing using an x-ray machine.
It will provide the use of a laser interferometer system for dimensional measurement, used to determine the linear positioning error, pitch, and yaw of machines, among other uses.
In addition, the DOST-MIRDC is capable of conducting finite element analysis (FEA) on the LRT-1, a method used in solving stress-strain relationships in structures and solid bodies.
"FEA involves 3D scanning, 3D printing, and rapid prototyping. This will be used to simulate stress points in any design. This will also help in analyzing and identifying structural weaknesses prior to production," the DOST-MIRDC said in a technology briefer.
Enrico Benipayo, chief operating officer of the LRMC, said the partnership with the DOST-MIRDC will allow the continued enhancement of the LRT-1 system.
"Through this partnership, we hope to bring to the table our management expertise, as well as promote Filipino ingenuity by banking on the competence of our local talents," Benipayo said. (PNA)
*****
Credit belongs to : www.pna.gov.ph