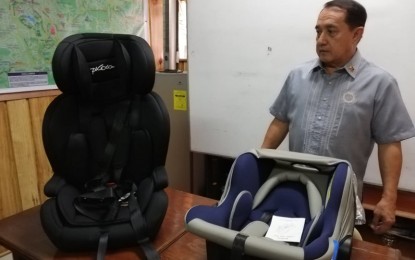 BAGUIO CITY – The Land Transportation Office in the Cordillera Administrative Region (LTO-CAR) has reminded the public anew to observe the maximum load limit of vehicles, saying going beyond the capacity has been among the causes of accidents.
LTO-CAR director Francis Ray Almora said Republic Act 11229 mandates the use of child restraint system (CRS) among children with a height of four feet and 11 inches thus, a child is counted as one passenger.
"We can see the consequences if we violate. Some count adults and the children are not counted and they sit them on the lap but under the new law, it is not allowed," he said in an interview on Saturday. "As proven, that is a dangerous practice."
Almora said the LTO has started implementing the child car seat law although they are only giving warnings to violators and reminding them to observe the maximum load limit of vehicles when transporting children as a safety precaution.
He said several road accidents have been recorded where it was known that overloading the vehicle with passengers or cargo contributed to the inability of the driver to properly maneuver the engine.
The most recent was the accident in Tabuk, Kalinga where 13 people died, seven of them children riding in a sports utility vehicle (SUV) that plunged in an irrigation canal.
"Comply with the law… This is really important if we intend to transport children aboard a motor vehicle then we should be guided by the child restraint law," he added.
Almora said overloading of the vehicle similar to Tabuk incident is not new.
While not involving children, another incident in Apayao in 2018 also led to the death of 19 people when an elf truck with over 40 people and sacks of corn seeds fell in a ravine while traversing an uphill portion of the road.
Almora further assured that despite the limited manpower resource, they conduct roadside inspection of vehicles to check on compliance with transportation laws.
He said one of the mandates of LTO is the enforcement of land transportation laws and regulations and they are authorized to conduct roadside motor vehicle inspection.
"During the inspection, we check on the registration. We check if the motor vehicle using public roads is registered and if registered, is driven by a person properly licensed," he added.
During the inspection, the LTO also determines the load of the vehicle and a violation is charged with a corresponding fine.
Almora reiterated the importance of safety which should be the utmost consideration even before a vehicle's engine is started. (PNA)
*****
Credit belongs to : www.pna.gov.ph