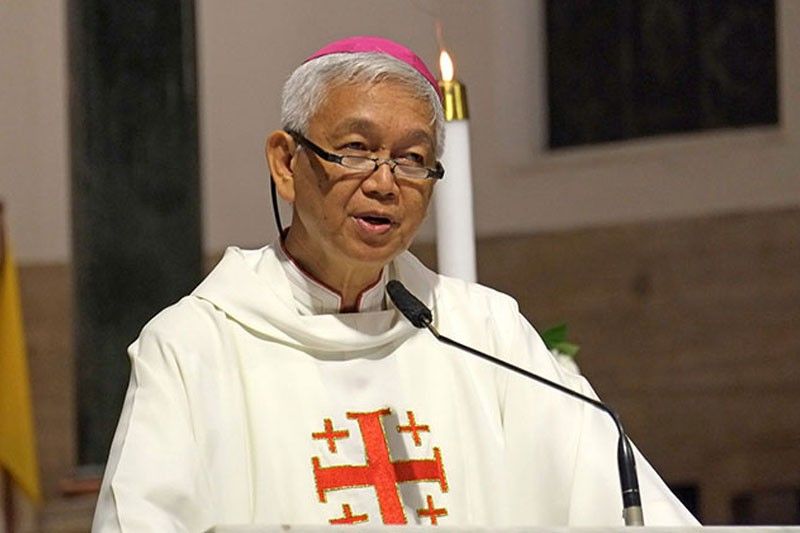 MANILA, Philippines — With Holy Week drawing closer amid the spike in coronavirus cases, a Manila bishop asserted the Church's right to worship amid the stricter general community quarantine imposed over the "NCR+ bubble."
In a pastoral letter Wednesday, Bishop Broderick Pabillo, apostolic administrator of the Archdiocese of Manila, scorned the government's coronavirus task force for what he said was its unnecessary hampering of religious activities along with its failure to consult with religious groups affected by its new restrictions.
As it currently stands, only a maximum of 10 people can participate in weddings, baptisms, funeral services, and other religious events, according to the latest IATF resolution signed by President Rodrigo Duterte.
"This is a pastoral instruction, that is, it is meant to help the pastors and their flocks how to worship the Lord in this important season of the year in the face of the pandemic. The pastoral instruction also asserts our right to worship but setting a limit to the physical attendance of those who feel the need to do [so]," the letter read.
"We come to this limit of 10% of our church capacity because we feel that this number does not constitute a 'mass gathering'. We have the experience of one year of having our health protocols in place in our churches, and as is experienced by those who come to church, these are well-observed."
Earlier Wednesday, the Palace said that the Catholic Church had assured the national government of its compliance with the ban on mass gatherings and would not hold events during the Holy Week.
READ: Palace: Catholic Church vowed to comply with gov't ban on religious gatherings
"In the Church we follow the principle of subsidiarity, which means that the decisions are ultimately done on the ground by the parishes. We do not believe in unnecessary centralization. Instructions are given as guidance for those in the parishes to make decisions," Pabillo said.
'Gov't should be clear about instructions'
Pabillo in his letter called on the national government to be clear on its idea of what constitutes a mass gathering, calling attention to what he said was the lack of representation for religious groups in the government's policy-making.
"Not all religious activities per se should be lumped together as a 'mass gathering'…We assert our right to worship and the state should respect this and not unnecessarily hamper it. Religious activities are essential services for the well-being of people," he wrote.
"State regulatory bodies should consult the sector concerned when making policies about them. I lament the fact that the religious sectors are not represented, nor even consulted, when they make policies affecting our life of worship."
Health officials recorded 6,666 additional COVID-19 infections earlier Wednesday afternoon, bringing the national caseload to 677,653.
As of press time, the Philippines has been on lockdown for 372 days—good for the longest quarantine in the world. — Franco Luna
*****
Credit belongs to : www.philstar.com