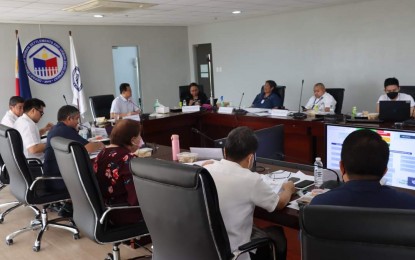 MANILA – The Task Force Bangon Marawi (TFBM) has started planning for the creation and operations of the Marawi Compensation Board (MCB) that will facilitate the tax-free reparation to qualified claimants who lost residential and commercial properties and beneficiaries of those who died or are presumed dead after the 2017 Marawi City siege.
TFBM chair and Department of Human Settlements and Urban Development (DHSUD) Secretary Eduardo del Rosario said they must hasten the creation of the board so that the task force can start providing what is due the beneficiaries.
"What we can do for the initial push is to formulate key measures aimed at ensuring the optimum operationalization of the upcoming MCB," del Rosario said in a statement on Tuesday. "Providing compensation to victims of the Marawi siege will also allow private individuals to rebuild not only their properties but, more importantly, their lives in general."
Del Rosario called for an executive committee meeting on Monday to discuss the preparation and processes in determining beneficiaries or claimants and identification of destroyed or damaged properties during the five-month-long conflict between government forces and terrorist groups.
"We must fast-track our efforts in finalizing the formation of the MCB. It is part of our mandate and responsibility to give just compensation to our Maranao brothers and sisters who lost their lives, were displaced, and incurred property damage during the siege," del Rosario told the committee.
Republic Act (RA) 11696 or the Marawi Siege Compensation Act of 2022 signed by President Rodrigo Duterte last month mandates the creation of the MCB as "an independent and quasi-judicial body primarily to receive, evaluate, process and investigate applications for claims under the law, as well as, to award compensation as warranted".
Del Rosario is set to visit Marawi City this week to check on the rehabilitation developments.
He will grace the annual Marawi Week of Peace to commemorate the "heroism and unity displayed by citizens" during the armed conflict.
The TFBM will inaugurate and turn over major public infrastructures such as the Peace Memorial and Rizal Park, Marawi Museum, School of Living Traditions, Sarimanok Sports Complex, and Marawi Convention Center. (PNA)
*****
Credit belongs to : www.pna.gov.ph