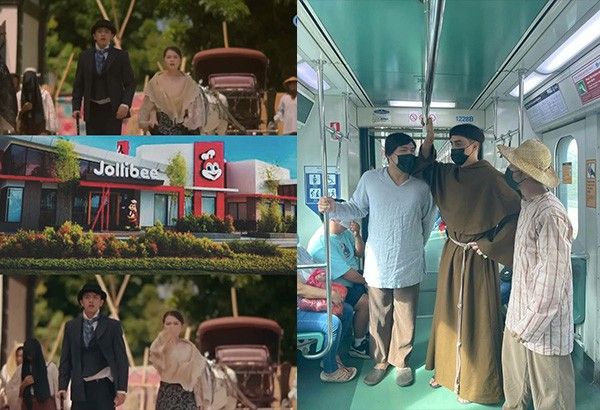 MANILA, Philippines — "Maria Clara at Ibarra" characters are quite popular, with many of them becoming memes or favorite subjects of fan edits or fiction; the latest is the petition to sign Filay in a Valentine mini-movie produced by a popular fast food chain.
Here are some of these popular memes and edits all over social media:
1. Filay for Jollibee's famous Valentine series
Today, the favorite pairing of Fidel (David Licauco) and Klay (Barbie Forteza) is trending on Twitter with some fans eager for them to star in the annual, anticipated Jollibee Valentine mini-movies.
Many of the edits used previously produced Valentine mini movies with either their dialogue from the drama or the dialogues from a previous Jollibee Valentine mini-movie with the original scores.
Kwentong Jollibee Valentine's Series (Fidel and Klay's Version) @Jollibee

FILAY ForJollibee pic.twitter.com/PzinZEgvFT

— mci supremacy ???????? (@filayendgame) January 21, 2023
Over on Tiktok and YouTube, the same pairing of the 19th century rich man and 21st century nursing student who got transported inside Dr. Jose Rizal's "Noli Me Tangere" are also favorite subjects of fan edits, which are like music videos featuring a popular song with scenes from the drama.
2. Padre Salvi adventures with Renato and Rovrov
Padre Salvi (Juancho Trivino) is another popular and meme-able character. On the show, he is the most hated priest, described as a creepy, obsessed friar who harbors secret feelings for Maria Clara (Julie Anne San Jose).
On social media, he has turned into a meme and has even started a skit where he goes around town, goofing off and exploring the real world in costume with his aide on the TV drama, Renato (Kiel Rodriguez) and made-up character Rovrov (Roven Alejandro).
3. Padre Salvi vs Father Yohan
Even many K-drama watchers are watching the GMA-7 historical portal fantasy.
Some even created funny memes where they compared Padre Salvi to several popular K-drama actors who played priests in various hit shows.
One meme has him pitted with Cha Eun-woo's Father Yohan, the exorcist in the drama "Island."
"Magsi tigil kayong 242k na tao, at nakakahiya sa ibang lahi na pinapakita ninyo na ang mga sugo sa Pilipinas ay muy guapito. Dapat tayo ay mapagkumbaba lamang"

Love PS pic.twitter.com/RMOXRRoUrh

— Juancho Trivino (@juanchotrivino) January 17, 2023
4. Beware the alitaptaps
Again, K-drama fans noticed a similarity between one of their favorite Korean dramas and the hit Filipino show with last week's revelation that Prof. Torres (Lou Veloso) has been Ali, the firefly Klay has befriended.
They cannot help but refer to "Hotel del Luna" which has a strikingly similar plot twist involving an unsuspecting character played by Lee Do-hyun that turned out to be a magical creature like the alitaptap.
theory; si Professor Torres ang alitaptap na sumusunod palagi Klay.#MCISisapic.twitter.com/BqvxCQ2ELC

— Joanna | ????? ?? ????? ???? (@bnibiningjuana) October 18, 2022
5. "Scarlet Heart Ryeo" feels
This one has been going around since the show premiered last October. Many fans have been thinking that the GMA-7 show will have the same tragic, heartbreaking ending as the cult favorite 2016 drama "Moon Lovers: Scarlet Heart Ryeo."
This is another IU starrer, apart from "Hotel del Luna," where her character time-travelled to Korea's Goryeo dynasty. She falls in love with 3rd Prince Wang So, only to return to reality without ever seeing him again.
RELATED: 'Mauubos ang ating indulhensiya!': Padre Salvi faints at 2023 onion prices
*****
Credit belongs to : www.philstar.com