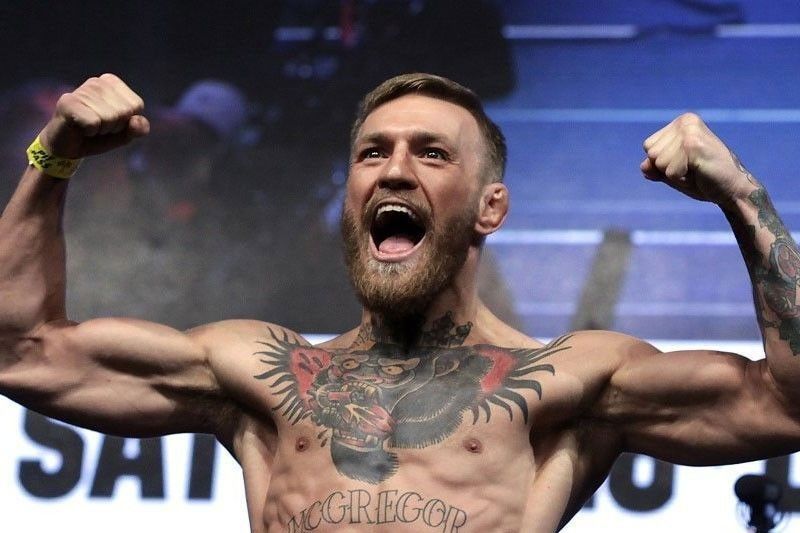 MANILA, Philippines — If ever super WBA welterweight champion Sen. Manny Pacquiao faces MMA fighter Conor McGregor, Los Angeles-based Australian strength and conditioning coach Justin Fortune said yesterday it's over in two rounds with the Irishman biting the dust.
"I guarantee it," said Fortune, who has worked with Pacquiao since 2003, in an overseas Whatsapp chat. "Manny knocks him out in two rounds, quick and easy. I think it'll be a massive money fight. The world wants it. A lot of people don't like McGregor and want to see him beaten up."
McGregor, 32, is booked to battle Dustin Poirier in the octagon in Dubai on Jan. 23. Poirier is a southpaw like Pacquiao so he's touted to be a warm-up opponent. In 2017, McGregor made his pro boxing debut and lost to Floyd Mayweather Jr. by a 10th-round stoppage but walked away with a guaranteed $30 million. The fight generated $55.4 million in ticket sales and brought in 4.3 million pay-per-view hits in the US and Canada.
Pacquiao, 42, recently said he'd like to fight twice this year, in April and in September before the filing of candidacies in October for the next elections. The first bout could be against Mikey Garcia or WBC/IBF welterweight titlist Errol Spence and the second could be against McGregor. Nothing is set in stone but talks are ongoing to make at least the first fight happen.
Fortune said whomever Pacquiao decides to take on, there's no way he'll lose. "Manny will knock Mikey out," he said. "Mikey's fast and strong. He's not as big as Spence. But Manny's a different animal. It'll be a tune-up for Manny who hasn't fought since beating (Keith) Thurman in 2019. As for Spence, Manny beats him any day. Spence is slow. In his last fight, he was up against Danny (Garcia) who couldn't pull the trigger but went 12 rounds. Danny ended up with a huge black eye but if he'd fought Manny instead, he would've gotten badly beaten up. Manny's a meat mincer."
Fortune said if travel is allowed, he'll be ready to fly to Manila when Pacquiao starts training. "I'm in no hurry to get the vaccine but if it's required to travel to Manila, I'll get it," he said. "Right now, it's ridiculously bad in California. Restrictions are all over. Non-pros aren't allowed to train indoors so I do workouts with my non-pro clients outdoors. Pros, however, train indoors in my gym."
Two Filipinos whom Fortune trains are Olympic middleweight qualifier Eumir Marcial and featherweight Mark Magsayo. "I think (MP Promotions head) Sean (Gibbons) is planning a late February or early March fight for Mark so he's back in the gym four days a week," he said. "Mark has a lot to improve on. He's got to do better than in his last fight (a win over Rigoberto Hermosillo by a split decision in Los Angeles). He's got to shine, get rid of the ring rust and prove himself. Whether or not he'll be ready for a world title shot soon depends on how he does in his next fight. That 126-pound division is loaded with talent. As for Eumir, I think it's a good idea for him to stay in L. A. where he can get good sparring. If he goes back to Manila, I'm not sure if there are sparring partners in his weight class who can push him. We want Eumir to be ready to win that gold in the Olympics."
Credit belongs to : www.philstar.com