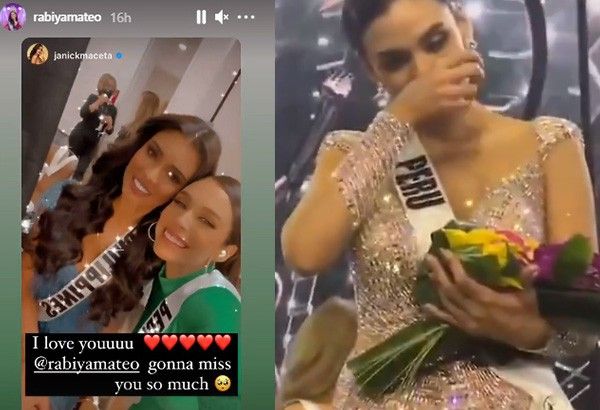 MANILA, Philippines — Miss Universe Philippines 2020 Rabiya Mateo continued to get over 100,000 followers a day — 100,000 yesterday and another 100,000 today — despite failing to win the Miss Universe 2020 crown.
Prior to the pageant, Rabiya had some 1.1 to 1.2 million Instagram followers. During the pageant yesterday, she already gained 1.4 million. Then, after the pageant, she continued to score 100,000 more until it rose to 1.5 million as of today, making her still, the most followed Miss Universe 2020 candidate together with the winner, Mexico's Andrea Meza, who also rose to have 1.5 million followers to date.
In her Instagram posts following the pageant, Rabiya said: "It was such a beautiful moment to represent you, Philippines. I am forever honored to be part of the legacy, of our history.

In my heart, I did everything I can. I trained really hard to be physically fit. I would have sleepless nights trying to read articles to be updated. I made a lot of sacrifices people cant sometimes see. Early calltime. Late night rest. Trying to be sane and motivated. It was a challenge but it made me so much stronger everyday. Salamat mga kababayan! Mahal ko kayo!"
In another post, Rabiya shared that while her Miss Universe chapter ended, she is excited for the future that lies ahead.
"My Miss Universe journey has ended. I just finished one beautiful chapter. Now, I'm excited to write a new one. More blessings to receive! More people to inspire!"
Related:Rabiya Mateo enters Miss Universe 2020 Top 21, here's full the list
Meanwhile, Janick Maceta del Castillo might have just placed second runner-up at last Monday's 69th edition of Miss Universe, but the representative of Peru won the Internet.
Netizens defended and consoled Miss Peru especially after a video circulated showing her wiping away tears moments after Miss Mexico Andrea Meza was crowned Miss Universe. Miss Brazil Julia Gama was named first runner-up.
My heart broke for her!!!!! She deserved to win????#MissUniverse#MissPerúpic.twitter.com/VFgmLlJt6g

— ????. (@twirlingtales) May 17, 2021
Janick was seen conversing in Spanish with an unseen individual from the crowd. She was visibly crying while holding her bouquet. Amid their short interaction, she was seen flashing smiles at the camera.
The video was uploaded unanimously on Twitter and has been viewed by millions.
Fashion Pulis reuploaded the clip on his Instagram. He wrote as a caption: "You are my #MissUniverse2020: PERU! @janickmaceta #notmyvideo #fashionpulis." In the comments section of his post, most people agreed with some alleging that Miss Peru was "robbed" of the title.
Prior to the coronation of Meza, Janick was favored by many netizens to win the crown after impressing them with her Q&A performance and final statement.
Related:FULL TEXT: Miss Universe 2020 Final Statement segment
FULL TEXT: Miss Universe 2020 Q&A portion
In Instagram posts earlier today, however, Janick congratulated and showed support for the new winner, fellow Latina Andrea Meza of Mexico.
RELATED:In photos: Andrea Meza's first photo shoot as Miss Universe 2020
*****
Credit belongs to : www.philstar.com