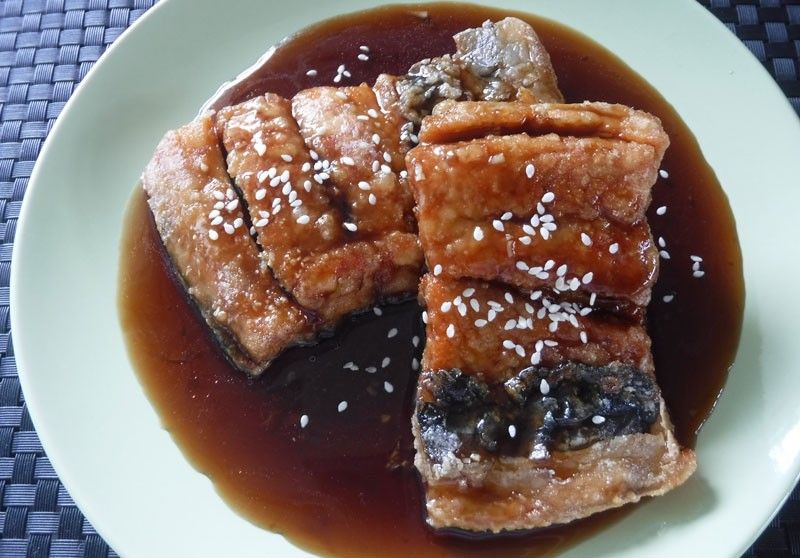 I love boneless bangus belly, and I love teriyaki sauce on chicken and fish. So, what do I do? I put them together and end up with Bangus Belly in Teriyaki Sauce.
Chefs often use cream dory to make Fish Teriyaki. I wanted to be different, to innovate, and so I Googled and flipped pages of cookbooks, and stumbled upon this really nice teriyaki sauce recipe that was used on tofu. I experimented with it, adjusted its sweetness level to suit my preference, and poured it over pan-fried boneless bangus belly, then sprinkled sesame seeds on it.
Pure magic!
Hope you like it!
Bangus Belly in Teriyaki Sauce
Ingredients:
For the fish:
6 pcs. boneless bangus belly
salt to taste
cornstarch or all-purpose flour for dredging
oil for frying
sesame seeds
Procedure:
Season fish with salt. Allow to marinate for a few minutes.
Dredge with cornstarch or all-purpose flour. Then fry in hot oil.
Drain off excess oil on paper towel. Set aside.
For the teriyaki sauce:
1-1/2 tsps. minced garlic
1 cup water
1/4 cup soy sauce
1/3 cup sugar
1 Tbsp. cornstarch
1/4 cup water
Procedure:
Combine garlic, 1 cup water, soy sauce and sugar in a saucepan. Mix until sugar is dissolved. Cook.
Dissolve cornstarch in 1/4 cup water. Use to thicken sauce.
Cook sauce over low heat until sauce thickens.
To assemble: Arrange fish on serving platter. Pour or ladle sauce over the bangus bellies. Sprinkle with sesame seeds, and serve with freshly cooked rice.
RELATED: Make this light Japanese salad for the family to enjoy
*****
Credit belongs to : www.philstar.com