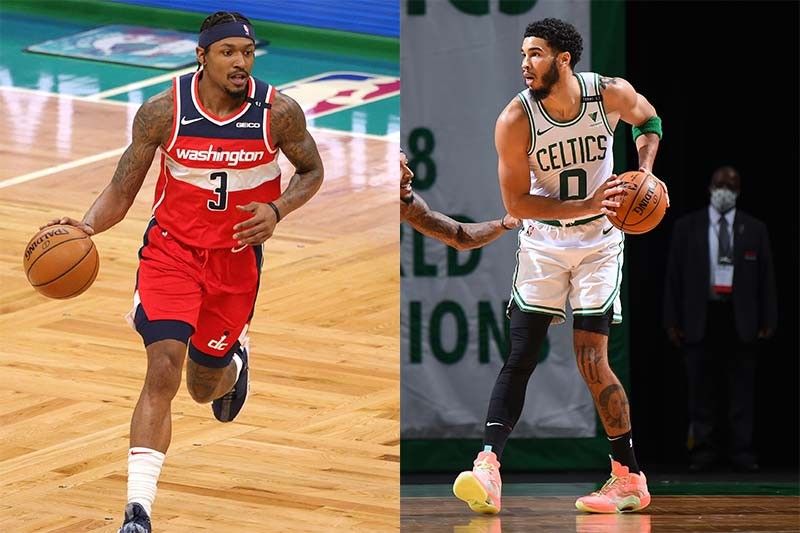 Jayson Tatum (R) and Bradley Beal are among the players sidelined due to health and safety protocols amid the novel coronavirus (COVID-19) pandemic
MANILA, Philippines — The new NBA season is in full swing, but the novel coronavirus (COVID-19) is still greatly affecting its operations.
This as multiple NBA players from across the league continue to miss games due to health protocols as contact tracing continues outside of a "bubble" set-up.
Just last Thursday (Friday in Manila), the whole Philadelphia 76ers squad was forced to quarantine after their game against the Brooklyn Nets, after Seth Curry tested positive for the virus during the game.
Though Curry was immediately put into isolation, the Sixers guard was already on the bench and had interacted with his teammates prior to the result.
This resulted in an undermanned 76ers team playing on Saturday (Sunday, Manila time) against the Denver Nuggets with only seven players available.
A total of nine players were out for the 76ers for various reasons, with Tobias Harris, Shake Milton, and Matisse Thybulle out due to protocols.
But it isn't just the Sixers affected, with many other teams also missing their stars because of the protocols in place.
For the Boston Celtics, 22-year-old star Jayson Tatum is reportedly expected to miss 10-14 days. Though he is listed as "doubtful" in their game against the Miami Heat on Sunday (Monday in Manila).
Jaylen Brown, on the other hand, remains "questionable" against the Heat because of the same protocols. Tristan Thompson, on the other hand, is out for Sunday's (Monday) game.
Another star who has been forced out of action because of the health crisis is Michael Porter Jr., who has already been in the protocol since last week, is reportedly out "indefinitely" and is still being tested daily for the coronavirus.
Washington Wizards' Bradley Beal, who had been stringing great outings this week which included a career-high 60 points, has also been stymied and missed Washington's game earlier today.
Other players who have notably been sidelined are Dallas' Jalen Brunson, Dorian Finney-Smith, and Josh Richardson, as well as the Brooklyn Nets' Kevin Durant.
Last season, in the months-long bubble, the NBA was able to finish its season without a positive test among its players in Orlando, Florida.
But with less stringent measures in place as the players play through the season, the impact of the health crisis is fully felt by the basketball league.
As It Happens
LATEST UPDATE: December 31, 2020 – 12:16pm
How are sports bodies responding to the coronavirus pandemic? Follow this page for updates. Photo from AFP
December 31, 2020 – 12:16pm
No new NBA players from among 495 tested since last Thursday have returned positive COVID-19 results, the league announces.
Any players returning a confirmed positive result would be isolated until they are cleared to return to team activities under COVID-19 safety guidelines agreed upon by the NBA and the National Basketball Players Association. — AFP
December 26, 2020 – 10:49am
FIFA postpones next year's U-20 World Cup in Indonesia and U-17 tournament in Peru until 2023 due to coronavirus.
"The Covid-19 pandemic continues to present challenges for the hosting of international sporting events and to have a restrictive effect on international travel, explains football's governing body in a statement on its website.
"The global situation has failed to normalise to a sufficient level to address the challenges associated with hosting both tournaments, including the feasibility of the relevant qualification pathways."
December 20, 2020 – 1:38pm
World champion Ryo Kiyuna, one of the favourites to win men's kata gold when karate makes its Olympic debut at the Tokyo Games, has COVID-19, the Japan Karatedo Federation says.
Kiyuna won a record ninth consecutive Japan national championship last Sunday in Tokyo before returning to his native Okinawa Prefecture the following day and contracting the virus on Tuesday or later, the federation and local reports say.
"As of Saturday, there are no reports of fever and other symptoms reported by 30 competitors — excluding Kiyuna — who participated the All Japan competition on Sunday, December 13," the federation says on its website, adding it was checking the health of other members and coaches. — AFP
December 18, 2020 – 5:33pm
eSports has been named as a full medal event for the 2022 Asian Games, in a major step towards the mainstream for a sport that has long harboured Olympic ambitions.
eSports and breakdancing were both included on the programme for the Games in Hangzhou, China, at the Olympic Council of Asia's general assembly in Muscat this week.
"I hope that electronic sports will add value to the Asian Games –- and I am sure it will in the future, during the Asian Games 2022 and even beyond that," the OCA's Asian Games director, Haider Farman, says in a statement.
November 29, 2020 – 9:14am
NBA players begin daily COVID-19 tests this weekend ahead of next month's start of the 2020-21 season under health and safety procedures outlined by the league to clubs.
The guide unveiled Saturday details protocols regarding the upcoming campaign, set to start December 22 with pre-season contests opening December 11 and training camps launching next week.
Last season was completed in a bubble at Orlando after being halted in March by the COVID-19 pandemic. This season will see 72 games per club which are to be staged at empty home arenas. — AFP
Credit belongs to : www.philstar.com