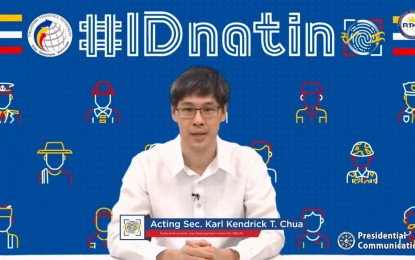 DAVAO CITY – Acting Socioeconomic Planning Secretary Karl Kendrick T. Chua has called on the general public to register with the Philippine Identification System or PhilSys to avail of the benefits of the National ID.
"I would like to take this opportunity to invite everybody to join PhilSys so that we all can avail (of) the benefits if we have a National ID," Chua said in his speech during the online ceremonial kickoff event of PhilSys on Friday.
He said the event showed how easy and safe it is to register with PhilSys.
Chua, however, reminded the registrants to observe the minimum health protocols against the coronavirus disease 2019 (Covid-19) when they arrive at the registration centers.
He said the more than 10 million registrants who had completed the first step of the PhilSys registration last year, based on the records of the Philippine Statistics Authority (PSA), were positive signs that more Filipinos embrace the initiative.
Aside from Filipinos, resident aliens living in the country for good are also qualified to register with PhilSys.
"One of the objectives of the National ID is gaining access to financial assistance from the government. Many of the low-income families could not access the financial assistance due to lack of a valid ID," Chua said.
About 90 percent of the more than 10 million registrants claimed they have no bank accounts.
He thanked Land Bank for making their presence available in the various registration centers to facilitate the opening of bank accounts for the registrants.
With a bank account, registrants could easily access financial assistance and fast-track their transactions with the government.
Chua also thanked President Rodrigo Duterte for supporting the National ID Program and the PSA and its partners for ensuring an orderly and safe registration process amid the pandemic.
"PSA registration officers will make sure health protocols will be followed and hope this commitment would encourage everybody to support and register (with) the first-ever National ID System," he said.
Signed into law by President Rodrigo R. Duterte in August 2018, Republic Act 11055, or the Philippine Identification System Act, aims to establish a single national ID for all Filipinos and resident aliens.
The national ID shall be a valid proof of identity that shall be a means of simplifying public and private transactions, enrollment in schools, and

the opening of bank accounts.
It will also boost efficiency, especially in dealing with government services where people will only need to present one ID during transactions. (PNA)
*****
Credit belongs to : www.pna.gov.ph