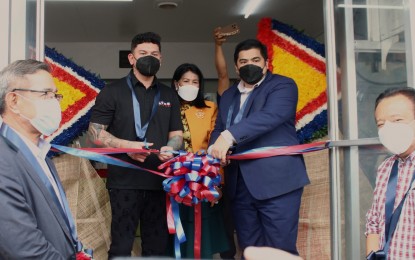 DAVAO CITY – With the launch of the Anti-Red Tape Authority (ARTA) Office in this city on Wednesday, officials assured seamless government service and ease of doing business in Eastern Mindanao.
The newly-opened ARTA office here is the first in Mindanao, and the first to be established outside Luzon.
"We are fully supporting the vision of ARTA for the benefit of our constituents. We hope that your presence here can help streamline government processes for the business sector and strict implementation of anti-red tape," Vice Mayor Sebastian Duterte, acting city chief executive, said during the office's launching here.
ARTA Director-General Jeremiah Belgica thanked Davao City officials for their warm welcome and encouraged the public to study and take advantage of RA 11032, or the Ease of Doing Business and Efficient Government Service Delivery Act of 2018.
"I realized that we have this wonderful, magnificent law… ang batas ay maganda lamang kung ating mai-implement (The law is good if implemented)," Belgica said.
For his part, Undersecretary Carlos Quita said ARTA requires the help of both the public and private sectors to mitigate it.
"This is our commitment to perform our mandate of empowerment and enforcement. And we believe that only through our collaboration, our partnership with the public and private sector, that we can eliminate red tape," Quita said during his speech.
Earlier on Wednesday, ARTA officials paid a courtesy visit to Davao City Administrator Zuleika Lopez, where the officials discussed the pilot run of the e-ARTA Complaints Management System (CMS) in the city.
Belgica said Davao City could also be a model city for the adoption of national policies, particularly the Philippine Good Regulatory Principles (PGRP), Regulatory Impact Assessment (RIA) for local ordinances, and Whole-of-Government (WOG) Reengineering Manual, at the local level.
In return, Lopez offered ARTA the chance to open a satellite desk at the city hall. (PNA)
*****
Credit belongs to : www.pna.gov.ph