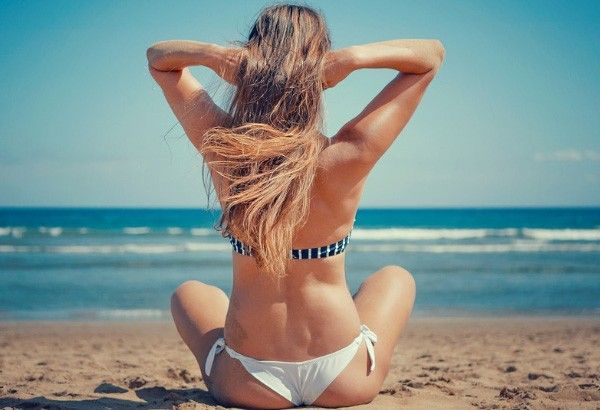 MANILA, Philippines — Darkened "bum-bums" are definitely a boo-boo for those planning to hit the beach in a G-string a la Kim Kardashian or Ivana Alawi.
Sitting all the time can darken and form shadows around your bottom area, according to Aesthetic Medicine specialist Dr. Christine Chio.
"Kasi 'di ba may friction? 'Yun 'yung nagcau-cause ng darkening of the areas around your buttocks," she explained to Philstar.com.
As a solution to stay hydrated and beautiful in Instagram-worthy posts for summer, Avignon Clinic recently introduced Derma Clear 6, a new facial that Dr. Chio said could beautify not only one's face, but also one's colletage, back, thighs, legs and even buttocks.
Chio, who is based in Avignon Clinic's 5th Avenue Bonifacio Global City branch, elaborated that while other facials only use up to two serums, Derma Clear 6 uses three, which are capable of delivering six benefits or two benefits per serum: cleansing and filling, extraction and hydration, and infusion and protection using antioxidants.
"Actually, this is super sulit because 'yung iba kasi using only one serum per facial. Ito kasi tatlong serums," vouched Chio, noting that for the price of one facial, the customer can already get three serums.
As one of the clinic's hydrating facials, Derma Clear 6 is ideal for keeping the skin moisturized especially at summer, she said.
"Prior lang sa procedure, if you're using like matatapang na peels, stop na lang muna for a few days, mga three to five days. Pero once na makita namin na healthy 'yung skin ng patient, we give it a go."
The one hour and 20-minute procedure starts with the clinic's standard services: extraction, steaming, and suctioning off of comedones like blackheads and whiteheads. Every step of the actual facial using one of the clinic's new machines employs a different serum. The facial is capped off with the clinic's signature refreshing and moisturizing hydro jelly mask.
"Usually our patients, after the procedure, they experience soft and glowing skin… Maganda talaga 'yung skin! As in soft s'yang hawakan after the procedure," Chio touted. "Parang after, ang kintab ng face mo! Pero in a nice way ha, I mean, healthy-looking."
As post-treatment care, Chio prescribed not wetting the face and not wearing makeup for four hours and postponing one's beauty routine to next day.
She likened the procedure to Diamond Peel, but instead of feeling a rough texture usually felt after Diamond Peel, Derma Clear 6 gives a smooth touch because it is executed using a gentler rotating silicone tool, while the serums are made of exfoliating but moisturizing main ingredients like Niacin that can lighten or brighten the skin. Moreover, unlike Diamond Peel, Derma Clear 6 takes off impurities with no visible peeling, so there is no downtime and pain, said Chio.
If undertaken once every two weeks, with prior appointment with the clinic, the new facial can help lighten sunspots because of its lightening ingredients, so it is also best taken before a laser treatment, including those using microneedling and lifting, said Chio.
She recommended the new procedure to everyone 18 years old and above, except for those pregnant and breastfeeding, those with severe acne because bacteria might spread, and severe dry skin because of the facial's exfoliation action. Those with sunburn are advised to let their skin condition heal first before booking for a facial.
Apart from having regular facials, Chio gave some tips to keep skin healthy and beautiful amid the summer heat: increase your water intake, always use good moisturizers, and reduce your sugar intake, including sugary drinks, since sugar escalates inflammation that causes acne flare-ups.
"Sunblock lang lagi tayo kahit nasa bahay – at least, for me, SPF (sun protection factor) 50 and above kasi 'pag mas mataas 'yung SPF, mas longer 'yung protection mo. Okay lang 'yung SPF 35, pero dahil sa sobrang (tindi) na ng sun ngayon, for me, the higher SPF, the better."
RELATED: Take it from Kim Soo Hyun: Summer 2023 beauty essentials
*****
Credit belongs to : www.philstar.com