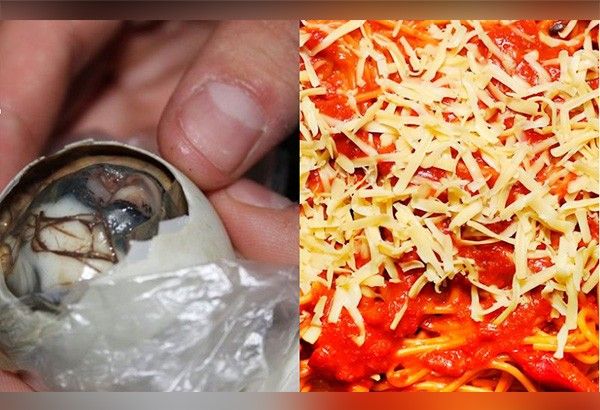 MANILA, Philippines — While it is not surprising to know that the Balut yet again made it to a listing of unpopular dishes in the world, it seems like only Filipinos can relate to the sweet sauce of a favorite party staple, Filipino-style spaghetti.
Balut and Filipino-style spaghetti are among the 100 worst rated dishes in the world, as revealed in the list released by international food web site Taste Atlas. The list was last updated on February 2, 2023.
With a rating of 3.4 out of 5 stars, Filipino spaghetti is listed at the 78th spot.
"Filipino spaghetti is a dish that has slowly become a national dish in the Philippines, showing up on menus across the country at least once a week. Unlike the Italian version, Filipino spaghetti are sweet, combining the noodles with ground meat, hot dogs, banana ketchup, and sugar," its description read.
Balut, meanwhile, earned a lowly 2.8 stars. It is described as an "unusual delicacy," but the list noted how the duck embryo delicacy is served from street stalls to upscale restaurants.
Spam, a favorite for many, made it to the list. Different variations of blood sausages from Europe and the relatively similar Vegemite and Marmite are also included in the list.
The Top 5 worst dishes are (in order from No. 1) Rybi polevka, a Czech fish soup; Lutefisk, a Scandinavian fish dish from Norway; Sweden's Blodpudding made from animal blood; the Spanish toasted almond candy Peladillas and the Turkish cabbage stew Kapuska.
RELATED:Bibingka still one of the best cakes in the world — Taste Atlas
*****
Credit belongs to : www.philstar.com